Get your Indian fix at home with this rich, creamy, easy to make Chicken Tikka Masala…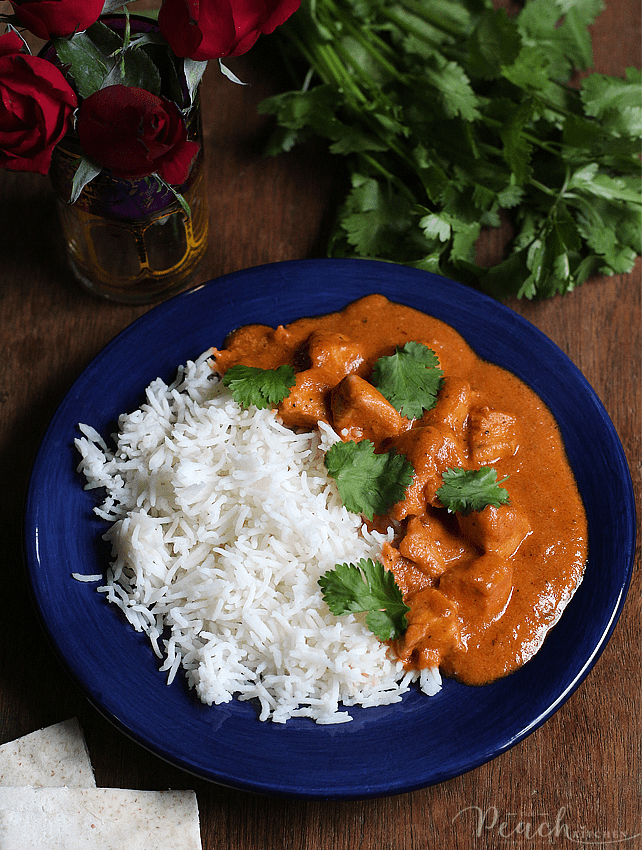 He gave me flowers for Valentine's Day. I gave him Chicken Tikka Masala. We were both happy even though I never did like flowers. As a matter of fact the first (and last) time he gave me a bouquet was ten years ago. It was never repeated because he knew I'd rather get anything else than flowers.
This time though, he wanted to surprise me. I am pretty hard to surprise because I'm like a detective and I know every move they make at home. This time, I had an event to attend to and was I surprised when I came home to flowers and balloons! I was so touched.
peanutbutter♥ and I love Indian food so since the way to a man's heart is through his stomach … I thought it would be great if I cook him one of our favorites… and have him fall in love with me all over again. As if he's not head over heels in love already, hee.
See? those roses? He brought it from Dangwa and had my sister who calls herself Anney do the arrangement …hehehe.
I made Butter Chicken before but it seems like there's no difference in taste except, Butter Chicken is more…buttery?? hahaha.. I don't really know, all I know is that I love both of their flavors.
Chicken Tikka Masala also has Garam Masala. It's not a spice that's easy to come by with in grocery stores. It's a mixture of dried spices including cumin, cardamom, cinnamon, cloves, nutmeg, and others. Instead of making my own, I made life easy and just ordered from Seven Spice Shop.
As for the basmati rice, ever since we developed this love for Indian food, I make sure to keep a stock of it at home. It is so good with that rich and creamy sauce but now that I am following a low carb diet, I may have to replace this with cauli rice in the future. (or not.. depends on my mood really)
So there. We had Chicken Tikka Masala over basmati rice and sprinkled with lots of chopped cilantro on top (Oh we love cilantro!.. as in OA sa dami kami maglagay). This was our Valentine's Day lunchdate at home.
How was your V-Day?
Print
Chicken Tikka Masala
For marinating the chicken:
1 1/2 cup

plain yogurt

1 tbsp

garam masala
juice of

1

lemon

2 tsp

ground black pepper

1/2 tsp

ground ginger

600g

boneless and skinless chicken breasts cut into bite size pieces
For The Gravy
2 tbsp

cooking oil

7

garlic cloves, minced

1

white onion,chopped

15 oz

can diced tomato, pureed on a blended

1 cup

whipping cream or all-purpose cream

1 tbsp

butter

2 tbsp

garam masala

1 tsp

paprika

1 tsp

salt

1 tsp

sugar
For Serving
Basmati rice
cilantro, chopped
naan or pita bread
Instructions
Marinate the Chicken:Combine the first five ingredients in a large bowl and mix well. Add the chicken pieces and marinate in the fridge for at least 1 hour.
Heat oil in a pot. Sauté onion and garlic until onion becomes translucent. Fry the chicken pieces shaking off excess marinade) until it becomes a little brown.
Pour in the rest of the marinade, tomato puree, all purpose cream butter, garam masala, paprika, salt, and sugar. Bring to a boil and then reduce heat to simmer.
Simmer for 25 minutes, stirring occasionally. Sauce will thicken and become a thick gravy. Add more salt and sugar depending on your taste.
Serve over basmati rice and naan, sprinkled with lots of chopped cilantro.
♥ If you make this recipe, be sure to snap a photo and tag @thepeachkitchen on Instagram (OR hashtag it #thepeachkitchen). I'd love to see what you cook!