When in ElYu (L.U.), you must barbecue! At least that's what we think.. because we did. We tried L.U. BBQ when we were in La Union the first week of April. (Check out my post about
Sunset Bay Beach Resort
here).
Aksheli, we went to L.U. BBQ for lunch on our second day in Thunderbird Resorts Poro Point. It's not that the we didn't like the food there but we figured it would be fun to explore the food scene outside the resort as well. It's also friendlier in the pocket.
L.U. BBQ is about 20 minutes away from Thunderbird Resorts.
Just like what the name of the restaurant suggests, they serve mostly barbecues or grilled meats along with some side dishes. Here's what we ordered that sunny day…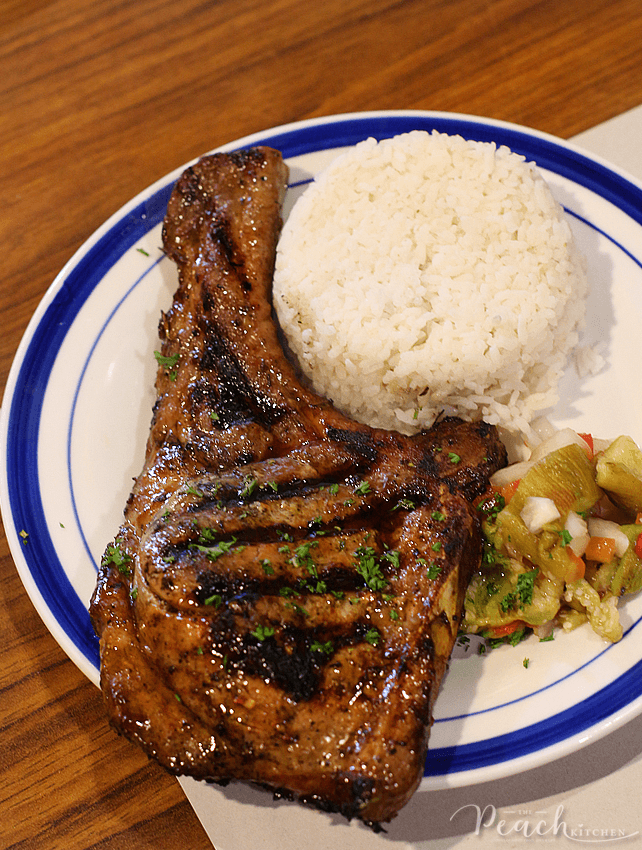 peanutbutter♥ had the Pork Chuletas (₱225), it's a big chunk of grilled pork chop served with steamed rice and a bit of poqui-poqui on the side.
I had the
Grilled L.U. BBQ Chicken
 (₱139) which is a savory chicken barbecue served with steamed rice, coleslaw and dipping sauce on the side. While nanay had the
Grilled Honey Chicken
 (₱139) which is kinda like my order only it's a sweeter variant. I like that the chicken is perfectly cooked — tender, flavorful meat that's also juicy at the same time.
Rome and Ykaie had thier ever-favorite
Insarabasab
 (₱170) or Grilled Pork Belly, also served with steamed rice and coleslaw.
To make our meals more enjoyable, we ordered these three side dishes:
Tomato Salsa
 (₱42),
Poqui -Poqui
 (₱52), and
Potato Salad
 (₱53). Their tomato salsa is super duper good!
This is how we look like during lunch…
To cap off our lunch, we had the
Nine Layers Chocolate Cake
 (₱120) which is moist and decadent.
Twinkle was asleep the whole time we were having lunch.
Hay naku, tong batang to lagi na lang tulog pag kainan na…
Dinner Time
And because we loved it there so much. We decided to have dinner there as well and try the rest of the menu…
Their version of
Pinakbet
(₱150) has the vegetable cut into bite size pieces. I should try this with my Pinakbet too next time.
peanutbutter
♥
tried their
Pork Dinakdakan
(₱110), the Ilokano version of Sisig but was a bit disappointed when their version didn't happen to be the crispy one. I guess that's the Kapampangan sisig, no?
Anyway, he loved his
Grilled Hito 
(₱180). We actually thought whole hito was going to be served but we were glad to see these two hito fillets.
I had the
Grilled Tanigue
 (₱210). Syempre light meal na for dinner. The serving was still big, though.
Sis ordered
Pork BBQ
(₱130) for nanay. Their Pork BBQ had this perfect square shape and is made of thinly sliced pork.
I ordered the
Buko Salad
 (₱85) and it turned out to be a variant of halo-halo served in an open coconut shell. The Buko Salad is made up of the fresh coconut meat  you can scrape from the shell (yum!), fresh melon, red sago, gelatin, sweetened sweet potato, sweetened banana, and a scoop of vanilla ice cream.
Our over-all experience in L.U. BBQ is nice.
Kung hindi, syempre
, we won't be back for dinner. Be sure not to miss this restaurant when you're in La Union — order the tomato salsa along with your meal and have that Buko Salad for dessert too!
L.U. BBQ is located at Rizal avenue, San Fernando, 2500 La Union