Get ready for your next Taco Tuesday with this Shrimp Tacos with creamy Cabbage Slaw…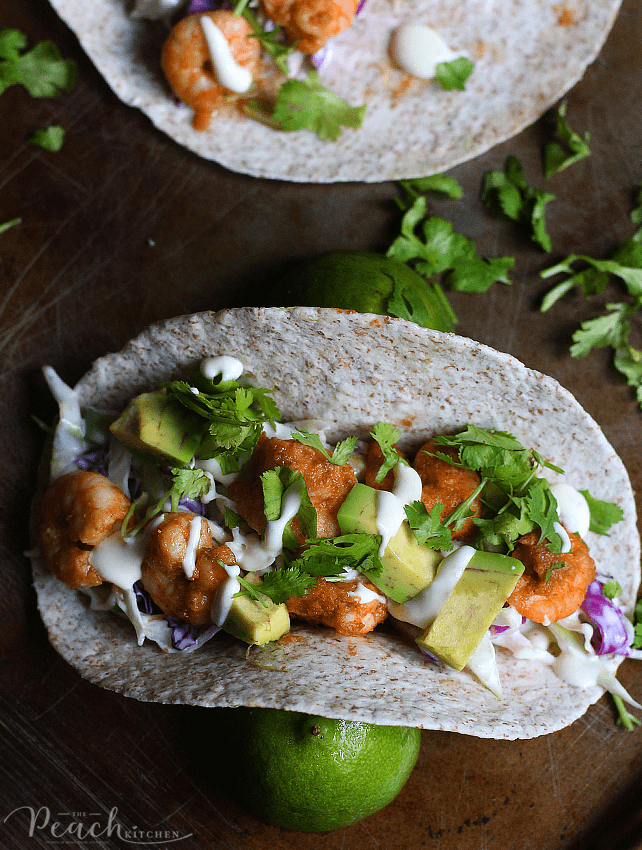 I know it's not Taco Tuesday. But I couldn't wait a couple more days just so I can have this delicious Shrimp Tacos with creamy Cabbage Slaw. I can actually have this every day of the week and I wouldn't get tired of it.
Since one of my goals for the next couple of months is going back to healthy eating and more homecooking, this is what I prepared for lunch. My original idea was to use those crispy taco shells that I love but because peanutbutter♥ is not a fan of it, I opted for whole wheat tortilla. Ykaie and I love tacos in whatever form — even Walking Tacos.
But remembering this Fish Tacos with Mango Salsa the other day made my mouth water and thought I should try making Shrimp Tacos — para maiba naman. I've always made fish and beef tacos. This time I wanted to try if shrimp would also be good. It's a bit more expensive, yes, at ₱400-600 per kilo, but it's all worth it. Well, shrimp is shrimp — we all know how delicious shrimp is. It's also not your usual taco meat.
What I love about this recipe is that it's so easy to prepare. Shrimp takes shorter time to cook which means there's less cooking. Less cooking — means less stay in the kitchen. That's perfect given the Summer heat we're experiencing these days.
Shrimp Tacos is also healthy and with the lime, garlic sour cream sauce, avocado, and cilantro — one taco packs quite a punch when it comes to flavor. It's also very filling, especially when you put more cabbage slaw…
Pwede na daw sila talaga mag-no-rice diet pag ganito ang lunch….
Print
Shrimp Tacos with Cabbage Slaw
1

kg large shrimp, peeled and deveined

2 tbsp

olive oil, divided

1/2 tsp

salt

3 tbsp

taco seasoning
whole wheat flour tortillas

1

avocado, diced
for cabbage slaw
3 cups

shredded cabbage

1 cup

shredded red cabbage

1 tsp

sugar

1 tsp

salt

1/4 cup

mayonnaise
juice of

1

lime
garlic sour cream sauce
1 cup

sour cream

4

garlic cloves, minced

1/2 tsp

salt
juice of

1

lime
for garnish
lime wedges
chopped cilantro
Instructions
Season the Shrimp: Rinse and pat dry the shrimp. Transfer to a mixing bowl and drizzle with 1 tbsp of olive oil. Mix well. Sprinkle with taco seasoning and set aside to let absorb flavor.
Make the Garlic Sour Cream Sauce: Combine all the ingredients in a small bowl and set aside in the fridge.
Make the Cabbage Slaw: Combine all the ingredients in a small bowl and set aside in the fridge. Taste and adjust the seasoning according to your preference.
Cook The Shrimp: Heat the 1 tbsp olive oil left and sauté the shrimp until cooked.
Assemble the tacos: You can choose to warm the tortilla in a pan (one by one) on the stovetop or in the microwave (in a stack covered by a lightly damp towel). When tortillas are warm, it's time to assemble your tacos. Fill your tortillas with cabbage slaw (about 2 spoonfuls), your desired number of shrimp (4-5 is enough), diced avocados, and chopped cilantro. Finish with a drizzle of the garlic sour cream sauce and a squeeze of lime.
Serve and enjoy!
♥ If you make this recipe, be sure to snap a photo and tag @thepeachkitchen on Instagram (OR hashtag it #thepeachkitchen). I'd love to see what you cook!