This Honey Garlic Salmon is pan-grilled, topped over creamy Coconut Black Rice and paired with Mango-Avocado Salsa for a light, refreshing meal that's packed with flavor.
Nothing could be more routine than the life of a WAHM. Wake up, prepare breakfast and baon for Ykaie. Do an hour of work-out, if I can. Do some morning chores, put the laundry in the washing machine. Turn on the laptop and get ready for work.
Middle of the day is when I stop and prepare lunch, after which, it's Twinkle's turn to go to school. Very little exciting things happen when you're a work at home mom. So when you receive packages like THIS (one below) from Rare Food Shop — my heart pumps with excitement! Well, especially because it's food — and as if you don't know it yet — I LOVE FOOD. I love eating and preparing food.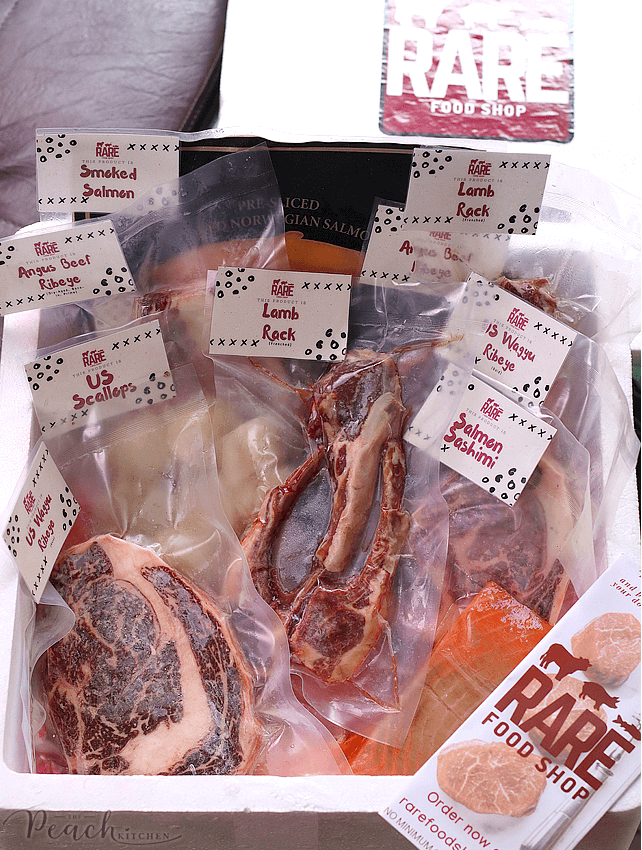 This box contains superior quality meat which you can only find at the RARE FOOD SHOP.
Just a little backgrounder, Rare Food Shop is the sister company of Rare Global Food Trading Corp., a company based in Metro Manila which specializes in supplying imported meat to hotels and restaurants since 2012. Two years after, it expanded its business and entered the seafood and poultry industry. Along with its sister company, Rare Food Shop, now delivers straight to any household quality meat, seafood and chicken with just a click! They have FREE SHIPPING for minimum orders worth ₱5,000.
What you can order at Rare Food Shop (also what's in this box):
Angus Beef Ribeye (Dry-AGed, Prime, Bone-In)
Smoked Salmon
US Wagyu Ribeye
Lamb Rack
US Scallops
Salmon Sahimi
It was love at first sight when I saw the steak but since I'm trying to eat healthier, I started with the Salmon Sashimi. (The steak comes in later…hee). I marinated it in garlic, 7 Grains Skinny Seasoning, honey, and lime, and turned it into this delicious grilled Garlic Honey Salmon.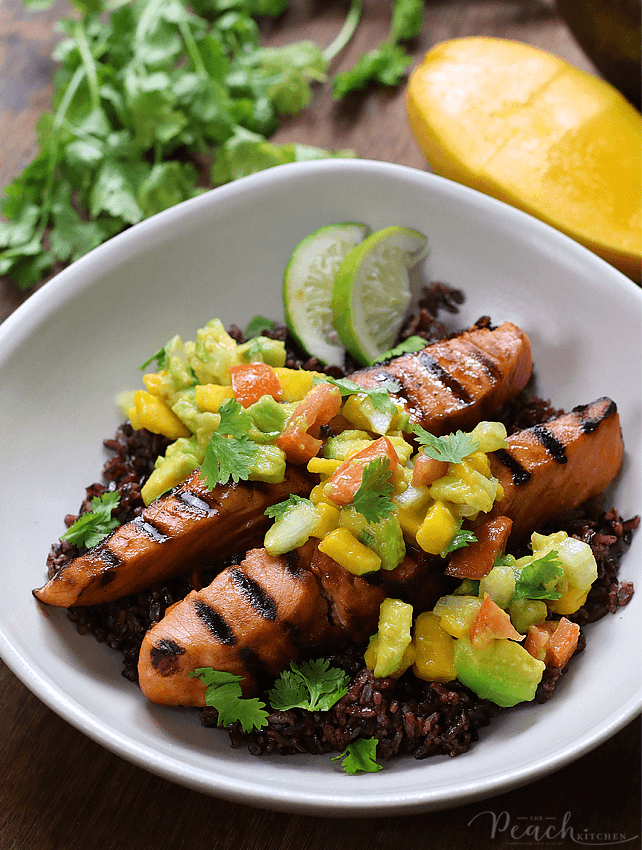 If I'm not too busy and as much as possible, I like having meals that are colorful. Diba nga, sabi nila, the more colorful your meals are, the more nutrients it contains, therefore you also get more nutrients.
So these Garlic Honey Salmon were topped over Coconut Black Rice. Instead of cooking the black rice in water, I added a cup of coconut milk and it became creamy when it was cooked. Perfect with the sweet and tangy grilled salmon. As a side dish, I also made Mango Avocado Salsa, making the meal refreshing and of course, more appetizing.
I figured I try to save the leftovers like "meal prep" for later consumption. I'm thinking kasi if I should do meal prep here at home to keep us on portion control. You know naman peanutbutter♥ and Ykaie — both are happy eaters. It's just a thought, though I haven't really made plans 'cause nothing beats freshly cooked food.
And as if this meal is not exciting enough, three days ago, I received a letter saying that I was nominated as E! Food Icon of The Year at the E! Bloggers Ball 2018!
Wow! It was such an honor to be nominated alongside amazing food bloggers like Happy Tummy Travels, Manila Eat Up, and Eatsplorations. Thank you E! News!! I am kilig-to-the-bones-thrilled!
How about you mommies? Anything exciting that's happened to you lately?
Print
Garlic Honey Salmon on Coconut Black Rice
Garlic Honey Salmon
500g

skinless salmon fillet, sliced into

4

equal pieces

6

cloves garlic, crushed

2 tbsp

Liquid seasoning, I used 7 grains Skinny Seasoning

2 tbsp

honey
juice of

1

lime
cooking spray for grilling
Coconut Black Rice
2 cups

Black Rice

1 cup

coconut milk

2 cup

water
Mango-Avocado Salsa
1

Ripe Mango, peeled and iced

1

avocado, peeled and diced

1

tomato, chopped

1/2

large white onion, chopped

1/4 cup

(or more) cilantro, chopped
juice of half lime
salt and pepper to taste
Instructions
Marinate The Salmon: In a large bowl, combine crushed garlic, skinny seasoning, honey, and lime juice. Mix well. Place the salmon fillets and marinate for 30 mins -1 hr in the fridge.
While Marinating Salmon, Cook your Coconut Black Rice in the rice cooker. Rinse the black rice with water. Then place the rinsed black rice, water, and coconut milk in your rice cooker just like any normal rice and it will cook automatically. If you don't have a rice cooker, simply put it in a pot, bring to a boil, and simmer on slow heat until liquid is absorbed and rice is soft.
Make the Mango-Avocado Salsa: Put all the ingredients in a pot and mix well. Set aside in the fridge to chill.
Cook The Salmon: Grease your grill pan with cooking spray. Place the salmon slices on the heated grill and cook for 2-3 minutes on each side or until cooked through.
To serve: Put 1/2 -1 cup of rice on a plate. Top with grilled salmon and mango-avocado salsa. Sprinkle with more chopped cilantro and garnish with lime slices on the side.
♥ If you make this recipe, kindly snap a photo and tag @thepeachkitchen on Instagram (OR hashtag it #thepeachkitchen). I'd love to see what you cook!