Setting up a home kitchen and not sure what to include in your collection of cookwares and appliances? This article will introduce to you some of the most handy tools you can have in the kitchen – the simple yet super useful items you will soon find it difficult to live without.
1. Manual Can Opener
Many of us have electric can openers, but what happens if the power goes out? What if your electric can opener breaks? The minute your electric can opener stops working, all of your cans are inaccessible. This is a terrible situation for anyone that enjoys frugal, yet healthy meals! A common gift for newlyweds and housewarming parties, a manual can opener is indispensable for anyone who makes home-cooked food.
2. Handheld Immersion Blender
How many spoons do you go through a day just stirring? You know the drill, you open the drawer, get the spoon out, add some milk and sugar to your tea or coffee, and then the spoon goes right to the sink! Whether you wash it now or later, that's still pretty inconvenient. When you have something that needs stirred thoroughly without dirtying spoons, an immersion blender is the way to go! Not only are these handy tools perfect for mixing drinks, they're also great for making soups, gravies, and so much more!
3. Handheld Sharpener
Dull knives are the worst thing that can happen to a kitchen. It's one thing when you can't slice up some juicy tomatoes for a salad, but when you cut yourself badly with a dull knife? That's an emergency room visit! If you cut yourself with a dull knife, it can result in disaster. A knife sharpener is vital to your safety as well as your efficiency. We recommend the Chef's Sharpener Pull-through Sharpener for its balance between quality and value. For a review of the device by Luna Regina, see more here.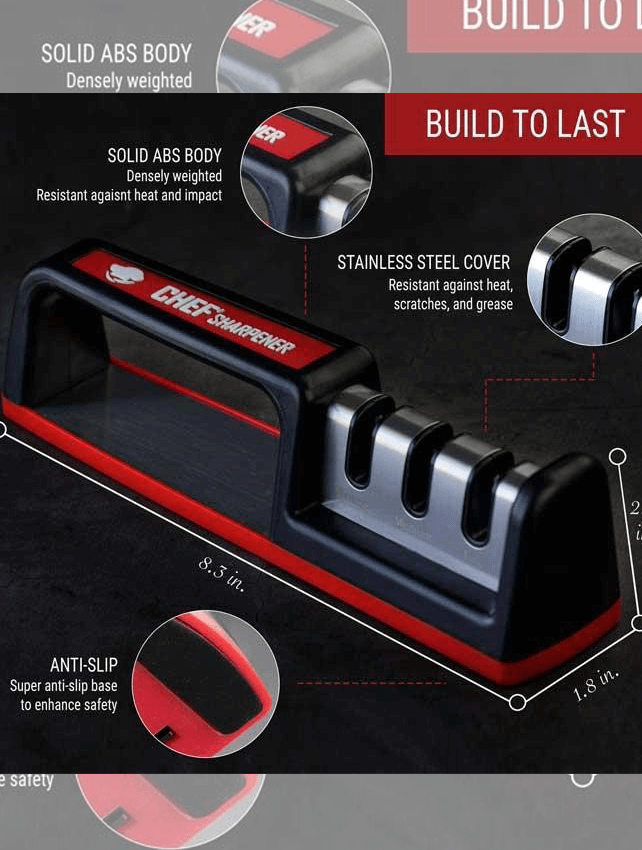 4. Water Filter Pitcher
Drinking tap water can be dangerous! As cities become more crowded, it's getting harder for water treatment plants to safely filter out heavy metals and chemicals. For the safety of you and your family, you need to filter your tap water. Filtration systems that are connected to your tap or under your sink can be tedious to change out. Why would you fight with all that when you could have a ready-to-use pitcher that can even be refrigerated for fresh, cold, drinking water?
5. Apple Slicer/Corer
An apple a day keeps the doctor away, right? Well, when you're fighting to slice one up and avoid those seeds, you may just end up going to the doctor anyway! Those slick skins can fight against your knife, leaving you injured. Be safe, and go for an apple corer instead. There are many different kinds, but they all make the chore of slicing and coring your apples a breeze.
6. Personal Blender
Smoothies are one of our favorite snacks here! Unfortunately, it's nearly impossible to make one without a blender. You're welcome to try, but you may just end up with a terrible mess. Why do that when you can purchase an economical personal blender instead? The best part is that they can be used for more than making smoothies. Baby food, sauces, and salad dressing can all be created with the use of a blender. The possibilities are endless!