You might be wondering why there's suddenly a Baguio restaurant post here. Well, because the first quarter of the year was kinda busy, I wasn't able to share with you what happened what we ate when we were in Baguio last December and why I gained back that 25lbs (sob*). Well, here I am catching up on backlogs… So.
Our first stop when we arrived there was Glenn 50's Diner. This restaurant is very popular here in Baguio and I've heard a lot about it. I've been to Baguio many times but it was my first time there last December. As the name implies, the restaurant did look a lot like a diner in the 50's — vintage, with old movie posters on the wall, and neon signs everywhere. It actually reminded me of Pop's in Riverdale.
Anyway, there were ten of us in the group and our orders were a variation of the food below…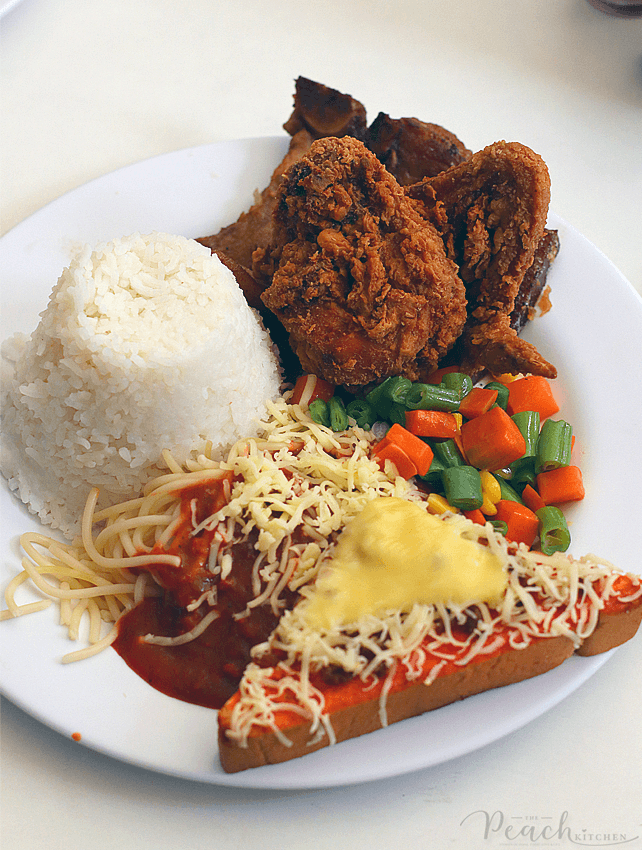 I had the Guys on the Hood (₱160) which was a plateful of food! It's a combination of pork chop, slice pizza (their homemade toast pizza), fried chicken, spaghetti, and garlic bread, rice, and buttered vegetables. Yes, carbs on carbs, on carbs nga sya and I didn't get to finish everything because I was snacking in the van while traveling. LELZ.
This is The Famous 50's Burger (₱105) – It's just plain ol' hamburger served with a side of fries.
Ykaie had the Mix Grill (₱210) which according to the menu, is a worldwide favorite.Well, it is a carnivore's delight, I suppose because of beef strips, pork chop, hotdog, and chicken steak all grilled to perfection, served with rice and sautéed vegetables.
She paired it with a glass of local Lemonade (₱65)…
Twinkle had a Shirley Temple (₱70) and shared a plate of French Fries (₱95) with Bradzen.
Some of us ordered this Grilled Pork Belly (₱135), a simple marinated pork belly smothered in BBQ sauce and served on top of yellow rice.
and peanutbutter♥ had the Chop and Chop (₱150) which is just two pieces of grilled pork chops served with rice and vegetables.
Now I know two things why they love Glenn 50's Diner… 1. the serving of the food is big and 2. The price is so affordable. My plate can actually be shared by two, right?
Have you guys tried Glenn 50's Diner? What did you eat? Masarap?
GLENN 50'S DINER is located at 166 Military Cutoff Rd, Baguio.