If you thought that technology was the only thing that has experienced advancements, then think again… the world of food has also brought many advancements and changes to the table (literally)… especially in the world of meat.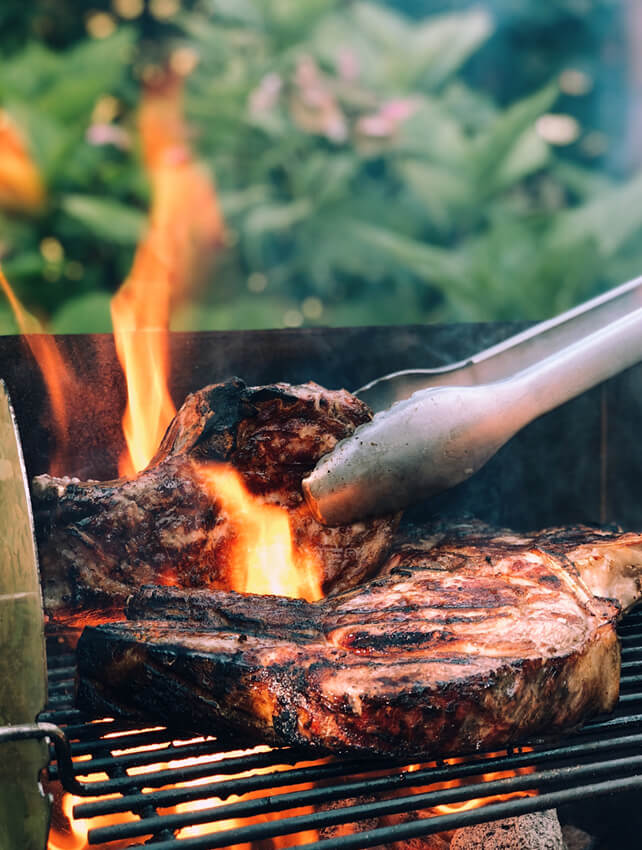 A lot of the advancements involve meat alternatives for vegans and vegetarians with the creation of foods like "meatless" meat crumbles (ground beef alternative), veggie burgers, and "meatless" chicken and sausage. All of these foods are plant-based or are made from soy.
These food advancements were made to give people who don't eat meat, the taste and appearance of meat without actually consuming meat or meat products. Vegetariantimes.com states that 7.3 million people in the U.S. follow a vegetarian-based diet. It goes on to say that 59% are women and 41% are male… not too shocking of numbers, right?
Meat-Lovers Only
Now, don't think that the only advancements in food were the creation of foods that removed meat… oh no, there have been some food creations involving meat that would make you think you were playing a game of Jenga!
BBQ is big part of the culture in the US, a quick google search and you will find many BBQ news websites like www.cookoutnews.com have large followings of wannabe BBQ pitmasters. Creativity is not limited to vegan food, you have chicken breasts wrapped in bacon, pork tenderloins stuffed with sausage, and last but certainly not least, a true meat lover will appreciate the explosion of flavor coming from a dressed up cheeseburger with two thinly sliced chicken breasts for buns.
That might sound like meat overload but in the days of "meatless meats," you almost need to overcompensate on your meat consumption to make up for "meatless meat" consumption! For the true meat lovers, we're going to take a look at the top cities where you can truly get your fill in mouth-watering meats.
Omaha, Nebraska
CNN states that Nebraska is the world's #2 producer of beef. Did you know that 93% of its land is dedicated to housing, feeding, and processing cattle? So with Nebraska coming in at number 2 for producing beef, can you even imagine what the food scene is like?
Omaha, for one, is known for its steaks and notably coined the term for American steaks "The Omaha Steak." In honor of meat, Omaha has annual events for the meat-eccentrics and one of the most popular ones is Ak-Sar-Ben's River City Rodeo. In case you're stuck on the first word, it's Nebraska spelled backward. The other big event is the Septemberfest BBQ and Ribeye Steak Cook-Off Challenge!
Las Vegas, Nevada
When it comes to Vegas, everyone's mind automatically goes straight to the slot machines and gambling tables… but what about the food? Vegas is a hidden food gem that people often times forget about. Do you know what that gem is? It's buffets!
All you can eat, 24 hours, and $9.99 are all buffet types you can find in Vegas. These meat-a-paloozas allow visitors access to all parts of the pig, cow, chicken, and as many underwater creatures, your stomach can stand!
A popular buffet is The Market Cafe. This particular buffet has several locations, but you better believe the vibrant city of Vegas has one too!
Philadelphia "Philly," Pennsylvania
When you hear the word Philadelphia, what's the first thing that comes to your mind? For some people, the first thing that comes to their mind is that it's where television's Fresh Prince of Bel-Air was born and raised… West Philadelphia to be exact! But if you're not too familiar with that sitcom, the next thing that should pop in your head is PHILLY CHEESESTEAKS!
If you visit Philadelphia for only one hour, you MUST at least eat a Philly cheesesteak! Now, hold on to your appetite because cheesesteaks are not the only thing synonymous to Philadelphia! Philly also has a unique food staple called scrapple.
Scrapple is the combination of the remaining parts of a butchered pig and cornmeal, form it into a loaf, pan sear it and slice it up for good eatin'! Scrapple doesn't initially sound like something you'd see on any menu and HAVE to get it but it is good… every bite will taste like clogged arteries… that means it's delicious!
"Bring Home the Bacon"
The location where you live… what is it known for? Is it known for its rich history, it's vibrant nightlife or the fun attractions? Well, what's so funny is, people move to different places because of what that particular city is known for.
Some people move to Vegas for the entertainment aspect, while others move to Nashville for their love of country music but have you ever heard of someone moving because of the food scene? Believe it or not, people move to cities with a thriving food scene all the time, whether they're a chef, aspiring restaurant owner, or if they just love food and want to be in the center of the location for food, moving for food is becoming a popular trend among foodies.
If you are a food enthusiast and are looking for different locations to set up shop in, you first need to find a place to lay your head. Using online resources like rent.com will help you find the perfect living space for you and you'll be able to enjoy the wonderful foods that the city has to offer!