Almondigas or Misua Bola-Bola with Patola is a complete meal by itself. It has carbs from the noodles, protein from the meatballs, and the patola is the vegetable. And the soup? it warms up your heart….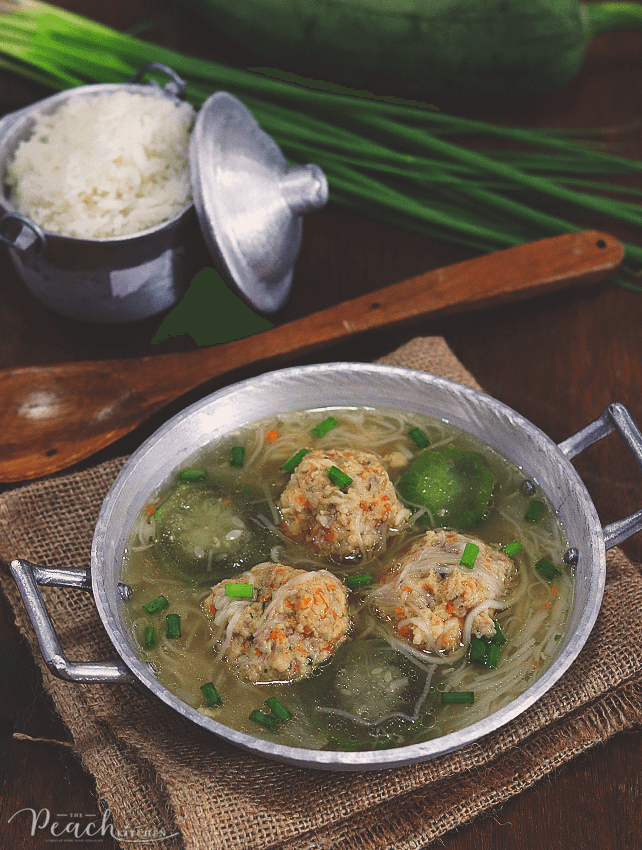 How was your weekend? Mine was a rainy one and while it was busy, we managed to sneak in one homecooked meal that absolutely warms both the heart and the tummy (and a family favorite too) : Misua Bola-Bola with Patola.
I've been eating this for as long as I can remember because this is a regular on the menu rotation when I was younger. The bola-bola or the pork meatballs is made flavorful by mixing it with chopped shrimp and kinchay (also known as chinese parsley or chinese celery). And I always hear my nanay nagging my tatay, who buys everything from the market, by the way, to always buy fresh shrimp and lots of kinchay… LOL! So yan ang tumatatak sa utak ko… always always buy fresh shrimp and lots of kinchay to mix in it. It doesn't have to be the expensive kind of shrimp, you can buy the small ones that costs ₱30 per 100g and you'll need about 150g for this recipe so that would be around ₱45 worth … and that's enough. Add carrots, an egg, bread crumbs or flour, salt and pepper and you got yourself yummy meatballs for your soup.
I don't like adding too much misua noodles because they tend to soak up all the soup later and you'll end up eating a pot of noodles instead. So what I do is I add around 2 bunches — yung 2 taling pula na manipis lang? and it's good to go. This is one of the best soups during rainy days!
Now, there's plain Misua with Patola, there's Misua with Shrimp, Misua with Batchoy, and there's Misua Bola-Bola without the Patola. Anong paborito mo?
P.S.
What's new with us this week? Because we really want to go for a healthier lifestyle, peanubutter and I are yet attempting again to go on a low carb, no sugar diet. Hay, wish us luck?
Happy start of the week everyone!
OTHER SOUPS YOU MIGHT LOVE…
Print
Almondigas Or Misua Bola-Bola with Patola
for the bola-bola (meatballs)
300g

ground pork

1

carrot, chopped or grated

150g

shrimp, shelled,de-veined & chopped

½ cup

chopped chinese parsley [kinchay]

1

egg

1 ½ tsp

salt

1 tsp

pepper

2 tbsp

bread crumbs or flour
Misua soup
1

white onion, chopped

3

cloves garlic, minced

7 cups

water

1

pork cube

2

bunch Misua noodles

2

patola (sponge gourd), peeled and sliced
chopped green onions for garnish
patis and pepper to taste
Instructions
Make the Bola-Bola (meat balls): Combine all the ingredients for the meatballs and mix well. Form into balls, place in a plate, and set aside.
In a pot, sauté garlic and onion in heated oil until onion becomes translucent.
Pour in the water and add the pork cube. Stir well until it dissolves and bring into a boil.
Add meatballs one by one and simmer for 20 minutes.
When meatballs are cooked, add in misua noodles.
Simmer for another 5 minutes.
Add the sliced patola (sponge gourd).
Season with patis and pepper. Taste and adjust the seasoning according to your preferrence.
Serve with chopped green onions on top.
Best eaten with steamed rice.
♥ If you make this recipe, kindly snap a photo and tag @thepeachkitchen on Instagram (OR hashtag it #thepeachkitchen). I'd love to see what you cook!