If there's one meal that is a snap to throw together on short notice it's tacos. This dish is super customizable and it can be tailored to nearly everyone's liking in a single seating. Those of you who might be looking for a haggis protein taco, you're going to have to wait as that puzzle has yet to be deciphered. The brilliant thing about tacos is that they can fit any diet plan. Plus, tacos are a real crowd-pleaser.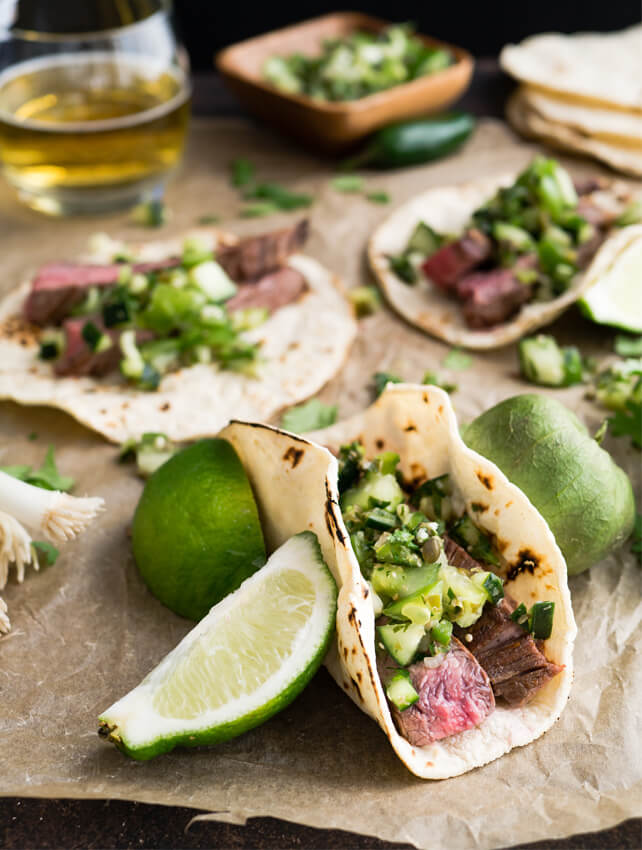 Make it a Party with friends and Family
One awesome thing about making tacos is that you can get other people involved. While getting together for a meal is always fun, and everybody loves a good meal filled with food that sticks to the ribs, these events can also be a lot of work to put together! With tacos, you can invite your friends over for a potluck of heart-healthy taco options. "Heart-healthy" and tacos in the same sentence? yes indeed. Tacos don't always have to have beef, cheese, and sour cream. They can just as easily be made with healthier ingredients to create a taco nirvana.
Choosing your Protein
Taco aficionados beware, the traditional beef and chicken options are taking a backseat to a few healthier options. First and most logically is fish. Flaky, succulent fish tacos are awesome and satisfying when done right. It really doesn't take much to master this taco variant. Grill or bake your favorite mild white-fleshed fish such as cod, grouper, flounder or mahi-mahi.
Ham makes an unusual but tasty option. Dice it up into bite-size pieces or even smaller and fry it up. Pick toppings that go well with it like a pineapple salsa or a sweet and sour sauce. For a fun addition, you can even get some ham gift certificates from companies like Perfect Feast to use for the occasion and even give them out to your very impressed friends at the party.
Alternatively, If fish is not your thing, check out this guide to vegan meats and meat substitutes to get your culinary juices flowing. There you'll find good healthy options like lentils, hearty mushrooms, and a few other alternatives.
What About the Shells?
When you're trying to cut back on excessive calories, wave goodbye to the traditional flower and corn tortillas. You might have a tear in your eye when you do it but stay strong; there are other options. It will be a case of trial and error here because you're going to have to try some recipes or buy flour tortilla alternatives. Before you dig into those other options you can always try having tacos in a big lettuce leaf. They are delicious sure, is there a satisfying crunch? Not so much. What about a cauliflower tortilla? If it can be used as a pizza base, it can be used as a taco base. Plus you can always toast up the bottom for a nice crunch. With a little search bar action, you can find a treasure trove of flour tortilla alternatives to bring to the table on taco night.
Toppings Please
What better topping for tacos than a freshly made salsa? Go ahead and take your time to think about it, there's no rush. Some people might say cheese or sour cream but they only get you so far and they are just one note. A good salsa can bring so much variety and pleasure to each and every bite. Make a fruit-inspired version with mango or strawberries. Or you can go traditional with a pico de gallo recipe that is both fresh and vibrant. And the great thing about making your own salsa is the fact you can leave the spice level at zero or you can raise it up. Just add in your favorite peppers little by little to gauge the current heat.
Beyond salsa, you have cheese, shredded lettuce, beans, corn, and the list goes on and on. One other honorable mention does have to go out though and it goes to the avocado. Oh, brilliant avocado and your ability to transform into luscious guacamole! This is indeed another truly great taco topping…if you like avocados of course.
Some Side Options
Keeping with the idea of "light and healthy", with side options you have a few players in the game. You can use cauliflower rice as a side; season it to your liking and serve. Or salads filled with bright colors and a tasty dressing can always be used to fill your belly. You can even add a chipotle flavored slaw to the party if you are feeling adventurous. The sides can be anything your heart desires.
So, if you're looking for something new after a season of hearty meals, take another look at tacos. They are easy, delicious, and they can be heart healthy too.