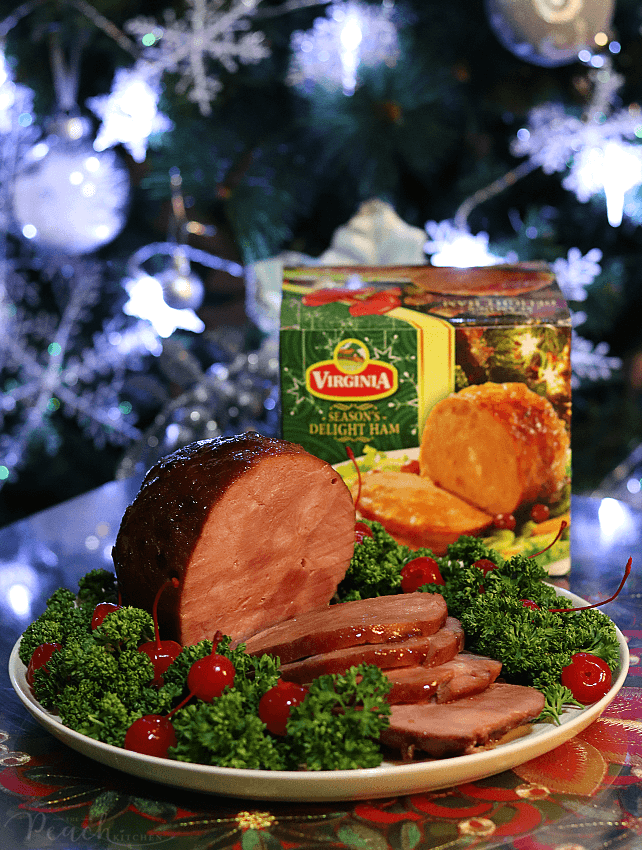 When I was growing up, our Noche Buena consisted of sliced bread, ham, queso de bola, and mugs of thick, creamy hot chocolate. It has been like that year after year. When I grew up and became a mom, my sister and I teamed up and our Noche Buena table because playful. There was a Snowman-Themed Noche Buena one time and a Santa Claus-Themed Noche Buena next. The food and the themed changed year after year but Christmas Ham is always present on the table.
I guess it's one of those traditions that will never change, right? Besides — ang sarap kaya ng Christmas Ham! So thank you to our friends from Virginia for sending over some of their Virginia Christmas Hams for us to sample.
My favorite from all the hams is the Virginia Season's Delight Ham (₱409 – 1kg) (above) . It is made from whole meat chunk with a sweet and salty meaty flavor and a hint of sweet-sour pineapple taste.
Other hams they sent..
Virginia Jamon De Bola (₱370 – 1kg)  – made from the ground meat and spices and coated with glaze giving it a sweet-salty and smoky-meaty flavor.
Virginia Pear-Shaped Ham – elegantly molded and mildly seasoned, it's a holiday delight that's definitely worth the price.
Prices:
₱299 – 1Kg
₱259- 800g
₱189 – 500g
Virginia Chicken Pear-Shaped Ham (₱270 – 800g) – blended with the finest ingredients to give you that sweet aroma and uniquely juicy flavor.
Note: You may notice the expiration date as 05242002. I thought their expiration date format is MMDDYYYY! I asked Virginia about it and it was explained to me that their Expiry Format is DDMMYY and the last two digits are the batch code. Whew!!!
Virginia Brick Ham (₱189 – 500g) – coated with specially-made pineapple glaze with a juicy and tender meat texture; giving you a meaty and sweet-sour taste.
These hams will definitely make your Noche Buena and your holiday tables more festive and more delicious!
You may purchase them through their Factory Outlets and Supermarkets nationwide.
As for ASF Issue for pork-based items, according to them, "Virginia Food, Inc. products are guaranteed Safe and ASF Free since their imported raw meat supply comes from ASF-free countries and their local supply comes from the province of Cebu. Their manufacturing facility is compliant with the implementing rules and regulations of the National Meat Inspection Service and Food and Drug Administration for Food Safety Standards."
You may check out their other hams at http://www.virginiafood.com.ph/Hams