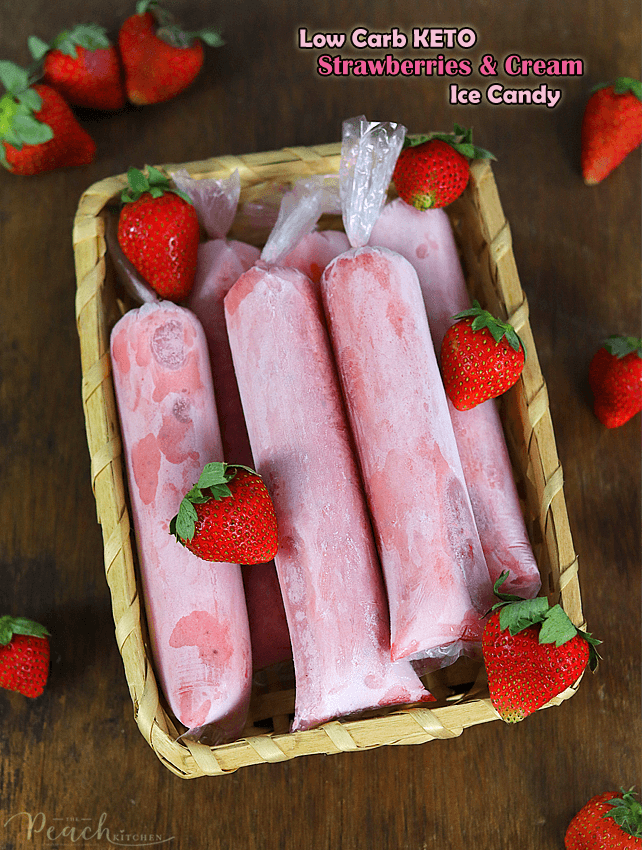 Going full on Keto is haaaaaarrrd! Grabe! I don't think we can do it anymore!
It's really one of the most difficult things for the whole family since everyone has a sweet tooth and peanutbutter♥ is part time low carb and part time vegetarian….
So I decided we'll just have low carb vegetarian meals as much as possible and indulge on not so low carb meals from time to time. Parang a bit of balance na lang…
We are all craving ice cream these days and what better way to satisfy it than by making this Low Carb Strawberries & Cream Ice Candy? It's low carb  because I only used 1 cup of heavy cream to 2 cup water ratio and I used erythritol to sweeten it.
It's easy to make and it's already pre-portioned into serving pieces so I think it's a nice way to satisfy your sweet tooth.
Watch the video below to see how easy it is to prepare….
WATCH THE VIDEO HERE:
O diba ang dali lang?
The texture of this after four hours is just like a smoothie but if it's already more than a day in the fridge, it will give off a sorbet texture. If you want it creamier, you can adjust the ratio into 2 cups cream + 1 cup water or don't put water at all.
NON KETO VERSION
You can also make a non-keto version by using sugar or honey to sweeten it and replacing water with milk.
This is perfect for the Summer and to get your daily dose of fruits and dairy in. And for those in Low Carb diet, a great way to satisfy a ice cream craving.
Hope you're having a great week.
Print
Low Carb Strawberries & Cream Ice Candy (Keto Friendly)
500g

frozen strawberries

1 cup

heavy cream (or all purpose cream)

2 cups

water

2

–

4

tbsp sweetener or stevia (I used erythritol)

1

–

2

tbsp chia seeds (optional)
you will also need:
Instructions
Put everything in a blender and blend until smooth.
By using a funnel, fill your ice candy bags up to 2 inches off from the opening.
Twist the plastic bag to prevent it from spilling and then tie in a knot.
Put in the freezer for 4 hours or overnight.
Enjoy on a very hot day. It tastes just like ice cream!
Notes
The nutrition information provided are only estimates based on an online nutritional calculator. I am not a certified nutritionist. Please consult a professional nutritionist or doctor for accurate information and any dietary restrictions and concerns you may have.
[foodie-nl id="30163″]
♥ If you make this recipe, kindly snap a photo and tag @thepeachkitchen on Instagram (OR hashtag it #thepeachkitchen). I'd love to see what you cook!