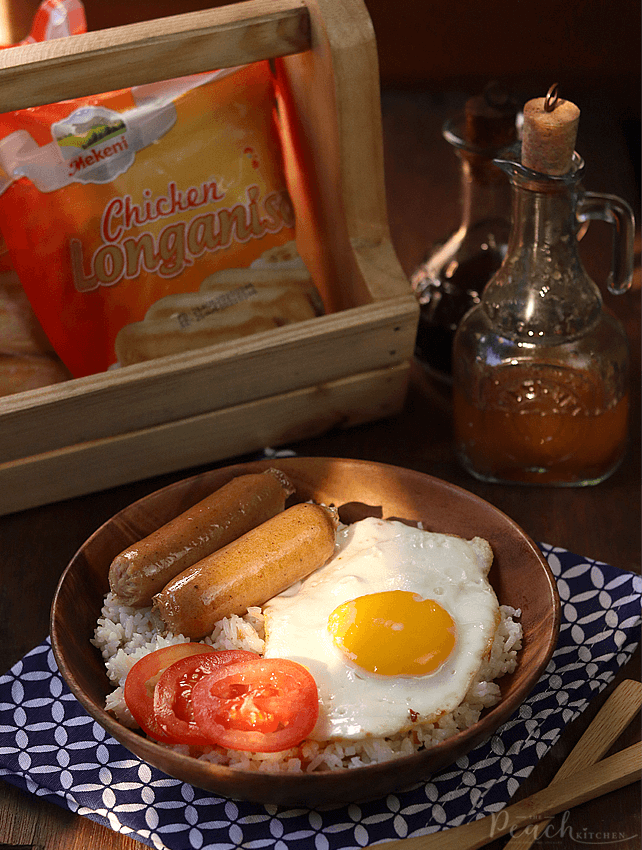 LongSiLog is one of my favorite meals, not just for breakfast, I could actually eat this all day. Of course not all Longanisas are created equal. There's garlic, sweet, spicy, beef, pork, and chicken.
Now, if you are trying to keep a healthier diet, you might be thinking you won't be able to eat longanisa again. We all know how healthy has always been perceived as bland, expensive, or not easily accessible, right?
Well, you'll be happy to know that Mekeni has given us a healthier longanisa choice in the market with the Mekeni Gluten-Free Chicken Longanisa. It is made from real chicken meat and certified gluten-free so you and your family can enjoy more, guiltless. And it's flavorful too!
You don't need to sacrifice taste just because you're trying to be healthy. Syempre, dapat masarap poa rin para mas ma-enjoy natin ang ating journey to health, diba?
Last week, I was able to join Mekeni's online event and through this event, I learned about gluten-free food and how to cook healthier meals at home. It was hosted by Issa Litton with Nutritionist Reginna Lat and Chef Vince Garcia.
What does it mean for food to be 'gluten-free'? How is it healthy?
Nutritionist Reginna Lat shares that gluten is normally found in everyday food that contain grains. Wheat and rye are the most common examples of this. Gluten-free food are usually prescribed to people who have Celiac disease or has gluten-sensitivity. But nowadays, it is observed that there is a rising interest for gluten-free food to the general public as it may help with weight loss, reduce total caloric and sugar intake, Diabetes management and sugar control, and even bloatedness. With this, the usual favorites that you and your family eat at home have now healthier alternatives and are more accessible than before.
Now that gluten-free food is easily accessible, serving gluten-free food is not hard as compared before.
Chef Vince Garcia, one of Pampanga's most celebrated chefs, he has curated different gluten-free recipes using Mekeni Chicken Longanisa. He shared with us one that we could try at home — Gluten-Free Mekeni Chicken Longanisa Casserole. The recipe is below should you want to try it at home.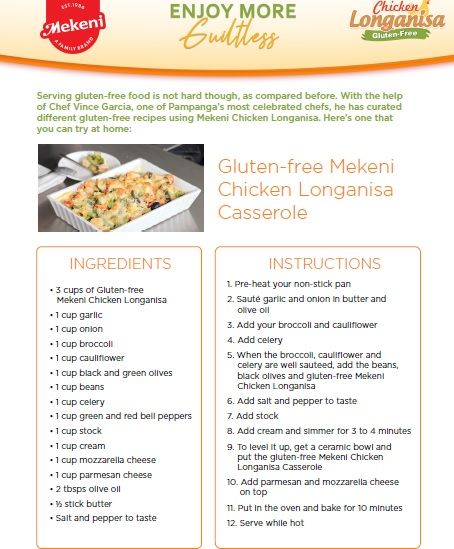 If you're the type who wants to create your own recipe, then you might also want to join The Guiltless Cook Off!
THE GUILTLESS COOK OFF
Post your Mekeni Chicken Longanisa recipe and get a chance to win a Mekeni Gift Pack!
HOW TO JOIN:
Upload a picture of your dish in your profile.
Put in the caption the ingredients and cooking instructions and the official hashtag #MekniEnjoyMoreGuiltless.
Set it to PUBLIC post.
CRITERIA FOR JUDGING
Creativity of Recipe – 60%
Final Look of the Dish – 30%
Number of Likes – 10%