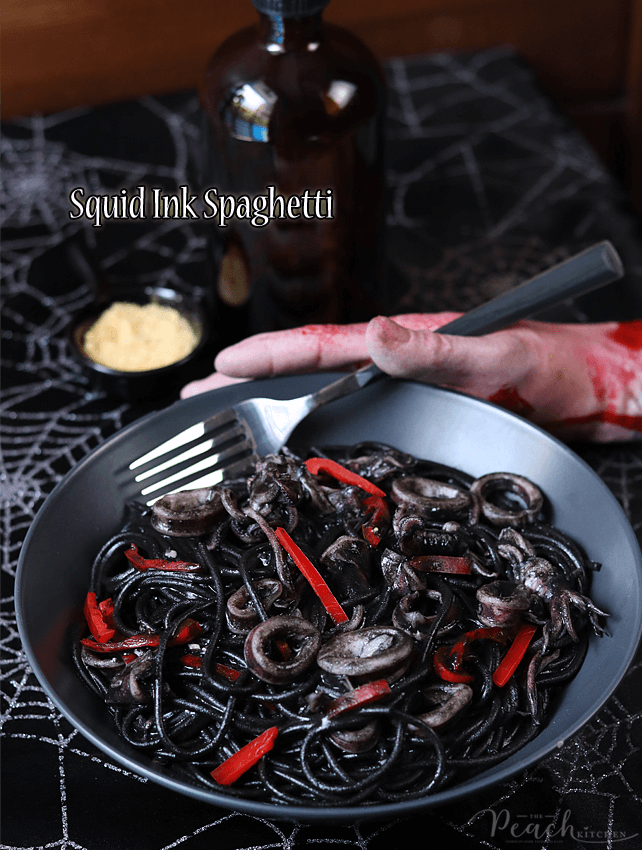 Happy Halloween! Kamusta naman ang Halloween nyo this year? Kami syempre stay-at-home pa rin. We just planned on having a scary movie day while wearing our costumes! So that's what we did. We had a scary movie marathon the whole day.
Twinkle wore her Skeleton Ninja costume and Ykaie wore her Harry Potter costume. Then, as per Ykaie's request, I cooked this super yummy Squid Ink Spaghetti for lunch. I also filled our Halloween Basket with lots of goodies like chocolates, candies, and gummies — syempre lafang namin while watching.
It's been two years in a row that I haven't been making a lot of Halloween-y food. Last year was because I've been a bit busy. This year, it was because I had the worst case of Acid Reflux I had experienced — I experienced all the symptoms! I had that lump in my throat, I had coughs that won't go away and wheezing — I thought I'm having asthma so late in life. Then I had chronic sore throat and that burnt tongue feeling. My tongue hurt like hell. I had this for about two and a half weeks before I found out what it was and was able to properly medicate.
So medyo ngayon pa lang ako gumagaling… thank goodness nakahabol pa sa Halloween food!
WATCH THE VIDEO HERE:
So let's talk about this Squid Ink Spaghetti …..
To make sauce for 500g of pasta, I always use 2 cups of squid ink. To make one cup of squid ink, I dissolve the squid ink sacs I get from a kilo of squid in one cup of water. So whenever I cook squid, say into calamares, I make sure to keep the squid inc sac and dissolve it in water and then freeze it for later use. That's how I get lots of squid ink and it always works for me.
Good thing there are now Squid Ink Pastas readily available in supermarkets but if you only have regular spaghetti, that works too because we have a super flavorful sauce that the pasta can absorb.
This dish is very easy to make. You can also make this even if it's not Halloween because it's so delicious and it's just like our favorite Adobong Pusit turned into pasta! It's a nice weekend dish for the whole family, great to bring on potlucks, and the best when you're craving something squid or seafood.
I hope you try my recipe and like it just like we do.
OTHER SQUID RECIPES YOU MIGHT LOVE…
Print
Squid Ink Spaghetti
500g

Squid Ink pasta

750g

squid, cleaned, sliced, ink sac set aside
ink sacs dissolved in 1 cup water + 1 cup frozen dissolved ink sac

8

cloves garlic minced

4 tbsp

olive oil

3 tbsp

butter

3 tbsp

vinegar

1

chicken cube

1 tbsp

sugar

3 tbsp

cornstarch dissolved in 3 tbsp water

1

large red bell pepper sliced
salt and pepper to taste
Instructions
Cook the pasta according to package direction, set aside.
Heat the olive oil and butter in a pan.
Add the garlic and cook until fragrant and a bit brown on the edges.
Add the squid and cook for about 4 minutes or until meat turns white.
Pour in the squid ink mixture. Mix well
Add the chicken cube and stir until dissolved.
Bring the sauce to a boil and pour in the vinegar. Simmer for about 3 minutes.
Add the sugar, mix well.
Pour in your cornstarch slurry. Add a little at a time until you get your desired thickness.
Add the bell pepper.
Taste and adjust the seasoning as needed.
Add the cooked squid ink pasta and mix well. Make sure pasta is well-coated by the sauce.
Serve warm, sprinkled with grated parmesan cheese.
♥ If you make this recipe, kindly snap a photo and tag @thepeachkitchen on Instagram (OR hashtag it #thepeachkitchen). I'd love to see what you cook!