Ingredients and equipment are the essential stuff in cooking, and without these things, meal preparation becomes inconvenient. Moreover, it's important to have a dependable stash where you can keep the ingredients tightly dry, and the equipment is correctly stored so that the kids won't reach the sharp tools, such as knives. Therefore, you must purchase a high-quality set of kitchen cabinets.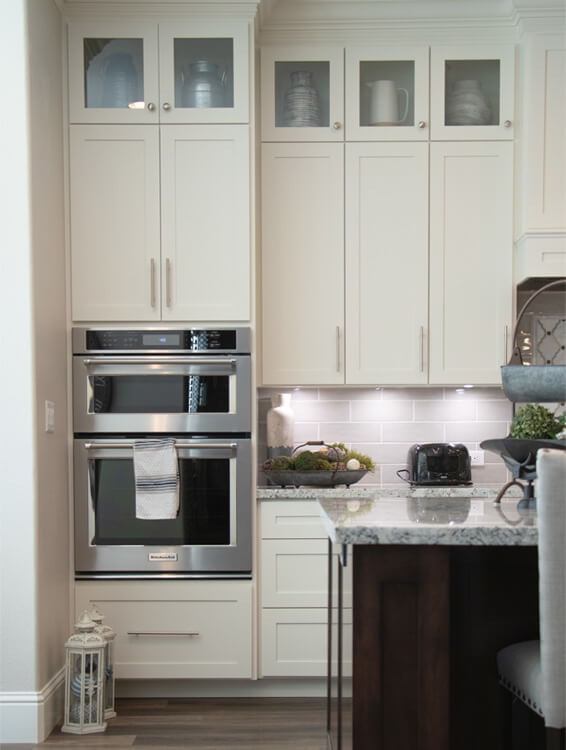 Today, there's already a wide array of kitchen cabinets sold in commercial establishments. With that said, you must be wise and practical before purchasing one for your kitchen—you might've ended up with a kitchen cabinet that's aesthetically appealing but isn't sturdy. As a consumer, it's your right to know the kitchen cabinet's specifications for your preference. To help you with that, we'll supplement some helpful factors you should consider before buying.
1.   4 Options of Kitchen Cabinets
Whether you're a first-timer in buying a cabinet or currently doing a kitchen renovation, you must narrow down the choices to the best ones you think suit your style and kitchen area. Thus, below are the four (4) types of kitchen cabinet constructions:
RTA-Ready to Assemble
The ready to assemble cabinet or RTA is typically shipped and delivered in flat boxes that contain everything you need. Significantly, it's an affordable choice for those people who envisioned designing their own kitchen. Although this type is more affordable, it doesn't compromise the quality. If you plan to get ready to assemble or rta kitchen cabinets, then that would be the best decision for your renovation or redesigning projects in your kitchen!
Stock
What you see is what you get when you purchase a stock-type kitchen cabinet. This type of cabinet is sold in modular units and already mass-produced in the factory that's; a ready-to-be-delivered cabinet when there's an order. However, you cannot customize stock cabinets since it has a limited style, color, shape, wood material, etc.
Semi-custom
Generally, semi-custom cabinets are stock cabinets with additional details to fit the homeowner's style. What's great about this is you can change the size, and the drawers and other compartments can be modified. Further, it gives you the freedom to add some of your ideas of a kitchen cabinet, but in a limited manner, unlike stock cabinets.
Custom
A custom cabinet is a customizable type that allows you to adjust, add, and modify the cabinet's specifications according to what you prefer and your kitchen area's size. In a nutshell, it is specifically built for a specific area. The parts and units of custom cabinets are done in the workshop but assembled and installed on-site.
2.   Quality of Materials
Another vital factor to consider before buying a kitchen cabinet is the materials. Cabinets can be made from wood or steel; therefore, you have to know the pros and cons of these materials and maintain their quality. If you plan to have a wooden-type, try to buy a cabinet that's made from mahogany or acacia since these are sturdy varieties of trees. Meanwhile, if you're going for an industrial look, make sure that the cabinet is stainless steel.
3.   Budget
Nowadays, you must be pragmatic before you purchase something. It's essential to assess the price and the quality of a product for you to evaluate if the item is worth buying. Similarly, in selecting the cabinet for your kitchen, look for the specifications of the item – size, materials, and price – to arrive at a decision.
4.   Cabinet Size
If your kitchen's size is small, don't push yourself from buying a large kitchen cabinet. It would just consume a wide space that leaves you little-to-no room for cooking and preparation. In fact, some cabinets have been upgraded to just for smaller kitchens.
5.   Cabinet Style
Importantly, don't forget to look for a kitchen cabinet that speaks of you and your style. This way, you'll be able to boost the holistic aesthetic appeal of your home.
Framed
Framed cabinets are also known as American-style or traditional style. The door is connected to the shelves by using hinges. Framed cabinets are known to be sturdy and stable, unlike frameless cabinets. It's also easy to install and less expensive compared to the frameless-type. However, the major con of this cabinet is it has less storage.
Frameless
The frameless cabinet is also known as modern cabinetry, full-access cabinets, and European style cabinets. Similar to the framed cabinet, the door is connected to the cabinet's box using hinges. This cabinet is excellent for a modern-looking kitchen because of its finesse, sleekness, and edginess. However, it has lesser stability than the frame cabinet.
Takeaway
Thus, when you buy a kitchen cabinet for food storage and equipment safe-keeping, think like a wise man because it means practical consumerism. It's essential to consider the major factors that entail when you buy something. Reading some online reviews and blogs about the time you're planning to buy would give you an insight pertaining to the pros and cons of the product.