You guys know how much I love coffee, right? But I'm in the process of trying to heal my gut right now because of acid reflux so I am laying off of coffee for an indefinite period of time — even the decaf ones. While I'm at it, I am trying out the different coffee alternative or coffee substitute that's available. I'm sharing it for the benefit of those who are like me, has acid reflux, silent reflux, or those who are just trying to quit coffee to lead a healthier lifestyle. It's acid free and caffeine free so it's perfect.
Let's start with TEECCINO ROASTED HERBALK TEA – HAZELNUT. I happen to find out about this product while I'm making a research about coffee alternatives, then I looked for it in Shopee. Buti meron! I bought this for ₱375 and it contains 10 tea bags. So parang ₱37.50 lumalabas ang isang cup.
Here are the Ingredients:
Organic Carob (Caffeine free chocolate powder)
Organic Barley (Popular coffee alternative)
Organic Chicory root (French coffee alternative)
Dates & Figs (Natural sweeteners)
Almonds (Adding rich nutty flavor and antioxidants)
Natural Flavors (Natural flavors for fruits, spices and herbs)
What I love about this product is that it is essentially coffee in a tea bag. It's very convenient because it's already packed in single serve bags and you can bring it anywhere. Another great aspect is that Teeccino uses unbleached tea bag filter paper.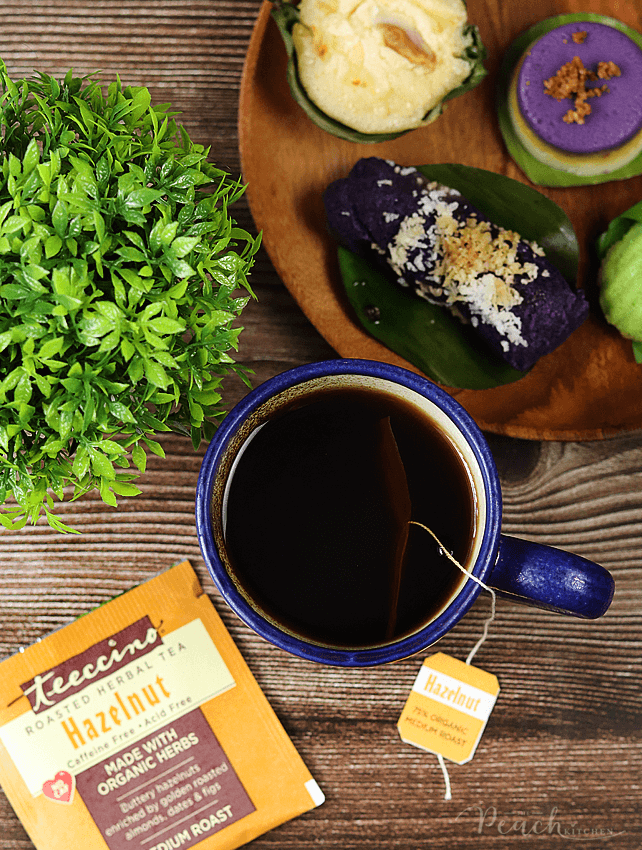 When I opened the tea bag, I was greeted with a coffee-like aroma. As per box instruction, I steeped in in my hot water for 5 minutes. It resulted in that familiar shade that resembled brewed black coffee in every way. It smelled amazingly of Hazelnut too.
I drank this just how I drink my usual cup of joe, with non-dairy creamer and sweetener. Wow! It tastes just like brewed coffee with hazelnut syrup.
I am very excited to try the other variants! Have you tried Teeccino? What variants have you tried? Do you have any other coffee alternative/coffee substitute suggestions?
Chika nyo naman sa akin sa comments…