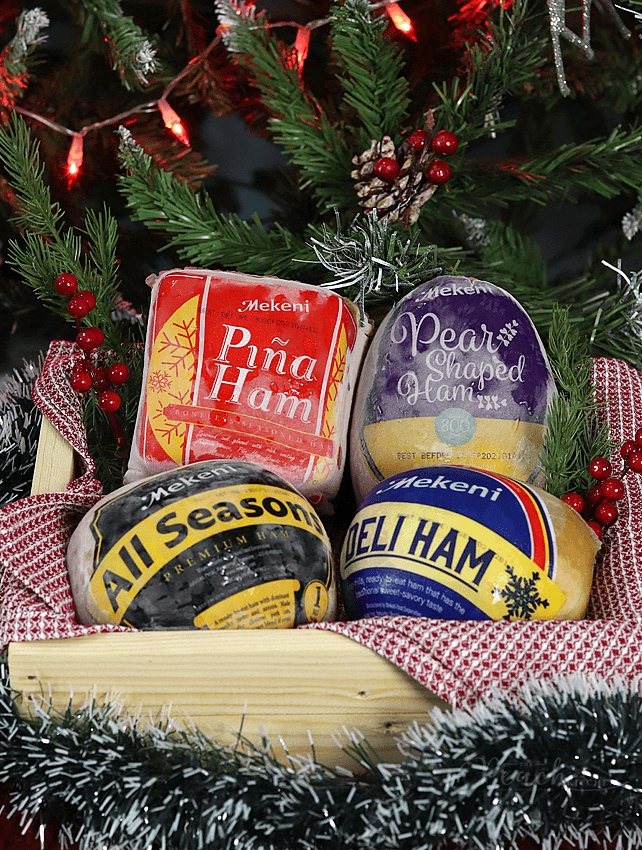 Mga mamsh! I know you're already planning your Noche Buena (if you haven't already). Kasi ako, at this time, I am already thinking of what's going to be at the Christmas table.
When I was younger our Noche Buena used to be ham, queso de bola, tasty bread, and creamy peanut-ty hot chocolate. My nanay and tatay prefers it that way –it has been a tradition. When I grew up, syempre, it evolved into a modern day Noche Buena with a theme – Snowman-Themed Noche Buena one time and a Santa Claus-Themed Noche Buena next. Pero one thing is for sure — hinding-hindi mawawala ang Christmas Ham.
This year our Noche Buena is going to be extra special with Mekeni Christmas Ham as the centerpiece of our table.
Mekeni Christmas Ham is available in four variants — All Seasons Premium Ham, Deli Premium Ham, Piña Ham, and Pear-Shape Ham.
All Seasons Premium Ham (1 KG for ₱580 SRP)
Smoky and aromatic. The All Seasons Premium Ham is seasoned with a rare blend of exotic herbs and spices and made from the choicest pork cuts.
Deli Premium Ham (1 KG for ₱500 SRP)
A no-frills ready-to-eat ham. Mekeni's Deli Premium Ham has the traditional sweet-savory taste that kids and kids-at-heart will love.
Piña Ham (1 KG for ₱330 SRP)
Pineapple in ham is A-okay! Mekeni's Piña Ham has the right balance of smoky, sweet, and salty flavors. It is perfectly seasoned and glazed with a rich coating of pineapple sauce, making you finish your ham with so much gusto in no time.
Pear-Shaped Ham (800g for ₱260 SRP)
If you are on a budget but still want to make your Noche Buena festive, this Pear-Shaped Ham is for you! Savor this juicy, lean, boneless ham perfect for the holidays and suits well within your budget.
Diba? These hams are suitable for all our holiday festivities — mapa-family reunion man yan (through zoom), Christmas gifting to friends and relatives, or creating your favorite dishes for your families. It also fits whatever budget you may have.
You know what my favorites are? I love love love the All Seasons Premium Ham and the Deli Premium Ham — I love how flavorful, tender, and juicy each slice is. And you can see that it's made from 100% meat.
OUR FAVORITE CHRISTMAS HAM RECIPES
Let me share with you two of our favorite Christmas ham recipes.
First, is this Mekeni Christmas Ham Sandwich. Usually, we have this the next morning after our simple Noche Buena. We turn it into a sandwich with mayo, lettuce, and strawberry/raspberry jam. Super thin spread lang ng jam or it'll be too sweet. Sarap nito!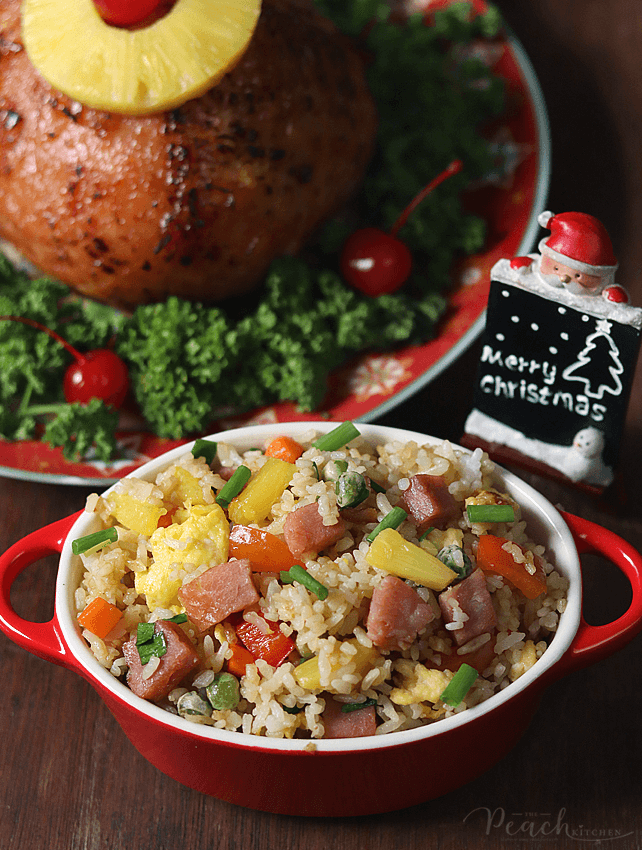 And this Mekeni Christmas Ham Fried Rice — that's exploding with flavors! It has peas, carrots, spring onion, egg, bell pepper, and of course, the pineapples you used to decorate your plate of ham! I'm sharing with you the recipe on my next post.
These Hams are available in Mekeni Home2Home Delivery, Mekeni Food Outlets, wet markets, and other online platforms.
Make Mekeni Christmas Ham a part of your Christmas celebration and level up the festivities at home.
Have a #MerryMekeniChristmas!