Charcuterie boards are back in style, and with them comes the fun and creativity of designing your board. Whether you like to go heavy on goat cheese or enjoy more meat on your board, most boards, unfortunately, end up seeming remarkably similar.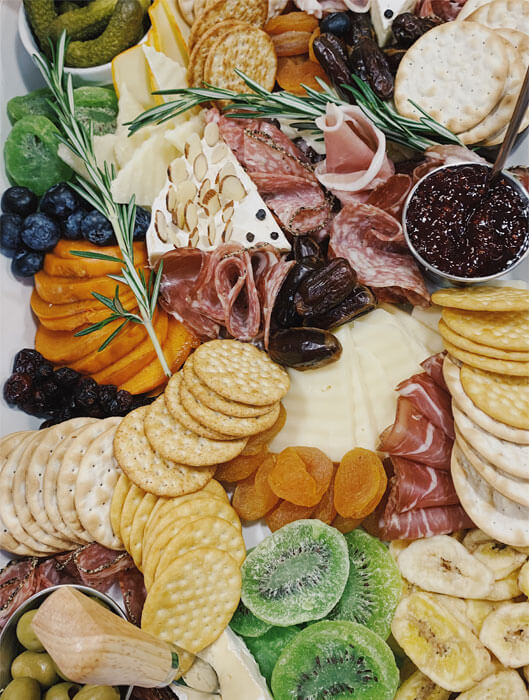 If you want to break free of this sameness curse and try to make something unique, it's not as hard as it seems!  Here are some of the best tips to help you make a board unlike any other.
Focus On Rounding It Out
Although the cheeses and meats are essential: so are the dips. Many completely overlook offering any jellies, jams, or sauces with their cheese boards. Along with your crackers, you should offer some type of sauce like bacon jam or jalapeno jelly to complete the board. These unique flavors can inspire new combinations and flavor mixes that will surprise and delight anyone enjoying the board. Even if it's just for you, add sauces that you can use to complete the board.
Pay Attention To Color And Shape
This might sound like the beginning of a color theory lecture, but there's good information there!  Using a variance of colors and shapes gives you visual interest and guarantees that your board has a good variety of foods!  Sharp cheddar is bright and vivid when placed next to a cooler-toned mozzarella.  Some cheeses are more flexible, like goat cheese and cream cheese, paired with clear jams and preserves into a bright splash of purple or red.  Whatever meats you add can also be varied; ensure that they play well together when paired.
A Touch of Acid
The problem with most cheese boards is that they have two modes. Savory and creamy. Although these are both fantastic, something is missing here! Sweet and acidic both need some love. You can add sweetness through the jellies, jams, and sauces mentioned earlier: but sour is a thing all its own.
The top way most people add acid is by simply adding in a cup of mini dill pickles.  Although this is delightful and fun, we can take it further!  You can pickle nearly any vegetable, and it will taste good!  Pickled carrots, pickles, and pickled beets can add some exciting flavors to the party.  Although you shouldn't make a tray with all three of these, just one of them is enough to brighten the tray.  
Visual Aesthetics
The way you present your board is just as important as the flavors that are on it.  You can attractively fold the meat so that it lays out like ribbons and cut the cheese in pretty slices that look like bows or stars.  The visual will help inform the flavor since people generally judge something purely off of aesthetics.  If you can make the board look fancy and classy, people who enjoy the board will be convinced that it's fancy and expensive.  You should still ensure that everything on it is delicious, but there's no sin in making it pretty as well!