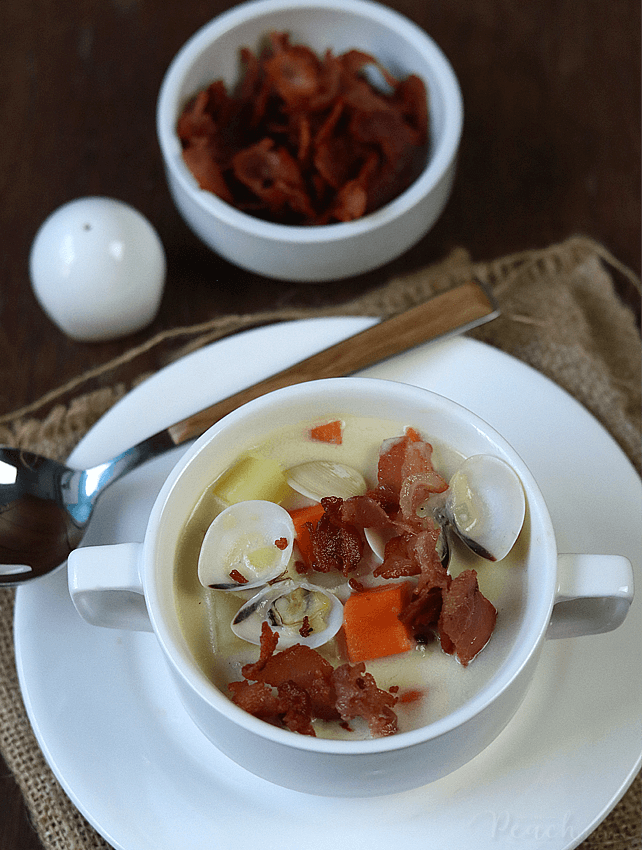 You guys know that I can only consume a limited amount of dairy because of my LPRD (or acid reflux), right? Since I love love love anything rich and creamy, I had to find an alternative so I can still cook and eat what I normally do without sacrificing the taste.
I love soy milk too and I drink it whenever I can. So I was very happy when I discovered Vitasoy Plus Milky. It's soy milk, and yet it's creamy and milky — perfect substitute for milk. As a matter of fact it's what I use everyday for my coffee — like this Caramel Soy Cappuccino.
WATCH THE VIDEO HERE:
We wanted a light dinner, so I made this Soy Clam Chowder Vitasoy Plus Milky. It resulted in a creamy flavorful chowder and paired perfectly with this Easy and Delicious Tuna Burgers.
To cook this, all you need to do is sauté garlic and onion in butter and add the flour. Then pour the Vitasoy Plus Milky, water, thyme and add the potatoes and carrots. Simmer until the vegetables are cooked, then add the clams. Season with salt and pepper. It's done. See, it's so easy. You may choose to garnish or not with bacon crumbles.
Don't worry if the soup is not too thick at time of cooking. It will thicken later because of the starch in the potatoes. If it becomes too thick for your liking, you may thin it our with more water or Vitasoy Plus Milky.
OTHER RECIPES YOU MIGHT LOVE…
Print
Soy Clam Chowder
500g

fresh clams

2 tbsp

butter

3

cloves garlic, chopped finely

1

white onion, chopped

2 tbsp

flour

3 cups

Vitasoy Plus Milky

1 cup

water

1/4 tsp

dried thyme

1

potato, cubed

1

carrot cubed
salt and pepper to taste
crispy bacon crumble for garnish (optional)
Instructions
Over medium heat, boil the fresh clams and make sure all of it is covered with water. Once done, remove from water and throw away those that didn't open. Set aside.
In a pot, heat butter and saute garlic and onion until fragrant. Add the flour and cook for about 1-2 minutes.
Pour in Vitasoy Plus Milky and Water.
Add the potatoes, carrots, and thyme. Simmer until the vegeatbles are cooked.
Add the cooked clams and season with salt and pepper to taste.
Turn off heat. Transfer to serving bowls and garnish with crispy bacon crumble before serving
♥

IF YOU MAKE THIS RECIPE, KINDLY SNAP A PHOTO AND TAG @THEPEACHKITCHEN ON INSTAGRAM (OR HASHTAG IT #THEPEACHKITCHEN). I'D LOVE TO SEE WHAT YOU COOK