The rainy days in the Philippines are considered blessings by many people. For some, it is the time to take out their hoodies or blankets to keep them warm while they read and drink their favorite hot beverage. For some, the rain is nature's gift that lets plants and crops grow. Farmers are delighted to have bountiful harvests at the end of the season, which means more food will be produced and brought to many households.
And to celebrate the fruitful harvest and comfortable weather, food is another blessing that allows us to enjoy life and its opportunities. Here are six delicious and heartwarming dishes for you and your family this rainy season:
Chicken Macaroni Soup
Chicken macaroni soup, or sopas, is a classic dish many households in the Philippines prepare during colder seasons. It is the Filipino variation of chicken noodle soup, and often cooked for those who are sick or need something to cheer them up during gloomy, rainy days. It's no wonder chicken soup is called "food for the soul" due to its healing and mood-enhancing properties.
Chicken macaroni soup isn't just delicious but also easy to make. With a few simple ingredients, such as chicken breast, elbow macaroni, carrots, salt, and pepper, you can create a delicious and healthy soup for you and your family. 
Bulalo
Bulalo, or oxtail and bone broth, is a popular dish hailing from the chilly and beautiful Tagaytay City. Its popularity ushered in the establishment of various bulalo eateries in the CALABARZON region. People living in Camella Lessandra Calamba can enjoy the warm and yummy broth by going to nearby restaurants that serve bulalo.
Bulalo soup is made even more delicious with the tender meat and bone marrow that adds flavor and texture to the whole dish. Vegetables such as pechay, cabbage, corn, and potatoes add more flavor and nutrients to the broth. Through bulalo, you'll have a heartwarming dish that is good for your skin, bones, teeth, and overall wellness.
Ginataang Bilo-bilo
Are you craving sweets and hot foods at the same time? Ginataang bilo-bilo is the right dish for you. Think of it as a hot version of halo-halo. But even without the ice cream and shaved ice, ginataang bilo-bilo can still provide that warmth and sweetness you need to get through gloomy days.
Making ginataang bilo-bilo may take a lot of work at first because you'll need to roll small balls from dough. However, your efforts will pay off because you'll have a sweet dessert with chewy dough balls, white pearls, and sweet potatoes your family will surely love.
Arroz Caldo
Amp up your usual rice porridge, or lugaw, by making Arroz Caldo. It is made with sticky glutinous rice, so it is thicker and richer than the usual lugaw. It also has chicken, which makes it tastier and healthier.
Arroz Caldo is perfect for combating hunger and the cold weather. Sprinkle some black pepper and spring onions to make your porridge more delicious and savory.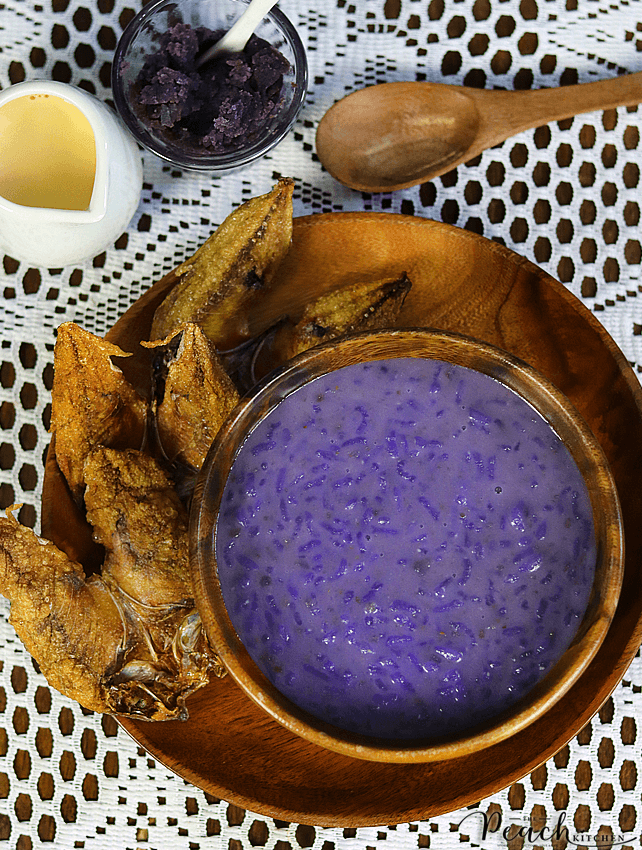 Champorado
Champorado is another rice porridge dish many Filipinos love. Just like Arroz Caldo, it is made with sticky glutinous rice. But instead of chicken and other spices, champorado is made with chocolate, sugar, and milk. (Or Ube)
Champorado is perfect for breakfast and snacks. Some eat it with dried salted fish. However, eating it as is with a sprinkle of powdered milk is just as tasty.
Spicy Ramen
The rainy season is ideal for catching up on your favorite K-drama. And what else is better than to pair your love for Korean pop culture with iconic ramen? Preparing it is easy because you'll just need to pour boiling water to cook the noodles and seasonings. However, you can amplify the taste and nutritional value of your ramen by adding sausages, eggs, seaweed sheets, cheese, and Korean rice cakes.