The holidays are upon us, and for many food enthusiasts, that means cranking up the kitchen for some serious entertaining.  Even if you're not hosting a holiday event this year, there are still other events that might make you open up your home and pass dishes with friends and family. 
From a New Years' bash to bodacious birthdays – entertaining is the best way to gather loved ones and share delicious delights.  But no matter how scrumptious your culinary concoctions might be, a poorly organized event could put the kibosh on your shindig.  That's where these no-fail tips to seamless entertaining can come in handy. Read on about how you can pull off a stellar soiree that you and your guests will remember long after the main event.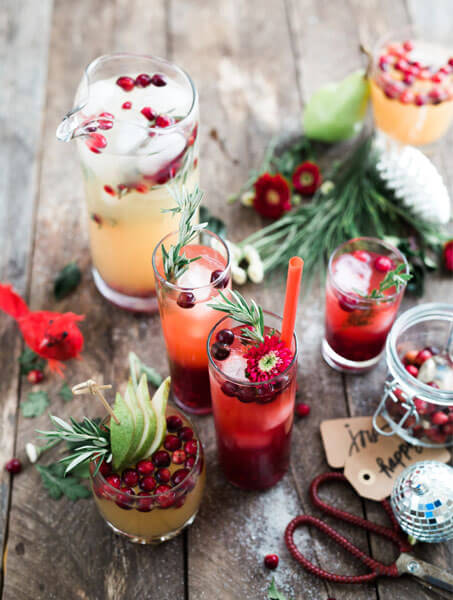 Plan in Advance (Even if Planning Isn't Your Thing)
This no-fail tip on seamless entertaining comes from Ben Franklin who said, "By failing to prepare, you are preparing to fail."  Perhaps you're not a big fan of planning, preferring to "wing it" rather than have a structured game plan in place.  That's okay.  However, at the very least, start visualizing your perfect party.  Envision what it should look like.  From there, try to nail down a few details. 
For example, you might want to provide party gifts for people attending your festivities.  Or maybe you'd love to ramp up the fun by including some games or activities at your celebration.  Then again, you might foresee a theme for your entertaining event.  You get the idea.  Give yourself time to contemplate and dream about the perfect entertainment venue. 
After some brainstorming, consider writing down the details. The more you commit to paper or digital lists, the more your mind is free to pull off a spectacular event.  What's more, the more you prepare, the more no-fail your entertainment endeavors will be which bodes well for you and your guests.
Stock Your Larders
That's just a fancy way of saying lay in your goods and groceries before party go-time.  Now, this might seem like a no-brainer, but as a foodie, you probably know how crucial it is to procure all your items and ingredients before the big event.  Furthermore, there's nothing worse than being in the throes of preparing your delicious dishes – only to discover you're missing the tarragon, baking soda, or the all-essential high smoke point cooking oil.   
Do yourself (and your guests) a big favor by prepping your pantry before you even think about firing up the stovetop.  This will save you loads of time, energy, and potential frustration.  Additionally, pre-stocking will allow you to prepare more effectively in case you notice something missing from your culinary arsenal.
Consider Your Guests
Ideally, you're throwing a party to entertain and uplift your guests.  Therefore, the people you invite should be your guide as to the look, feel, menu, and overall theme of your event. For instance, hosting a birthday party for teenagers will look significantly different than a Valentine's Day mixer for all of your single friends. 
As your attendees will predict the theme of your celebratory event, consider your guest list.  You might even take this a step further by selecting your guests according to their personalities, proclivities, and interests.  For example, you might want to throw a party exclusively for all your foodie friends. In this case, the theme of your party will obviously be food-centric.  Or perhaps you can orchestrate a gathering for a movie-loving bunch.  In this example, consider a theme based on various movie genres, or silver screen stars, or maybe even have an Academy Awards red carpet party. 
Then there are more loosely-defined guest lists to consider.  Let's say you've been recruited to host a wedding anniversary party.  This type of venue can be tricky because your guests will likely vary in ages and interests.  In this scenario, the only common denominator among the guests is the happy couple celebrating their anniversary.  Ergo, focus on that while preparing for this celebration.  Honing in on the appropriateness of the event is contingent upon the people attending the party.  When you consider the needs of your guests, you're better prepared for enjoyable and effortless entertaining.
Tips for Seamless Party Staging
The success of any party relies heavily on cueing and staging.  These are just techie words that simply refer to how your guests move, interact and socialize at your event.  In an ideal get-together, partiers should feel comfortable and welcome.  The flow of food, beverage, and attendees can be made more seamless by paying thoughtful attention to how you arrange your environment.
For instance, consider having multiple stations for finger foods and drinks. This coaxes your party-goers to move around the room.  To explain, if you have all the yummy edibles in one place, your guests might hover in that one area. This clogs up the flow and energy, which leads to a stagnant affair.  Staging different foods and beverages in different locations stimulates guests to circle about and sample.  In turn, this prompts your guests to communicate with each other which leads to a more well-rounded and enjoyable party.
You might also want to take a tip from retailers when it comes to keeping guests moving in the right direction at your party.  One such tip is called the "invariant right." This is a highfalutin term in retail design theory. The invariant right theory assumes that most people tend to walk in the direction guided by their predominant hand.  As most people are right-handed, this indicates that most of your guests will start moving to their right as soon as they walk through your front door.  
Forearmed with this clever knowledge, you can set up your venue in a way that spreads your dishes, drinks, or party favors on a right-centric trajectory.  This promotes fluidity and avoids congestion, allowing your guests to naturally and organically flow through your party scene.
Simple Is the New Black
Another smart source you can borrow when hosting a seamless entertainment event is from the fashion industry.  Coco Chanel is immortalized for transforming the fashion world with strong use of minimalism and classic simplicity.  You can revolutionize your celebrations by going simple too. 
There's nothing wrong with going over-the-top or adding a little flamboyance to your festivities. However, in most instances, sticking with the basics is the best-advised tact to take.  
Firstly, keeping it simple saves you a lot of hair-pulling and stress as you're planning and launching your party.  Secondly, too much fluff and not enough substance tends to put a pall on a party.  Too many distractions or complications can also be overstimulating for guests, and can even render a bit of anxiety depending upon the dispositions of your attendees. 
Lastly, just as in the fashion world, an event done simply means you are better prepared to pull off a sublimely perfect party. To explain, simple is akin to elegant execution.  Focusing on the basics, and doing them exceedingly well means you aren't spread too thin.  Remember, the basics aren't boring.  They are classic and timeless.  So, when you stick to the basics, you are more prepared for a sensational celebration you and your guests will savor.
Learn From Experience
If you're new to hosting a party, then this might be a tough tip to follow.  But that doesn't mean you're in for a rough ride for your first shindig.  Before throwing your first party, make things easy on yourself by doing research first.  Go to reputable websites that specialize in hosting and entertaining.  Learn from their experience and utilize their expertise when planning your fiesta.
Or better yet, talk to friends and family members who have hosted events in the past with notable success.  They can give you invaluable advice on how to ace an epic event.  These excellent experts can also weigh in on what to avoid.  Consider sharing your ideas for your party with them and get their perspective.  People you trust who have "been there, done that" and rose to the challenge successfully can be priceless resources in your entertainment endeavors.
And if you're a veteran at planning parties, revisit your memories.  Think about what worked in the past, and what went bust in previous parties you've thrown.  This might seem obvious, but very often we can get so enthralled with the excitement of planning something new, that we overlook the secrets of our past successes (or failures). 
Accentuate Your Positives
We all have areas in which we excel and other areas that cause challenges.  With this in mind, be sure to focus on what makes you stand out.  For example, if you are a master mixologist, showcase that talent at your next party.  Or perhaps you have a knack for masterfully baked goods.  Take advantage of that. 
Accentuating your positives helps you prepare for seamlessly entertaining your guests because you're relying on skills you are familiar with.  Alternatively, if you choose to roast a full pheasant for a holiday party, yet you haven't the first clue how to do it – you could be setting yourself up for a festive disaster.
All of this brings us to the most important tip to seamless entertaining. You be you!  The trick to pulling off a superior event is to imbue your personality into the party.  Your style, personality, and specialties are essential to pleasing your guests and nailing a sublime event.  Furthermore, staying true to yourself as you prepare for a celebration will keep you happy and comfortable.  This, in turn, will encourage your guests to enjoy themselves as well.