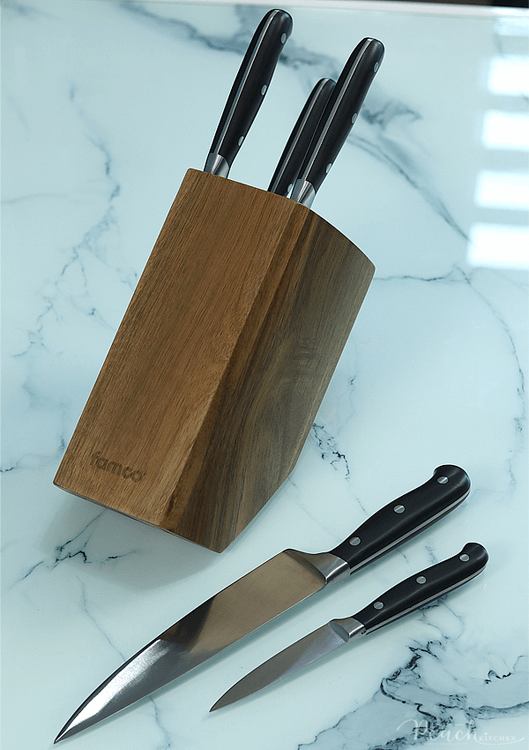 When you're a mom, even if you don't like cooking, you always get excited whenever you have new appliances or new cookwares at home. And I'm sure, it will make you to want cook more for your family. So call ME excited because I just welcomed these FAMCO Cookwares and Knife Set in my kitchen last week.
6-Piece Knife Set with Acacia Wood Knife Block (₱3,650)
This 6-piece knife set and wood block are must-have essentials for any kitchen. It comes with a variety of knives for all your food prep and cooking needs, making it easy for you to prepare any type of dish. It has a chef knife, a bread knife, a carving knife, a paring knife, and a utility knife. The knife block features an angled design that makes it easier for you to take out your knives. It is very sleek  and aesthetic. It's made of German stainless steel.
I love using the Chef knife because the thickness is just right and the weight is also perfect – hindi gaano mabigat, hindi rin gaano magaan. I've used really thin and lightweight knives before and I didn't like it.
7 Quart Casserole (₱3,200)
This casserole is a family-friendly essential for everyday cooking. You can use it for a variety of dishes, you can use it to cook pasta or preparing big portions of soups like Sinigang, Nilaga, or stews like Mechado or Caldereta. Kahit magluto ka ng pang-handaan, pwede because of its size. It has double handles, allowing you to easily pick it up.
10″, 4 QT Non-Stick Sauté Pan (₱2,950)
If you're a big fan of browning meats and stir-frying dishes, this 10" non-stick sauté pan will be a big hit in your kitchen. It's very versatile  and you can use it to cook whatever's on your menu for the day. You can use it to cook stir-fries, small batch stews, or pasta sauces. It even comes with a fitted lid to trap heat, enabling you to cook dishes quickly in a small amount of fat. I love that it is made of tri-ply stainless steel and it has a non-stick coating as well.
8″ Non-Stick Frying Pan (₱1,350)
This is small but I think this will be the most used pan in our kitchen because it's ideal for cooking smaller portions. Ykaie loves cooking her breakfast or merienda and this pan is just perfect for frying an egg, toasting bread, and making pancakes. If you are a fan of cooking small portions of food, this is also perfect for sautéed veggies, fried pork, chicken breast, or seared salmon and tuna. It's also perfect on lazy days — for your fried hotdog or spam, scrambled eggs, ginisang tuna or sardines.
I used this to cook our favorite Pinoy Spaghetti the other day. And I found out that the 10″, 4 QT Non-Stick Sauté Pan is perfect for cooking the right portion of food for our family of four.
I used the 7 Quart Casserole to cook the pasta and 8″ Non-Stick Frying Pan too cook for breakfast that day.
WHAT I LOVE ABOUT FAMCO COOKWARES
It is made up of tri-ply stainlesss steel construction and it's rust resistant – di ka magwo-worry that it will be eaten by rust.
It's induction compatible – I use a gas stove but I also have an induction cooker which I use for emergencies or outside cooking or when I'm making cooking videos.
It's very easy to clean — especially the cookwares that are non-stick.
I love that it's aesthetic — it has a sleek and modern design that's perfect for every kitchen.
You can shop for FAMCO products through their website https://makeitfamco.com/ or through Lazada : https://www.lazada.com.ph/shop/famco-ph/
They also have dinnerwares, beddings, and bath products.