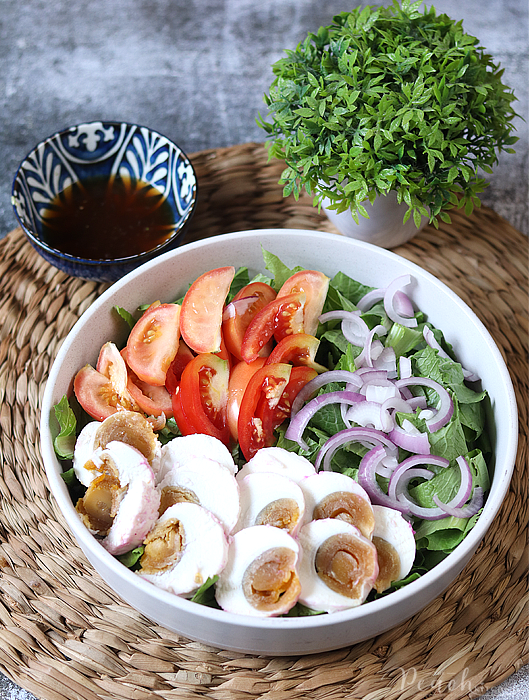 The other day, our ulam was Tinapang Bangus and I was thinking of what to pair with it. Most of the time, when our ulam is dry — like fried or grilled —  I like to pair it with soup or sautéed vegetables but this time I was thinking it would be nice to pair it with something fresh. So I made Ensaladang Mustasa.
Ensaladang Mustasa is a salad made of fresh mustard greens, tomatoes, onions, and salted egg. I made a Sweet Calamansi Dressing for it using calamansi juice, patis, and brown sugar.
WATCH THE VIDEO HERE:
This is usually tossed in the dressing one hour before serving but I kinds like it better fresh than soggy. So I toss this in the dressing when we're about to eat.
Do you make Ensaladang Mustasa too?
Print
Ensaladang Mustasa (Fresh Mustard Greens Salad)
1

bunch fresh mustasa (mustard leaves), chopped into pieces

2

tomatoes, sliced

1

onion, sliced

2

salted eggs
sweet calamansi dressing
juice of

5

calamansi

1/2 tbsp

patis

2 tsp

brown sugar
Instructions
Combine the calamansi juice , patis, and brown sugar in a small bowl. Mix well, adjust the taste, and set aside.
In a large bowl combine the mustasa, tomatoes, onion and salted egg.
Drizzle with the dressing and toss.
Serve with fried fish or pork and steamed rice.