Have you ever spent the whole day trying to make the perfect pizza, only to find out it fell far short of the mark? Or perhaps you're craving that slice of pie from your favorite pizza parlor, but for whatever reason, that lovely bite is just out of reach. Even worse, maybe you've reverted to a frozen pizza and wound up sorely disappointed with the results.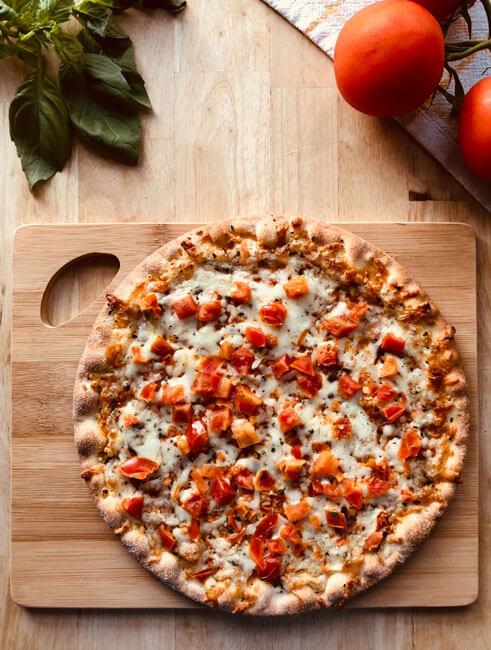 There are specific reasons your slices aren't making the five-star restaurant-grade you're aiming for at home. The real secret behind making a premier pizza pie is all in the baking process. Sure, ingredients are important, but the serious magic happens in the oven. So, read further about the baking secrets behind restaurant pizza versus home-cooked pizza.
The Truth About Restaurant-Style Pizza
If you do your research on any quality pizzeria or restaurants that excel at making drool-worthy pizza pie, you'll find they are baking their pizzas at around 800 – 900 degrees Fahrenheit.  Unfortunately, most kitchen ovens aren't designed to hit those high temps.  That's where a pizza oven dome is your best bet. 
Pro pizza ovens get super-hot, which is ideal for superior pizza cooking. Furthermore, the dome allows that high heat to circulate around your pie, which means you've got perfect, even cooking. The result of a dome oven-cooked pizza is that classic crunch with a soft center in the crust, bubbly cheese, and toppings with just the right amount of char.
Why Your Oven Can't Crack the Pizza Code
As mentioned, the key to restaurant-quality pizza is to bake it at screaming hot temperatures. At best, the top brands of home-use ovens can maybe hit as high as 500 degrees Fahrenheit. So, that means your regular oven will never reach that coveted 850+ degree mark to fire off that mouth watering crust and gooey, caramelized cheese factor.
To compensate for insignificant temperatures in a regular oven, you're probably cooking your pizza longer. Consequently, this causes the juice from your sauce and toppings to saturate through the dough. This leads to a soggy, unsatisfactory pizza.
Conversely, a professional pizza oven with a dome can blaze a pie off at super-high temp within a matter of mere minutes. This produces that classic crust, with a sensationally soft center and that coveted "leopard-spotted" browning effect on your cheese.
The Secret of Sensational Flavor
Furthermore, a home-use oven can't master the flavor the way pro ovens can. To explain, some of the best pies that fly out of award-winning pizza parlors use domed pizza ovens with a flame. Additionally, some of the most exemplary prized restaurant pizzas use wood to stoke the fires in their ovens.
In either case, that flame infuses intoxicating flavor into the pizza. Furthermore, a fire-baked pizza renders the perfect char on your pie, which is what makes classic restaurant pizza so crave-able.
Conventional, home-use ovens simply can't compare to flame-fueled pro ovens. Even if you have a gas oven, it still won't mimic the mouthwatering flavor and texture that results from cooking in a traditional pizza dome oven.
So What Is a Pizza-Lover to Do?
According to consumer studies, pizza is America's favorite food.  It's no wonder, really.  Since its early days in 18th century Naples, Italy, pizza has become a worldwide sensation.  If you and your family members are in the majority who would happily eat pizza every night of the week, you can still make that dream a reality at home.
Yes, we realize we just delivered the heartbreaking news that your home oven simply can't make the grade when it comes to creating a pure gold pizza. But that doesn't mean it's out of reach. If you and your family are serious pizza-lovers, then you can have your pie and eat it too by getting a high-quality, professional pizza oven.
These ovens are designed to create a superlative pizza that comes out of the oven perfectly every time. Furthermore, a pizza oven can be very versatile in that it can bake different types of pizza. From Neapolitan to deep dish, thin-crust to Margherita – a pro pizza oven will consistently serve you and your family drool-worthy slices resulting in smiles all around the dinner table.