Growing your own fruit and vegetables is incredibly rewarding for many reasons. The joy of watching the seeds sprout into tiny perfect seedlings, the fascination of watching them develop into actual plants right through to picking that first ripe fruit. There are also many frustrations along the way – failing seeds, late frosts catching tender seedlings, and pests eating everything. But there is one thing about growing your own food that is both a joy and frustration: a glut.
One moment your plants are putting out a steady number of fruits and vegetables that you can easily keep up with. Then seemingly, in the blink of an eye, one or more of your crops has ripened all at once, and you have more than you can deal with. When this happens, you find out how clever and generous you can be to use the bounty before you.
Garlic
Garlic takes a long time to grow, between 8 to 10 months, making it hard to gauge precisely how much you'll end up with. You can store soft neck varieties for up to a year, but if you're not used to growing your own, you may not know how much you use in that time. If your stored homegrown garlic is coming to the end of its storage life, making a batch of delicious garlic confit is the ideal way to use it all up. Considering how long you must wait for this crop, you definitely don't want to see it end up in the compost bin!
Zucchini
Zucchini and marrow are a crop with a reputation for springing a surprising glut on growers. And while the tender smaller zucchinis are relatively easy to use up, when they suddenly become marrow-sized overnight, they can be trickier to use up. Thankfully these mild-tasting vegetables are versatile and can go in a surprising number of dishes, both savory and sweet. Try marrow jam, lime and zucchini cake, stuffed marrow, or adding it to soup.
Tomatoes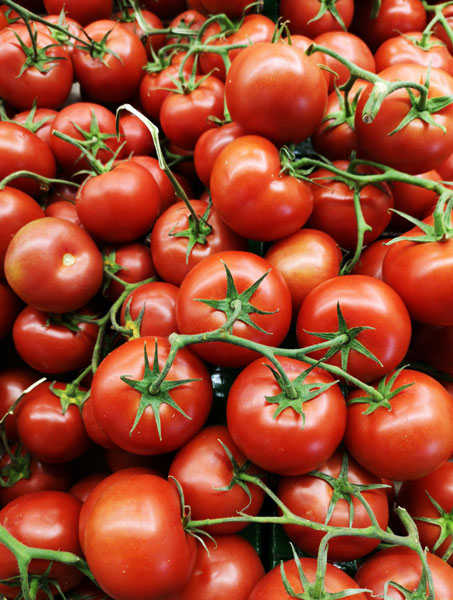 Tomatoes can be a tricky fruit to deal with in significant quantities due to being prone to disease, especially when grown in less-than-ideal climates. Looking at vines full of green fruits that are just starting to ripen and realizing black spots are appearing feels devastating. Potato/tomato blight can carry your whole crop of tomatoes off before a single fruit turns red, and you can't eat green tomatoes. Except, yes, you can cook with green tomatoes, so if disease threatens your unripe crop, get the pan out and make a tasty batch of green tomato chutney.
Not only will a glut of fruit or vegetables from your garden allotment see you getting creative in the kitchen, filling the larder for months to come, but you get a reputation for generosity. Giving fresh produce to friends, family, neighbors, and anyone else you come across is an excellent way to share your good fortune. Add fresh baked goods to your giving, and you'll be doubly loved and fulfilled.