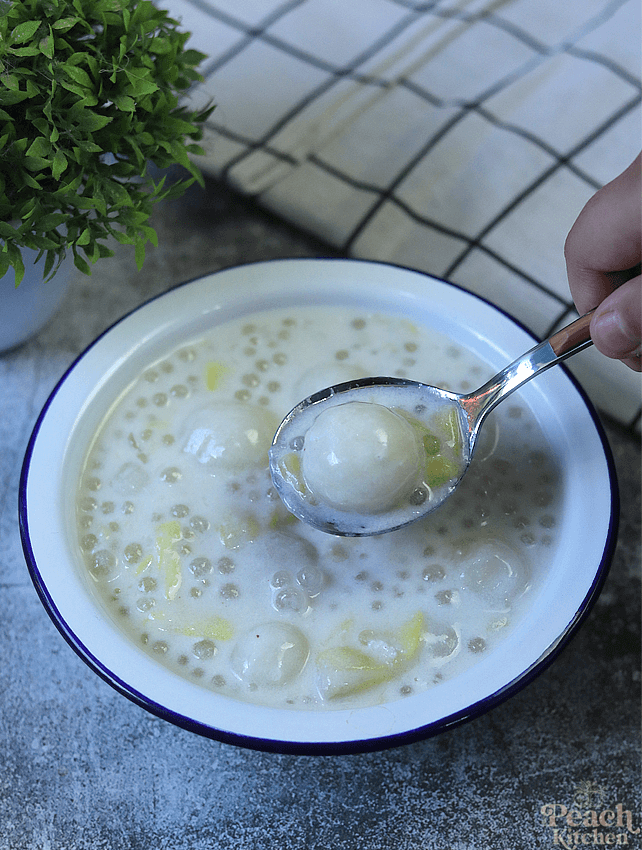 Today's merienda is Ginataang Bilo-Bilo! It's a rich and sweet dessert (or snack) soup made with coconut milk, glutinous rice balls, tapioca pearls, and jackfruit. It's actually my first time to make this because what I always cook is Ginataang Halo-Halo – a version of this which has additional ingredients like saba banana orange sweet potato, and purple sweet potato. The thing is — whenever I make it, we always end up with a pot full of the sweet potatoes. Why? Because Ykaie doesn't like it and she ends up picking the all the bilo-bilo. Eh yun din ang gusto ko!… LOL!
So I decided that from now on, I will just cook Ginataang Bilo-Bilo here at home. Puro bilo-bilo lang at sago — walang mamimili ng ingredients… hahaha.
Honestly, this is the easiest merienda to cook and it's perfect with the rainy weather we are having these days….
Print
Ginataang Bilo-Bilo
1 cup

glutinous rice flour

3/4 cup

water (or more if needed)

2 cups

coconut milk 

2 cups

coconut cream  (from

2

coconuts)

1/4 cup

white sugar

1 cup

ripe jackfruit, cut into strips

2 cups

small tapioca pearls (sago)
Instructions
Make the Bilo-Bilo : Combine the glutinous rice flour with water until it's not so sticky but can be shaped into balls. Shape it into 1-tsp sized balls. Set aside.
Combine the coconut milk, coconut cream, and sugar into a pot and bring to a boil.
Add the ripe jackfruit and simmer in low heat for about 10 minutes.
Add the bilo-bilo and make sure to stir from time to time to keep it from sticking. Simmer until the bilo-bilo is already floating.
Add the tapioca pearl and simmer for about 5 minutes. The soup will thicken at this time.
You may adjust the sweetness by adding more sugar.
Serve hot. Enjoy!