Shopping for a foodie can be challenging, especially if they already have the latest and greatest kitchen gadgets. Whether holiday gifts, birthday presents, or just-because surprises, no matter what you choose to get your foodie friend, they'll be thankful. But, you can really blow them away with one of these premium gifts. We've rounded up six different items for the culinary enthusiast in your life that are sure to inspire and impress.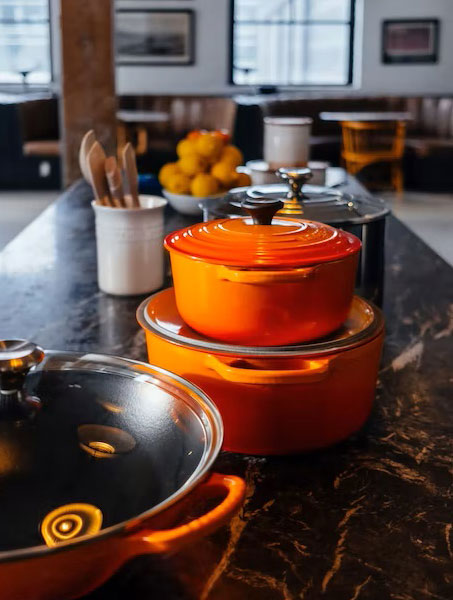 1. Ceramic Cookware Set
An essential part of every kitchen is a high-quality cookware set. Ceramic cookware sets are cheaper than selecting each pot and pan individually, which is one reason why many people prefer them. In addition, the same color and design of cookware in a set gives your kitchen a very sophisticated and fancy appearance. Many people prefer ceramic cookware because it is non-reactive and does not contain any chemicals. It is safer to cook in these pots and pans since they do not contain any harmful substances that may absorb in the food cooked in them. Additionally, ceramic cookware is known to heat up quickly and stay warm for longer periods of time.
2. Knife Sharpener
Every skilled cook knows that sharpness is the key to separating good knives from bad. Knives can become dull and blunt over time, but they do not have to be thrown away. It simply means that they need to be sharpened. So a knife sharpener should be a kitchen drawer staple for any budding foodie. With this tool, your chef can precisely chop herbs, meat, or vegetables. A blunt knife can make it difficult to dice an onion or carrot. Additionally, knife sharpeners are quite affordable. Get one for your gourmand if they don't have one already!
3. Air Fryer
Air fryers are a kitchen must-have. This is an excellent option for someone just getting started as a home chef. Using an air fryer is a quick, easy way to prepare meals and sides without having to use a lot of oil or heat up your kitchen. This is a healthier way to prepare foods that are fried or crispy. An air fryer is ideal because the user can cook just about anything you can cook in an oven or deep fryer (which is a lot!). They are also small and convenient, which makes clean-up a breeze.
4. Dutch Oven
When it comes to cooking equipment, people sometimes feel as if they need the latest equipment in order to make a simple dinner. But in reality, traditional pots and pans like the Dutch oven will do the trick. Like ceramic cookware, ceramic Dutch ovens are a great asset, thanks to their versatility. There are countless ways in which they can be used to create dishes of all kinds, and they are a must-have for any kitchen enthusiast. Instead of dirtying a saucepan, stockpot, or casserole dish, a ceramic Dutch oven can switch roles as needed. Although Dutch ovens are often priced well into the triple digits, spending a fortune on one is not necessary. But, if you choose to splurge, Dutch oven fans say you can expect your Dutch oven to last for generations.
5. Wood or Marble Cutting Board
There's a good chance your food lover will need a cutting board in your kitchen, no matter what they're cooking. In addition to cutting anything on their surfaces, cutting boards can also serve as a serving platter, a surface to handle the dough, and a place to prepare food. Daily use puts a lot of strain on your boards, so you need them to be durable and reliable. Having a quality cutting board is essential, no matter what you're carving, chopping, or prepping. Furthermore, they look beautiful next to aesthetically pleasing ceramic cookware.
6. Bakeware Set
The term "bakeware set" refers to a complete set of kitchen baking tools. Some of the main utensils are baking pans, mixing bowls, cookie sheets, a cooling rack, a muffin pan, etc. Every baker needs the right baking equipment to produce the most satisfactory results in the kitchen. It's amazing how the pan you use affects baking quality; one may even be using the wrong kind of baking pan! If you have an avid baker in your life, they must have varying sizes of pans that can be used for different baking purposes. Whether baking bread, cakes, cupcakes, cookies, muffins, or any other pastries, using the right ceramic bakeware can make all the difference.
Final Thoughts
When it comes to finding the perfect gifts for cooking, lovers of food can be some of the trickiest people to shop for. Cooking is such a unique activity, varying from person to person that finding the perfect gift can be a challenge (especially when all of the latest gadgets are likely to be lining their kitchen countertops). So if you're looking for the latest kitchen gift right now, or you simply need inspiration for kitchen gift ideas, this list is sure to please!