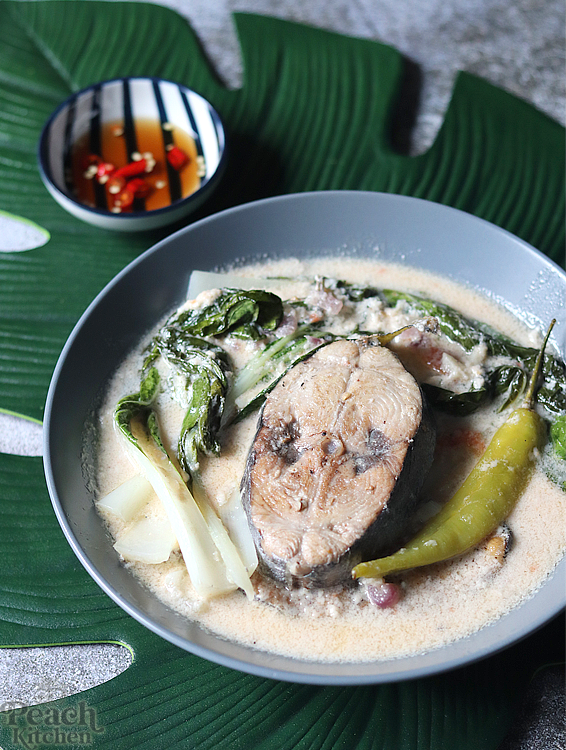 One of my favorite fish dish is this Ginataang Tuna. It's very easy to cook, a simple recipe, and so flavorful! This dish pairs perfectly well with steamed rice because of the rich, creamy sauce. Actually, I think that's the reason why I like all dishes cooked in gata or coconut milk — because it results in creamy dishes.
Watch the Ginataang Tuna Recipe Video Here
Cooking this is very easy. All you need is to do is season the tuna slices with salt and pepper and fry it in oil until it's half-cooked. Then remove the excess oil in the pan and sauté the garlic, onion, ginger, and tomato. Pour in your kakang gata or coconut cream and half a cup of the second piga, or the much thinner coconut milk. Simmer that for about 5 minutes until the sauce thickens then season it with patis. After that, you can return the fried tuna slices back in the pan plus the finger chillies. Simmer again for a few minutes then add the vinegar and the pechay. Cover and simmer until the pechay is wilted …
Then be ready with a whole pot of rice!
Print
Ginataang Tuna
4

tuna slices (about

800g

)
salt and pepper
cooking oil for frying

3

cloves garlic, chopped finely

1

onion, chopped

1

-inch knob of ginger, sliced

1

tomato, chopped
coconut cream from 1 large coconut (kakang gata)

1/2 cup

coconut milk from the same coconut (2nd piga)

1 tbsp

patis

2

pcs finger chili

1/4 cup

vinegar

2

bunch pechay
Instructions
Season the tuna slices with salt and pepper.
Heat oil in a pan and fry the tuna until half cooked or fully cooked. Remove from pan and set aside.
Remove half of the oil from the pan. Sauté the garlic, onion, ginger, and tomato.
Add the coconut cream and coconut milk. Simmer for 5 minutes.
Add the patis. Mix well.
Add the fried tuna slices and finger chillies. Cover and simmer for 5 minutes.
Add the vinegar and bring to a boil.
Add the pechay and cover. Let it simmer until the pechay gets wilted.
Serve with steamed rice. Enjoy!