Beef is the perfect protein for any occasion. Whether you're hosting a dinner party, feeding a family, or cooking for yourself, beef can be a flavorful and delicious part of your meal. From tender steaks to juicy burgers, beef can be cooked in myriad ways to make it an unforgettable dish. 
In this blog, we will take a look at some delicious beef recipes that are sure to be crowd-pleasers. So, what are you waiting for? Let's get cooking!
1. Beef and Broccoli Stir-Fry
Looking for mouth watering beef recipes? Look no further than this beef and broccoli stir-fry. Made with just a few simple ingredients, this classic Chinese takeout dish is packed with flavor and can be on the table in no time. Thus making it perfect for days when you don't wanna spend hours in the kitchen.
Just sautee some garlic and onion in hot oil, add beef and cook until it changes color. Then, pour in your seasoning and spices. Dump in some chopped broccoli and let it simmer until the meat is tender.
Plus, since it's made in just one pot, there's minimal cleanup afterward. And, it's packed with healthy veggies and lean protein, so you can feel good about what you're eating.
2. Slow Cooker Beef Stew
There's nothing quite like a comforting bowl of beef stew on a chilly night. And thanks to your slow cooker, this dish is practically hands-off once everything is thrown in the pot. Just set it and forget it until dinnertime rolls around.
To make the stew, combine all ingredients in your slow cooker. Set it on low and cook for 6-8 hours, or until the beef is cooked through. When it's ready, the beef will be tender and falling apart.
To thicken the stew, mix together the flour and water in a small bowl, then stir it into the slow cooker. Cook for an additional 5 minutes, or until the stew has reached your desired consistency. Serve warm with a dollop of sour cream or a sprinkle of fresh parsley.
3. Beef Stroganoff Casserole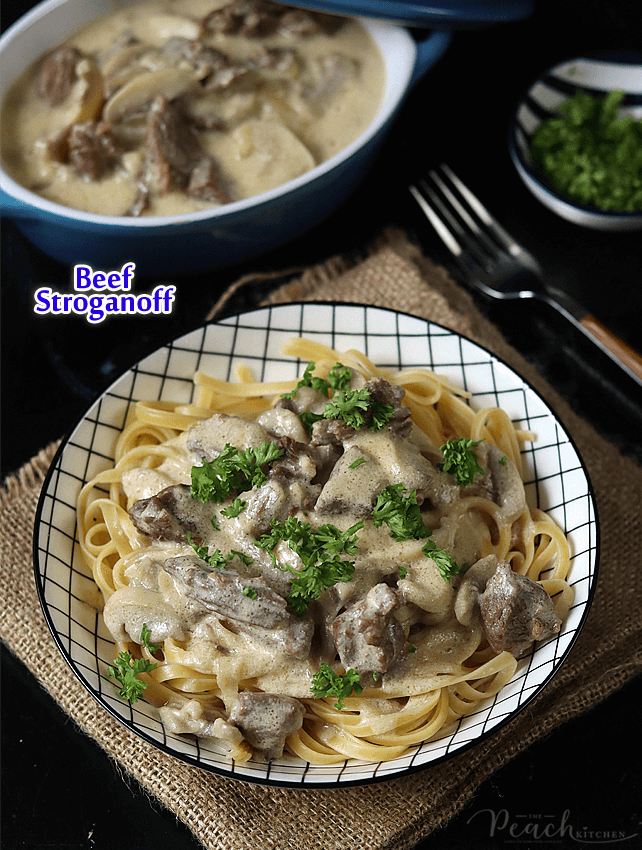 This hearty casserole combines everything we love about classic beef stroganoff into one dish that comes together in no time flat! Start by sautéing ground beef with onions until browned before adding mushrooms and cooking for an additional few minutes. 
Add in cream of mushroom soup along with sour cream before spreading everything out in an even layer on top of egg noodles that have been cooked according to package instructions. Top with shredded cheese before baking until golden brown and bubbly!
This dish is perfect for when you have friends over and you want to cook something warm, indulgent, and quick. It truly ticks off all the boxes!
4. Beef Bourguignon
This classic French dish is great for entertaining guests. It has all the elements of an impressive dish—rich flavors, melt-in-your-mouth beef, and an inviting aroma.
You will need stewing beef cubes, carrots, mushrooms, onions, garlic cloves, tomato paste, red wine (Burgundy is traditional), bay leaves, thyme sprigs, and pepper. The key to this recipe is slow cooking on low heat for several hours so that the beef becomes meltingly tender.
Serve over mashed potatoes or egg noodles for a truly decadent meal!
5. Roast Beef
Nothing says Sunday dinner quite like roast beef with all the trimmings. This recipe is classic yet always impressive.
All you need is some boneless chuck roast (or another cut of your preference), salt and pepper for seasoning, and some olive oil for browning the meat before roasting it in the oven at 350°F for about 2 hours until it reaches an internal temperature of 145°F (or desired doneness).
Serve this savory dish with mashed potatoes, steamed veggies, gravy, or even Yorkshire pudding!
6. Grilled Steak with Chimichurri Sauce
This simple grilled steak is made extra special with chimichurri sauce—an Argentinian condiment made with parsley, oregano, and garlic. All you need are two ribeye steaks (or any other cut of steak) and 15 minutes of prep time before grilling them to perfection on the barbecue.
For added flavor profile serve with roasted potatoes or grilled veggies and drizzle with chimichurri sauce just before serving!
Whether you're looking for something new to try on weeknights or something special to make on weekends, these tasty beef recipes have got you covered. From burgers that even kids will enjoy to hearty stews that will warm your soul on cold days – no matter what occasion arises, there's always something delicious that can be made using beef! So why not give one of these delectable dishes a try today? Your taste buds won't regret it!