Here in the Philippines we eat a lot of rice. So when I chose to reduce my carbs, I had to get a little more creative than just eating smaller portions of rice.
Fortunately, being close to the sea means we also eat a lot of fish and seafood. In fact, next to rice, fish is one of the most popular staple foods in the Philippines.
Being on a low-carb or ketogenic diet doesn't mean you have to deprive yourself of your favorite cultural foods, although you should get to know the basic guidelines for keto if you want to take advantage of all the benefits.
Today let's take a look at 5 low-carb Filipino seafood recipes.
1. Filipino Ceviche Recipe (Kinilaw)
Kinilaw is the Filipino version of ceviche. Ceviche is a common dish in Peru where raw fish is "cured" or "cooked" in acids like lime or lemon juice. Like ceviche, kinilaw uses acids like calamansi and coconut vinegar used to "cook" the raw fish.
Ginger, garlic, onion, chilies, coconut vinegar and calamansi juice give this Kinilaw a distinct Asian flair. If you can't find calamansi where you live, you can use lemon or lime as a substitute.
Any white fish you can obtain locally is suitable, but tuna, mackerel, and wahoo are most commonly used.
This Filipino seafood recipe is easy and can be made in 15 minutes.
Ingredients:
1 pound tuna, skinned, deboned, and cut into ½" cubes
¾ cup coconut vinegar
½ cup calamansi
2" ginger, peeled sliced into thin strips
2 bird's eye chilies, sliced into rounds
½ red onion, sliced into thin strips
½ tsp salt
¼ tsp black pepper
Instructions:
Combine ginger, chiles, red onion in a bowl and set aside.
Stir together ¼ cup coconut vinegar and calamansi until combined, then marinate in the refrigerator.
Add remaining coconut vinegar to tuna, stir, let sit for 2 minutes, stir again.
Strain tuna with cheesecloth, pressing vinegar out gently with the back of a spoon.
Add tuna to ginger, chiles and red onion mixture, add salt and black pepper, and stir to combine.
Serve.
2. Keto Filipino Seafood Paella Recipe
Paella is a saffron-infused rice dish that features seafood, meat, and vegetables. Paella originated in Spain and was introduced to the Philippines by the Spanish. Interestingly, it was the Moors who brought rice to Spain in the 900s, making the invention of paella possible.
Here is a low-carb variation of Filipino seafood that features cauliflower rice instead of white rice.
Ingredients:
4 cups cauliflower rice
1 dozen clams
1 lb shrimp, deveined
1 ½ T coconut oil
12 cloves garlic, peeled
1 onion
1 can fire roasted diced tomatoes
1 tsp saffron
1 T paprika
½ tsp salt
¼ tsp black pepper
1 tsp patis fish sauce
1 T unsalted butter, melted
1 green onion, chopped
½ cup calamansi, sliced
Instructions:
Heat oil in a paella pan (or any large, shallow pan) over medium heat.
Add onion and garlic and saute for 1 minute.
Add a can of tomatoes.
Then add cauliflower rice, saffron, paprika, black pepper, salt, patis and stir until well combined.
Lower heat and simmer for 5-7 minutes.
Arrange clams and shrimp over the surface.
Drizzle with butter, then cover with lid or foil and simmer for 8-10 more minutes or until the clams open.
Garnish with green onions and calamansi and serve.
3. Mixed Seafood Soup Filipino Style Recipe
Soups are also a common staple in Pinoy cuisine. Bouillabaisse is the classic French fish soup. The Filipino bouillabaisse typically contains seafood like mussels, clams, crab, squid, fish, etc.
Coconut milk, patis, and calamansi juice give this bouillabaisse its signature Pinoy flavor.
Sometimes Daikon radishes, snake beans, okra, or Japanese eggplant are added to the Filipino bouillabaisse. These are all low-carb vegetables and would be nice optional additions.
You can take the time to clean and cook your seafood separately, or you can save a step and lots of time by just using a ready-made frozen seafood mixture, like this recipe does.
Ingredients:
2 ½ lb frozen mixed seafood
4 cups water
2 T butter
1 head garlic
3 roma tomatoes, diced
1 red onion
1 can coconut milk
1 tsp saffron
1 tsp patis fish sauce
½ cup calamansi juice
Instructions:
In a large saucepan, melt the butter and saute garlic, onion, and tomato.
Add coconut milk, saffron, fish sauce and simmer for 15-20 min.
Add frozen, mixed seafood and continue simmering until seafood is cooked.
Discard any unopened mussels.
Remove from heat, stir in calamansi juice, and serve.
4. Kinunot Recipe (Filipino Fish Dish)
Kinunot, also called Kinunot na, is from the Bicol province. It is made from stingray.
Kinunot literally means "flaking" in the Bicolan dialect. Kinunot is typically served with rice.
If you don't have moringa leaves, you can use any leafy green (spinach, kale, chard) as a substitute.
Ingredients:
2 cup stingray
1 can coconut milk
1 can coconut cream
1 white onion
1 cup moringa
6 cloves garlic
2 T ginger, minced
1 tsp patis fish sauce
6 bird's eye chiles, halved
1 tsp salt
Instructions:
In a preheated pot bring 1 can coconut milk to a boil for 10 minutes.
Add stingray, cook for another 7-10 minutes.
Add onion, garlic, ginger, and bird's eye chiles, fish sauce, and salt.
Stir, then fold in moringa and simmer for another 20-25 minutes. Add coconut milk, simmer for another 7-10 minutes. Serve with cauliflower rice for a low-carb meal.
5. Halabos na Hipon Recipe (Filipino Seafood Boil)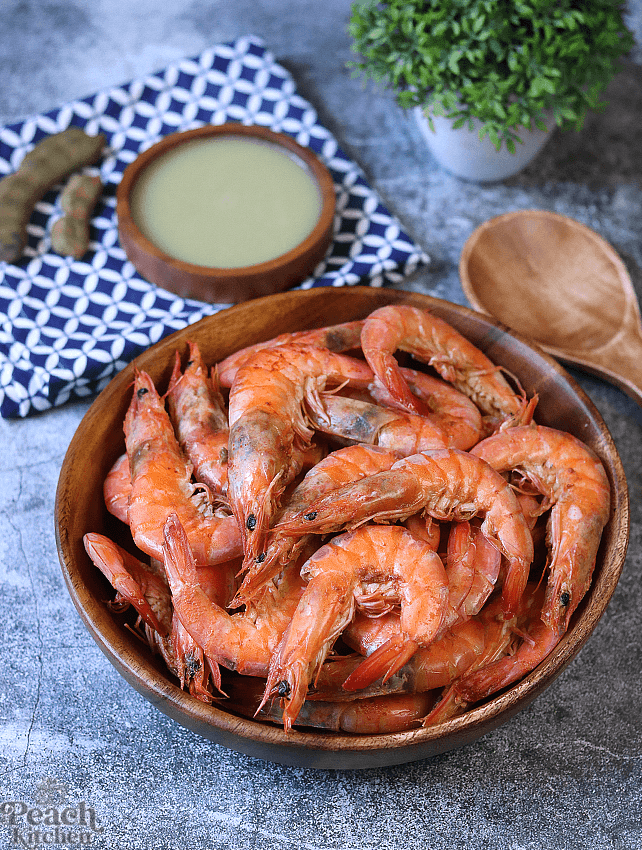 Halabos na hipon is seafood boiled with salt. It can be served with a sampaloc sauce like I have done before in this recipe, or with a zingy calamansi sauce like the one below.
You can use crab instead of shrimp if you like, and call this recipe Halabos na Alimasag. Either way, this is a tasty, simple low-carb Filipino seafood dish.
Ingredients:
2 lbs cleaned shrimp (or crab)
1 cup water
½ tsp salt
Sauce:
2 T butter, melted
¼ c calamansi juice
2 siling haba chiles, sliced into rounds
Green onion
Instructions:
Bring shrimp (or crab) to a boil with water and salt, cook until it has just turned bright orange.
Remove from heat.
Combine melted butter with calamansi juice.
Toss with shrimp and garnish with chiles and green onion.
Serve with a side of kelp noodles for a lower-carb alternative to rice noodles.
Conclusion
So as you can see, there are plenty of low-carb options in Pinoy cuisine. It just takes a little creativity and small changes to classic staple to make your favorite Filipi dishes keto friendly.
Did you make one of these recipes? Send me pictures of how your dish turned out!
Until next time, happy cooking!