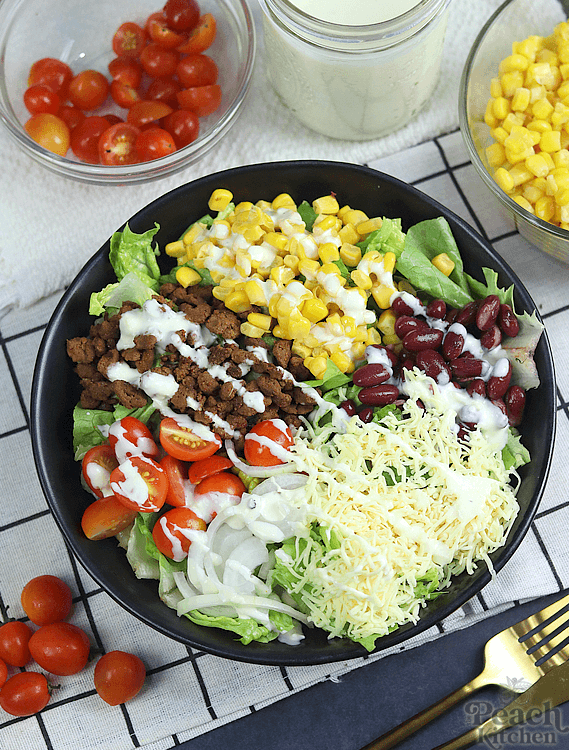 Ayan, totoo na to — aayusin ko na ang aking diet. Practice lang yung January.. LELz. Trial month ba. This February and with my Goals for 2023 in mind, I promised to do a Flexitarian Diet.
What is a Flexitarian Diet? The flexitarian diet is a play on two words: flexible and vegetarian. It generally means a semi-vegetarian, plant-forward diet that incorporates dairy and eggs and allows room for meat from time to time.
I really want to become a vegetarian — a vegan even, for my LPRD — but to be honest, hindi kaya ng powers ko! I like meat and crave it from time to time. So I think this diet is more doable for me.. and kinder to my LaryngoPharyngeal Reflux Disease.
And because favorite namin ang Taco Salad here at home, I made a Vegetarian Taco Salad.
WATCH THE VEGETARIAN TACO SALAD VIDEO RECIPE HERE:
To make the "Taco Meat", I used Quorn Meat-free Mince which is like ground beef/pork but totally vegetarian. Then the rest is the usual ingredients that you put in a taco salad like lettuce, kidney beans, cherry tomatoes, corn, grated cheese, and white onion. For the salad dressing, I used my Creamy Garlic Dressing but feel free to use your favorite dressing like ranch or garlic parmesan.
This is what I'm having for lunch today and hopefully I can make different kinds of salads to incorporate in our meals.
Kamusta ang January nyo mga ka-kitchen?
Print
Vegetarian Taco Salad
300g

meat-free mince or meat-free ground meat

2 tbsp

olive oil

3 tbsp

taco seasoning

2

 heads Romaine Lettuce, cut into pieces

1 cup

 cherry tomatoes, cut in half

1 cup

 corn kernels

1 cup

 grated cheddar cheese

1 cup

 kidney beans

1/2 cup

sliced onions
Creamy Garlic Dressing or any dressing of your choice
Instructions
Cook the Taco meat: Heat oil in a pan and sauté the meat-free mince for 3 minutes. Add the taco seasoning and 3 tbsp water. Continue cooking for another 5 minutes.
Layer lettuce on your serving plate and then assemble all the other ingredients on top.
You can serve the dressing drizzled on top of the salad or separately.
Serve immediately. Enjoy!