This Blueberry Cheesecake is rich and creamy. It's perfect to end your meal with and it's also perfect with a hot cup of coffee…
To celebrate International Women's Month, I made Blueberry Cheesecake.
If you know me, you probably know that there are two things that I love in my foodie life: soup and cheesecake.
Cheesecake is a favorite and one of our go to desserts. I love love love cheesecake kaya naman I'm continuously in search of the perfect cheesecake recipe. I think I hit the jackpot on this one. Rich and creamy and delicious in every way.
You can actually put any topping you want — I just chose Blueberry because that's what have in my pantry.
WATCH THE BLUEBERRY CHEESECAKE RECIPE VIDEO HERE:
Dito ko nabili yung 8-inch Springform pan: https://tinyurl.com/8inSpringformPan
How to make Blueberry Cheesecake
First, you are going to start by making your crust. Just combine crushed graham, sugar, and melted butter. Once you get your crust combined and coated with butter, press it into the bottom of an 8-inch springform pan. Bake at 350ºF for ten minutes and set aside.
Then work on your cheesecake filling. One of the biggest tips that I always share is to make sure your cream cheese is softened. Otherwise, it will leave your cheesecake with lumps and it's SO hard to get those lumps out once they're there without overbeating your batter.
Beat the cream cheese in a mixing bowl with an electric mixer until creamy.
Beat in the condensed milk.
Add in the eggs one at a time. Beat in each egg just until combined. Scrape down the bottom and sides of the bowl.
Add vanilla extract and the lemon extract.
Beat in all purpose cream.
Pour the cheesecake filling into the pan. Place the cheesecake in a water bath with hot water and bake accordingly.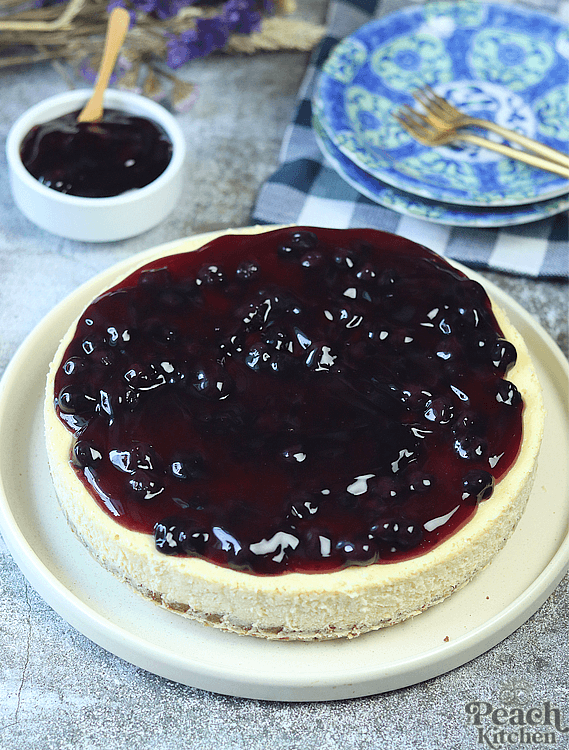 How to Store Baked Cheesecake:
One of the best things about baked cheesecake is how long it can be stored and still taste great.
You can store it in the fridge for 4-5 days,or probably even a couple more days longer but I know it won't last that long 😉. I baked this as our dessert of the week. Monday pa lang 1/4 na lang ang natira.
Print
Blueberry Cheesecake
This is for a 8-inch springform pan
For the crust:
1 1/2 cup

of graham cracker crumbs

1/3 cup

of unsalted butter, melted

2 tbsp

sugar
For the cheesecake:
2

(8 ounce) packages of cream cheese, softened

1

300ml can of condensed milk

1/2 cup

all purpose cream

3

eggs

2 tsp

of vanilla extract

2 tsp

lemon extract
1 can blueberry topping
Instructions
Preheat the oven to 350ºF.
In a medium bowl, combine graham cracker crumbs, sugar, and melted butter.
Use a fork to mix everything together and then pour the mixture into the 8-inch springform pan.
Press the mixture into the bottom of the prepared pan and bake for 10 minutes or until set.
Remove from the oven to a cooling rack. Do not turn off the oven, change temp to 325º F
Meanwhile, using a stand or electric mixer, beat cream cheese and condensed milk until smooth.
Then add in eggs one by one, vanilla extract, and lemon extract.
Continue to beat until creamy and combined.
Pour filling over the crust and spread evenly with a spatula.
Cover you springform pan in foil and place in a bain marie. This will prevent the cheesecake from being dry and cracking during baking.
Return pan to the oven and bake for 1 hour minutes or until filling is set but still shaky in the center.
Cool into room temperature for an hour then refrigerate for at least 3 hours or overnight
Top with Blueberry topping.
Serve chilled.