I've been wanting to try Nono's Comfort Kitchen for the longest time now but the branches are all too far from me. Finally they opened a branch at SM City Grand Central, and one time na sinumpong lumafang ang aking sister who calls herself Anney. Ykaie asked her to treat us here and she did!
These are the food we orders to share:
For our appetizer, we ordered the Fried Truffle Cheese Wontons (₱195) these are mozzarella and cheddar cheese-stuffed crispy wontons, drizzled with honey and truffle oil and served with crushed walnuts. Grabe! Ang sarap! As you all know, I love love love cheese kaya naman super love ko to. 10/10 for me!
We also had Nono's Salad (₱395) which is made of Seasonal fruits with organic mixed greens, parmesan chips, candied walnuts, and almonds, in a honey lemon dressing, drizzled with balsamic glaze. This is also a 10/10 for me but not so for Daddydoodledoo who doesn't like any kind of vinaigrette.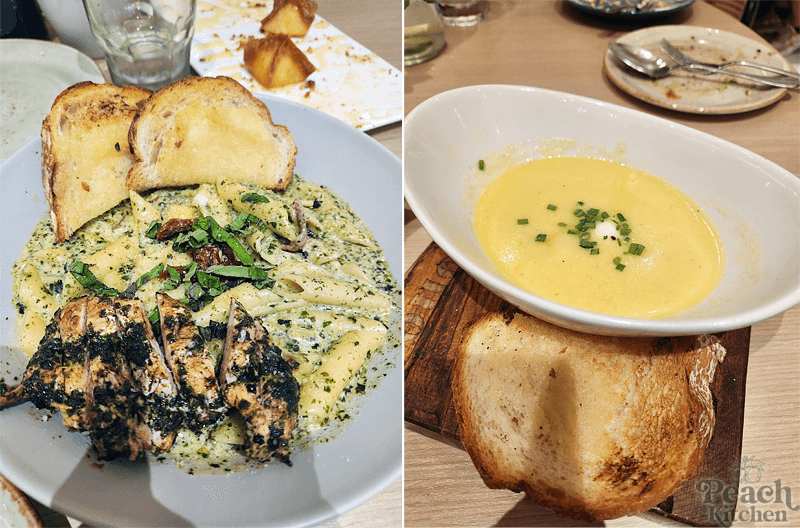 I also love soup so we ordered Farmers Corn Chowder Soup (₱295) which is a fresh Japanese corn chowder, mixed with potato chunks and quail eggs, served with freshly baked sourdough AND Seafood Chowder, their lenten soup offering. They were very kind to split the soup into two kaya we had four bowls of soup in total. Tig-iisa na kami. Yay!
Ykaie loves pesto, so our pasta is Pesto Cream with Grilled Chicken (₱455). It's
Penne pasta with creamy basil pesto and sun-dried tomatoes, topped with grilled chicken breast. It's good pero hindi ko talaga bet ang creamy pesto — when it comes to pesto, I like it oil-based. Well, except for this one at Cafe Guilt.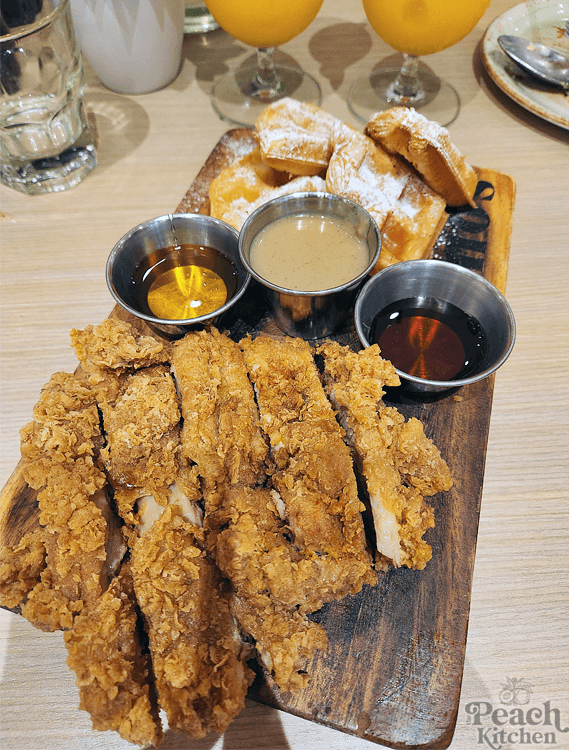 But the Chicken and Waffles (Solo ₱375)! Oh wow! Their waffles are crispy — masarap din pala yon. It's different from soft and fluffy waffles that I'm used to. Nono's crispy boneless chicken fillet and waffles are served with gravy, honey, and maple syrup for dipping and drizzling. Sarap ng sweet and salty combination.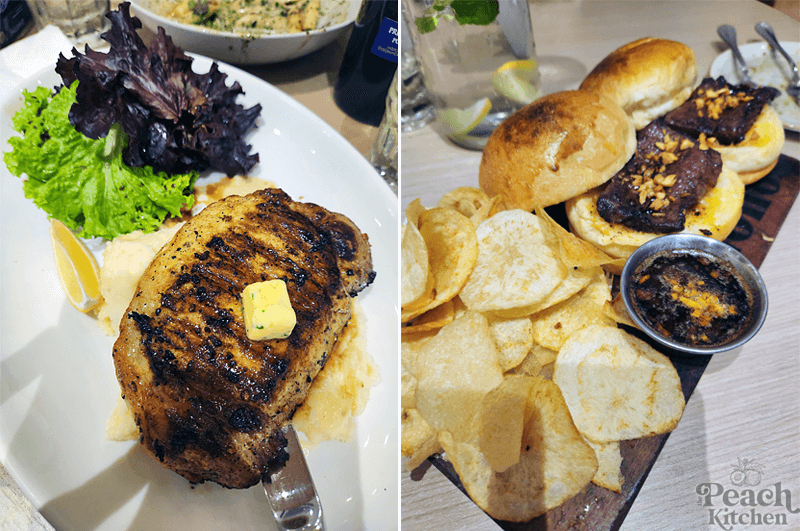 We also shared this Juicy, 1" thick Grilled Pork Chop (₱495) that's very tender. It's topped with lemon and herbed butter and served with mashed potatoes.
and finally, we had these Pepito Steak Sliders (₱465) made of USDA beef and garlic chips. These are served on served on pandesal but I think they ran out kaya it was served on buns instead. It had homemade potato chips on the side and this special garlic-infused oil which you can liberally
pour inside the sandwich to make it more flavorful
I didn't order dessert na because I was so full but Daddydoodledoo ordered this beautiful cup of Cappuccino (₱165) and a slice of Nono's Oblivion
Overall, I had a very nice experience and I would definitely be back to try the other items on the menu.
Nono's Comfort Kitchen is located at Ground Floor, SM City Grand Central, Rizal Ave Ext,
East Grace Park, Caloocan