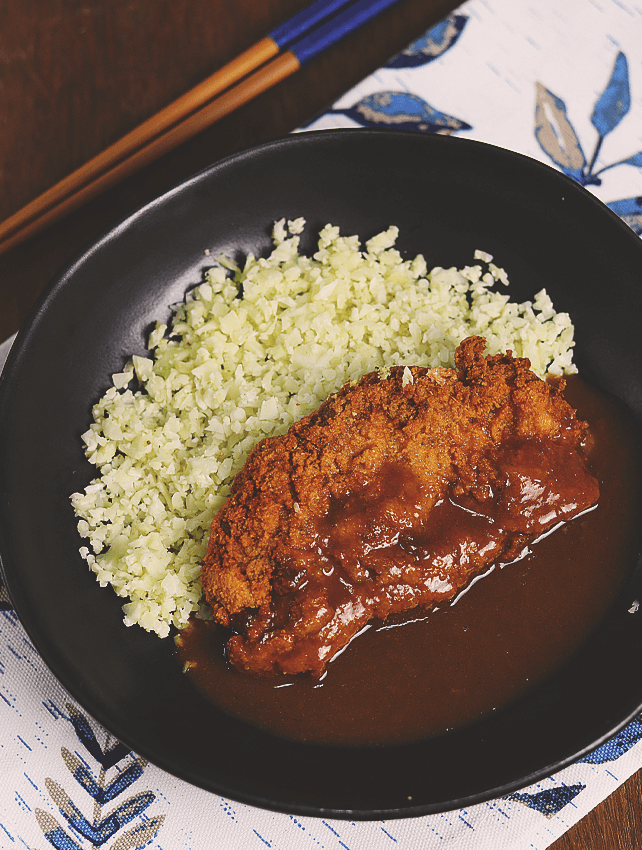 Here's another Low Carb Meal idea…
Since we love Katsu Curry so much, I thought why not make a low carb version of it? It wouldn't hurt to try diba?
READ: TONKATSU CURRY
Here's what I did:
For the Curry Sauce – I used the regular curry sauce cubes. I just didn't add the usual carrots and potato in it because those are starchy vegetables, therefore considered high carb.
For the tonkatsu – I used our favorite pork loin cut but Instead of using flour and japanese bread crumbs for the breading, I used just egg and almond flour.
For the rice – I used Cauli Rice instead of Japanese Rice.
My Final Take:
If you're a potato lover, you'll surely miss the potato in the curry sauce.
The almond flour doesn't stick as well as panko bread crumbs. It's crumbly and there are times that part of the breading lose it's stickiness to the pork slices and ends up in the oil.
I think almond flour burns faster than bread crumbs so better stick to low – med heat when frying.
But overall, your craving will be very satisfied!
Print
Low Carb Katsu Curry
Ingredients

700

ml water
your favorite curry cubes, I used Kokumaru Curry Roux
cauli rice for serving
for the tonkatsu
500g

pork tenderloin, sliced
salt and pepper

1

egg beaten

1 cup

almond flour
coconut oil for frying
Instructions
Cook The Curry: Bring water to a boil in a pot. Add the Kokumaru Curry Roux cubes and stir to dissolve. Simmer for 15 minutes until thickened. Turn off heat and cook the tonkatsu.
Make the Tonkatsu: Season the pork tenderloin slices with salt and pepper.
Place the egg and almond four on separate shallow bowls or plate to get ready for dredging.
Working one pork slice at a time, dip a slice of pork in egg. Allow excess egg to drip, then transfer to the almond flour.
Cover the entire pork slice with almond flour, making sure that a good layer of almond flour is stuck on both sides. Repeat for the rest of the pork slices.
Heat oil in a deep frypan to 170-180ºC. Depth of oil should be twice the thickness of the meat you're frying.
Fry each breaded pork slice for 5-7 minutes. Frying time would depend on the thickness of your pork. Each should be golden brown when cooked. Remove cooked tonkatsu and transfer on a paper lined plate.
To Serve: Layer cauli rice on a bottom of a shallow bowl. Put a piece of tonkatsu and scoop a generous amount of curry.
Enjoy!
♥ If you make this recipe, be sure to snap a photo and tag @thepeachkitchen on Instagram (OR hashtag it #thepeachkitchen). I'd love to see what you cook!