Kitchens are perhaps the most utilized space in the house. This is the area that gets messy, needs to be fire-proof, has to be organized all the time, and should be kept immaculately clean. There are many things that come with designing a functional kitchen. When doing kitchen planning, designers not only focus on aesthetics alone. They also think about the kitchen's efficiency and practicality. Things like cabinetry and countertops should be considered at the beginning of the kitchen makeover.
Kitchen design and cabinets almost always go hand in hand. How your cabinetry is positioned and its design and style play a visual and functional role in the overall efficiency of your kitchen. Homeowners often tend to get a full kitchen cabinet set to make an efficient kitchen design. Kitchen cabinet sets from https://cut2size.ca/ are easy to integrate into most kitchens. They are in fact considered the best kitchen cabinets in Canada. If you are planning to make your kitchen more convenient and efficient than ever, then this blog is for you. Stick until the end of this blog and find out how you can transform your kitchen into an efficient cooking space that both you and your family will enjoy.
Planning the layout of the kitchen for maximum efficiency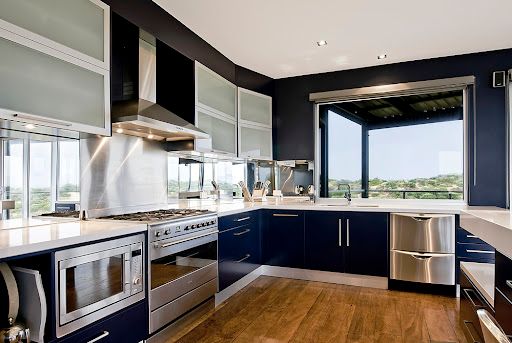 Whether you're a seasoned home cook or just starting out, the design of your kitchen can make a big difference in how you work, move and interact with others. In this blog post, we'll explore some of the most popular kitchen layouts for you to find the best kitchen layout for cooking.
A galley kitchen or a one-wall kitchen layout is a narrow, long kitchen with one or two parallel countertops. This layout is ideal for small spaces or apartments and can be extremely efficient if planned well. To make the most of a galley kitchen, it is enough to keep the countertops as clear as possible, use built-in storage solutions such as base cabinets kitchen and invest in appliances that are space-saving.
The L-shaped kitchen plan is a popular choice for many homes. This type of large kitchen layout uses two adjacent walls, forming an L-shape, to create a functional and efficient workspace. To maximize efficiency in an L-kitchen layout, consider adding a center island or a breakfast bar, which can also provide additional storage and workspace. This L-shaped kitchen layout with an island offers plenty of kitchen counter space and can also provide a great work triangle between the refrigerator, stove, and sink.
The U-shaped kitchen layout is similar to the L-shaped kitchen, but with an extra countertop and an additional wall, forming a U-shape. This design is ideal for larger spaces and provides plenty of kitchen cupboards, kitchen drawers, and workspace. However, it can also make the kitchen feel cramped if not planned correctly. To make the most of a U-kitchen layout, consider investing in corner cabinets or using open shelving to avoid dead corners and keep the space feeling open.
A peninsula kitchen layout suits any kitchen, and has one open end, creating a peninsula that can be used as a breakfast bar or additional workspace. This design is ideal for open-plan living and can help to create a sense of flow between the kitchen and other living spaces. To maximize efficiency in a peninsula kitchen, consider adding overhead lighting to illuminate the workspace and your wall kitchen cabinets. Use a mixture of open and closed top kitchen cabinets to keep the space feeling organized.
How to design a kitchen with convenience in mind?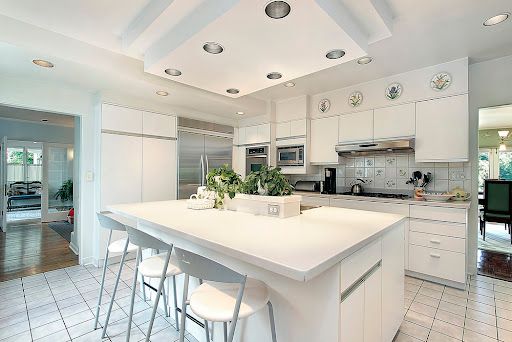 Designing a kitchen is a complex process. Aside from designing your kitchen cabinets, you also need to factor in the layout and the overall color scheme. In this section, we will give you general kitchen design tips on how to design a kitchen with convenience in mind and discuss the different elements one should imply when designing a convenient kitchen.
| | |
| --- | --- |
| What to consider | Why this should be considered |
| Kitchen work triangle | The kitchen work triangle is a design principle that helps you create a functional workspace by placing the three most important elements of the kitchen – the sink, stove, and refrigerator – in a triangular formation.This design principle ensures that the three main work areas are easily accessible and that there's enough space for movement. To make the most of this principle, make sure that the distance between each element of the triangle is no less than four feet and no more than nine feet. |
| Enough counter space | Having enough counter space is essential for any kitchen. When designing your kitchen, make sure to incorporate ample counter space for meal prep, cooking, and serving.This can be achieved by using countertops that are at least 24 inches deep and 36 inches high. If you have limited space, consider using a kitchen peninsula to add additional counter space. |
| Energy-efficient appliances | Energy-efficient appliances can help you save money on your energy bills and reduce your carbon footprint. When choosing appliances, look for those with an Energy Star rating, which indicates that they meet energy-efficiency guidelines set by the Environmental Protection Agency.Appliances with an Energy Star rating can save you up to 30% on your energy bills compared to non-certified models. |
Other things to consider when designing a convenient kitchen
When it comes to creating an efficient and comfortable kitchen, the most important component of any kitchen design is the selection and placement of cabinetry. Cabinets can provide both storage and visual appeal, while also helping to create a more organized space. In order to ensure your kitchen is as convenient and inviting as possible, it's important to take into account all of the different features that cabinets can offer.
Pre-assembled kitchen cabinets
Pre-assembled kitchen cabinets are considered affordable kitchen cabinets. They are a convenient and cost-effective option for homeowners who want to renovate their kitchens without breaking the bank. Pre-assembled cabinets come in a variety of styles, sizes, and finishes, making them a great option for most standard-sized kitchens. They're also easy to design and install, which can save you time and money on a kitchen renovation.
Build your own cabinets
Choosing a custom cabinets kitchen can be a good idea if you have a non-standard kitchen room or plan a full remodelling to create a unique look for your kitchen. Designing your own cabinets allows you to customize the size, style, kitchen cabinet doors, kitchen cabinet boxes, and finish to suit your needs and preferences. In order to make sure that your kitchen is as functional and comfortable as possible, take into account how much space you will need for daily activities such as cooking, prepping food, and storing items. When choosing custom cabinets for your kitchen, consider the materials used and the overall style. Custom kitchen cabinets can be a costly option, so make sure to do your research and plan your project carefully.
In conclusion, designing a kitchen with convenience in mind requires careful planning and attention to detail. By incorporating key design principles like the kitchen work triangle, ensuring enough counter space, and choosing energy-efficient appliances, you can create a functional and convenient kitchen that meets your needs and lifestyle. Whether you opt for pre-assembled kitchen cabinets or build your own, remember to prioritize functionality, storage, and organization to ensure maximum convenience and enjoyment in your kitchen.