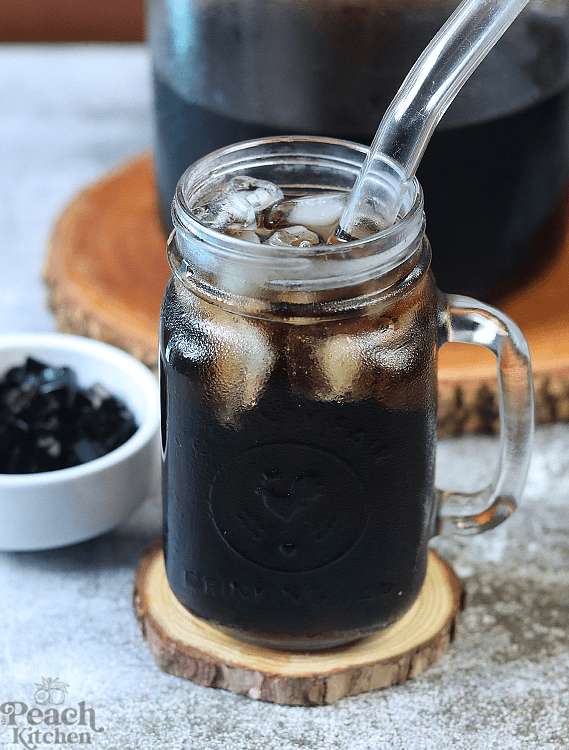 Black Gulaman is Daddydoodledoo's ultimate favorite drink next to coffee. And whenever he has a chance to order it — meaning — whenever we eat in an Chinese restaurant, he orders the biggest size. So I thought, since it's Summer, and it's been so hot these days, why not make it at home? We have a can of Grass Jelly in the cupboard waiting to be made, anyway.
All you need is Grass Jelly, Water, Sugar, lots of ice, and Banana Essence. Watch the video below to check out the best banana essence brand to make this drink.
WATCH THE BLACK GULAMAN RECIPE VIDEO HERE:
It's so easy to make, right? And so perfect for Summer too
Tuwang-tuwa si Daddydoodledoo at Unli- gulaman daw sya…. hihihi.
Print
Black Gulaman
1

can Grass Jelly, opened and chopped into small cubes

1 cup

white sugar +

1 cup

water

1

liter water or more
banana essence
lots of ice
Instructions
Make the Sugar Syrup: Dissolve the sugar in water over low heat. Set aside to cool.
In a pitcher, combine sugar syrup, water, and grass jelly. Stir well.
Add about 1/4 tsp banana essence. Make sure to add just a little, adding more makes the flavor overpowering.
Taste and adjust the flavor accordingly.
Put lots of ice before serving. This is great served super cold.
Enjoy!