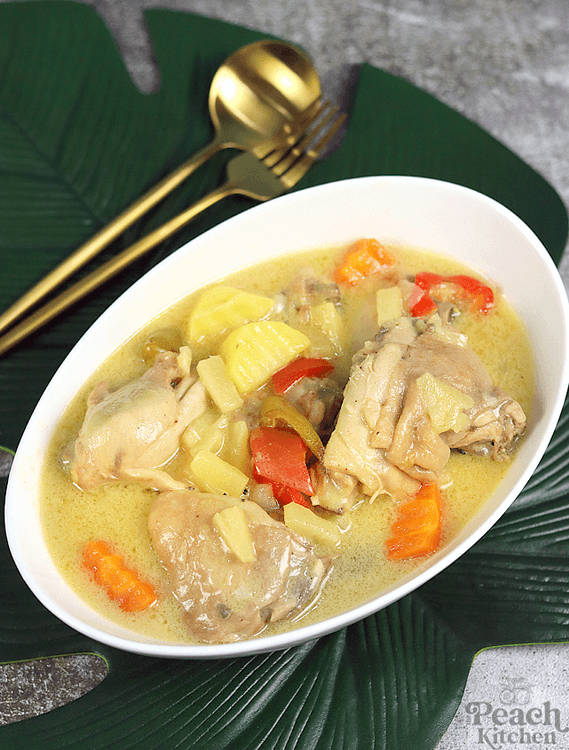 Pininyahang Manok is one of those dishes that I cook rarely. It is not a favorite but always a well received viand because of its creamy and savory taste. This time, I cooked it because I have some leftover pineapple tidbits from the Hawaiian Pork Tapa I cooked last week. Sayang naman kung hindi ko magagamit ang pineapple tidbits diba?
Cooking this dish is easy. All you have to do is sauté the onion, garlic, and the chicken. Then simmer it in pineapple juice, pineapple tidbits and coconut milk. The coconut milk is what makes this creamy but others use milk or all purpose cream instead. After the chicken is simmered, that's when you add the fried potato, carrots and bellpeppers.
WATCH THE PININYAHANG MANOK RECIPE VIDEO HERE: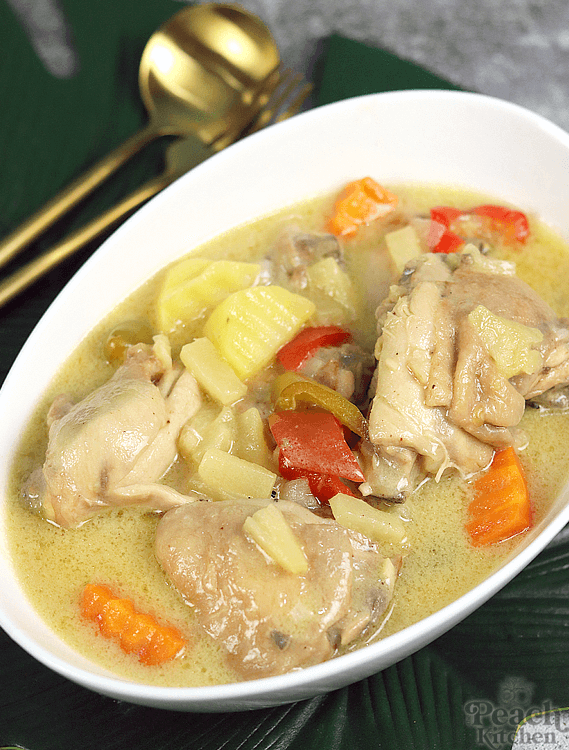 The rich, creamy sauce is perfect for pouring over rice.
Happy eating!
Print
Pininyahang Manok
3 tbsp

cooking oil

1

potato, cut into cubes

1

carrot, cut into cubes

1

bell pepper, cut into pieces

3

cloves garlic, chopped

1

onion, chopped

800g

chicken, cut into pieces
patis and pepper to taste

1 cup

pineapple juice

1 cup

pineapple tidbits

1.5 cup

coconut milk (packed)
If using fresh coconut milk, 1/2 cup 2nd piga and 1 cup kakang gata
cornstarch slurry (1 tbsp cornstarch + 2 tbsp water)
Instructions
Heat oil and fry the potato and carrots. Remove from pan and set aside.
In the same pot, sauté the onion and garlic until onion becomes translucent.
Add the chicken and season with 1 tbsp patis and pepper. Cook until brown.
Pour the pineapple juice and add pineapple tidbits.
Pour the 1/2 cup secodg piga na gata or the packed coconut milk. Stir.
Cover and Simmer for 20 minutes.
Add the 1 cup kakang gata and Simmer for 10 more minutes.
Add the potato, carrots, and bell pepper. 
Simmer for 1-2 more minutes and add the cornstarch slurry. Mix well.
Season with more patis and pepper as preferred.
Serve with steamed rice.