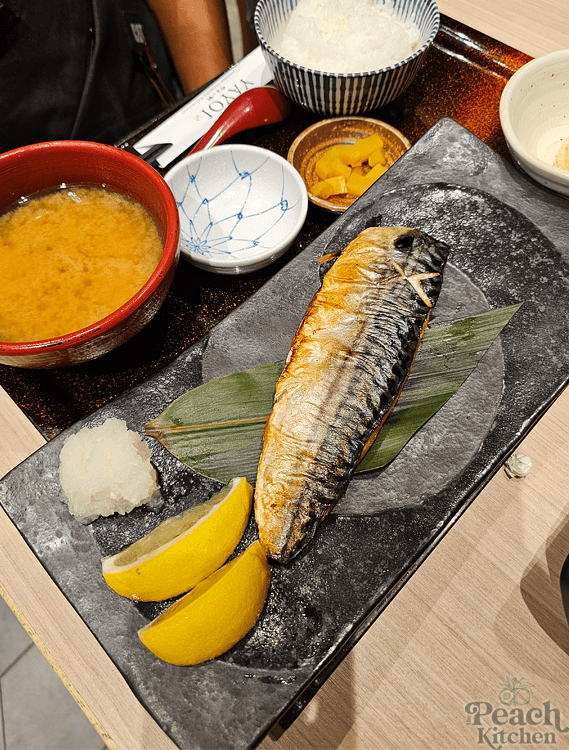 We love Japanese food. So the other day when we were out buying twinkle's school supplies we chanced upon Yayoi. So we decided to try it for lunch. Yayoi is a Japanese restaurant that specializes in Teishoku.
What is Teishoku?
Teishoku is a traditional Japanese set meal that offers a balanced and complete dining experience. It typically consists of steamed rice, miso soup, a main dish of your choice, side dishes, and Japanese pickles. Teishoku meals are often served on a tray, providing a visually appealing and well-organized presentation. The main dish can vary, ranging from grilled fish to breaded pork cutlets or even Sukiyaki. Teishoku is a popular choice in Japanese cuisine as it provides a variety of flavors and textures in a single meal.
Daddydoodledoo got the Saba Shio Teishoku (₱650), with salt-grilled mackerel as the main dish served with miso soup, a bowl of steaming white rice, vegetables and Japanese pickles.
Ykaie ordered the Tonkatsu Teishoku (₱495) which consists of breaded and deep-fried pork cutlets, or tonkatsu, served with rice, miso soup, pickles, and a side of lettuce. The crispy and juicy tonkatsu, combined with the fragrant rice, flavorful miso soup, and refreshing side dishes, create a delightful combination of textures and flavors.
I got the Sukiyaki Teishoku (₱750) a hot pot-style dish that typically consists of thinly sliced beef, tofu, vegetables such as cabbage and mushrooms, and noodles, all cooked together in a flavorful broth. The broth is usually a combination of soy sauce, sugar, and mirin, which gives it a sweet and savory taste. It is served with an onsen egg. The combination of tender beef, fresh vegetables, and rich broth creates a hearty and comforting dish that is perfect for a satisfying meal.
Since Twinkle loves chicken I ordered the Tori Katsu for her. It is a variation of the traditional Tonkatsu, but instead of pork, it features breaded and deep-fried chicken cutlets. The chicken is tender and juicy on the inside, while the outer layer is crispy and golden-brown. Since my Sukiyaki is already a lot for me, I just gave her my rice to pair with her Chicken Katsu.
The kids had shakes to go with their meals. Ykaie had the Mango Shake and Twinkle had the Strawberry Milkshake. Overall, it was an enjoyable experience and I'm sure we'll be back to try the other amazing dishes they have to offer.
Yayoi Japanese Teishoku Restaurant is located at 2nd/F SM The Block.