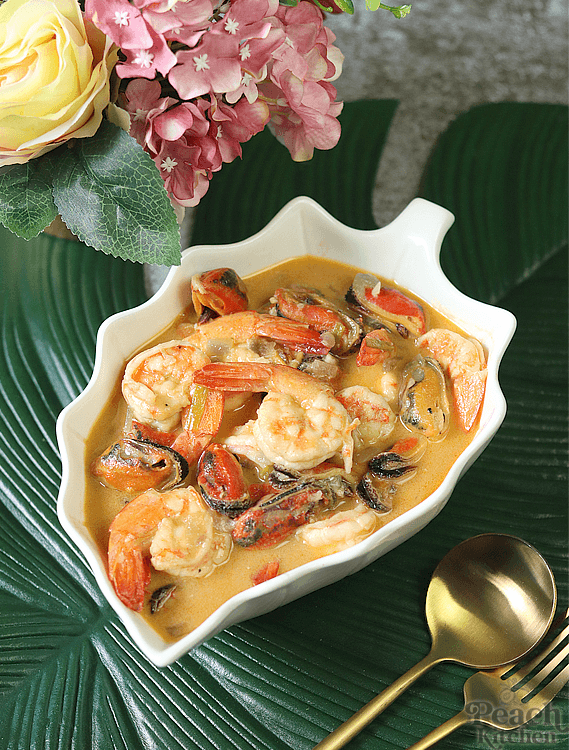 I've been waiting for Ykaie and Twinkle's vacation. Paano naman, ever since the pandemic, hindi na sabay ang start and end ng kanilang school year. So this time na nagkasabay, and everyone is at home even on weekdays — I was able to cook them one of their favorites ~ Ginataang Hipon at Tahong.
You see, we love seafood and those ulams that are cooked in coconut milk. And I always cook, Ginataang Hipon, I know they're going to love it even more if I add tahong (mussels). And I was right! It was rich, creamy, delicious!
WATCH GINATAANG HIPON AT TAHONG RECIPE VIDEO
What I love about this dish is that it's so easy to cook as well. Hope you can cook this for your family one of these days.
NOTE:
To make it more nutritious and budget-friendly, you can add vegetables like eggplant, squash, sitaw, langka or malunggay leaves. 
Print
Ginataang Hipon at Tahong
750g

shrimp​

1

kg tahong​

1 tbsp

cooking oil​

1

onion​

4

cloves garlic​

1

400ml can Jolly Coconut Cream​

1 tbsp

patis​
ground black pepper​

1 tbsp

sugar​

1 tbsp

chopped spring onion​
Instructions
Clean the shrimp. Remove the shells and devein. Set the heads aside for shrimp stock.
Make the Shrimp Stock: Put the shrimp heads in a pot and add 1 cup water. Mash it and bring to a boil. Boil for 5 minutes, then strain.
Parboil mussels. Let it cool and debeard. Set aside for later.
Heat oil in a pan. Sauté garlic and onion until onion becomes translucent.
Add shrimp stock and Jolly Coconut Cream.
Mix well. Season with patis and ground black pepper.
Simmer the sauce for 15 minutes until it thickens. Add sugar.
Add the shrimp and mussels. Mix well.
Simmer for about 10 minutes until shrimp is cooked.
Add spring onion and simmer for 30 seconds more.
Turn off heat and serve with steamed rice.