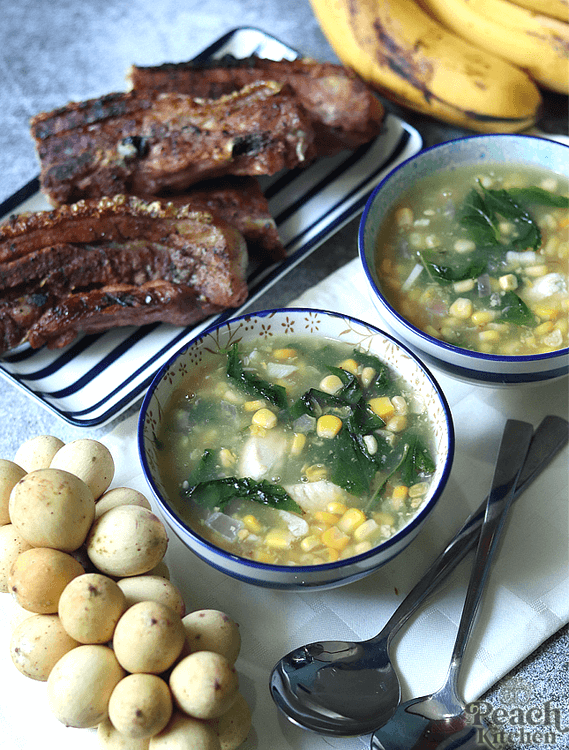 Hello mga mars! So today, ang lunch nga namin ay Inihaw na Liempo (Grilled Liempo) at Suam na Mais (Filipino Corn Soup) with fruits for dessert para healthy — banana and lansones.
Suam na Mais is a staple in our menu. For my non-Filipino friends here, this is a dish that combines the sweetness of corn with the savory goodness of any meat that you put in it and makes it a truly satisfying culinary masterpiece. AND it just pairs so wonderfully with fried or grilled dishes. I usually make this with shrimp but for the first time I tried it with chicken. It turned out good and I'd like to try it with pork naman next time.
WATCH SUAM NA MAIS RECIPE VIDEO HERE
To prepare this delightful dish, start by sautéing garlic and onion and oil until fragrant. Then add the chicken pieces and cook for about 3 minutes, allowing them to release their tantalizing aroma. Then, add the corn kernels, cream corn, water and chicken cube. Let them simmer gently until it becomes a flavorful broth. Season with ground black pepper, then add the chili leaves. The result is a comforting bowl of soup that will not only fill your belly but also warm your heart.
This dish is filling on its own or as a side dish to meat. Enjoy!
Print
Suam na Mais with Chicken
1 tbsp

cooking oil

4

cloves garlic

1

onion

250g

chicken breast

1

can corn kernel

1

can cream corn

4 cups

water

1

chicken cube
ground black pepper
Chili leaves or ampalaya leaves
Instructions
Heat oil in a pot and sauté garlic and onion until onion becomes translucent.
Add chicken and cook until brown.
Add corn kernels, cream corn, water, and chicken cube. Mix well.
Bring to a boil and simmer for 5 minutes. 
Season with ground black pepper.
Add chili leaves or ampalaya leaves and simmer for 30 seconds.
Serve hot.