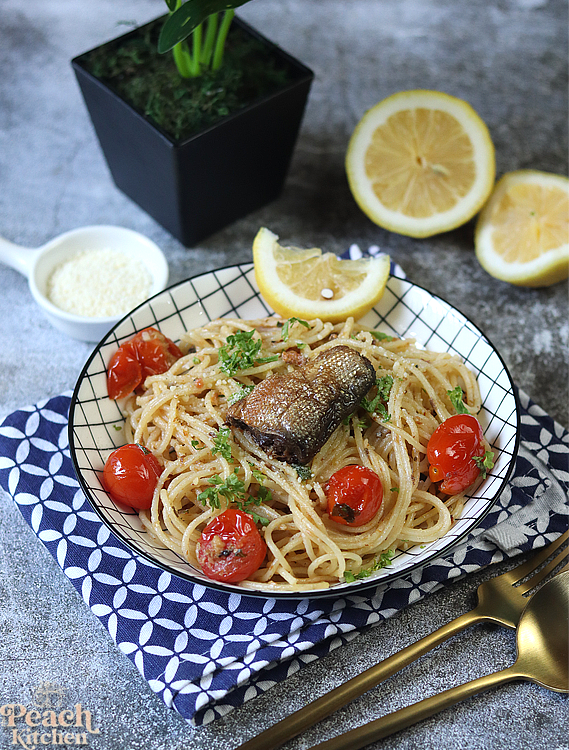 This is one of those pasta dishes that I won't get tired of eating kahit na araw-araw pa. I love Spanish Style Sardines. The only problem I have with it now is that most of the Spanish Style Sardines in the market today is spicy and mild spicy. It's something my LPR can't tolerate kaya naman I'm always on the look out for a brand that's not spicy.
Good thing friends form Mary and Martha sent over two bottles Spanish Style Bangus Sardines. One is spicy and one is not.. Yay! so happy! So alam nyo na what happened next. I made one of my favorite pasta dishes — Spanish Style Bangus Sardines Pasta!
WATCH SPANISH STYLE BANGUS SARDINES PASTA RECIPE VIDEO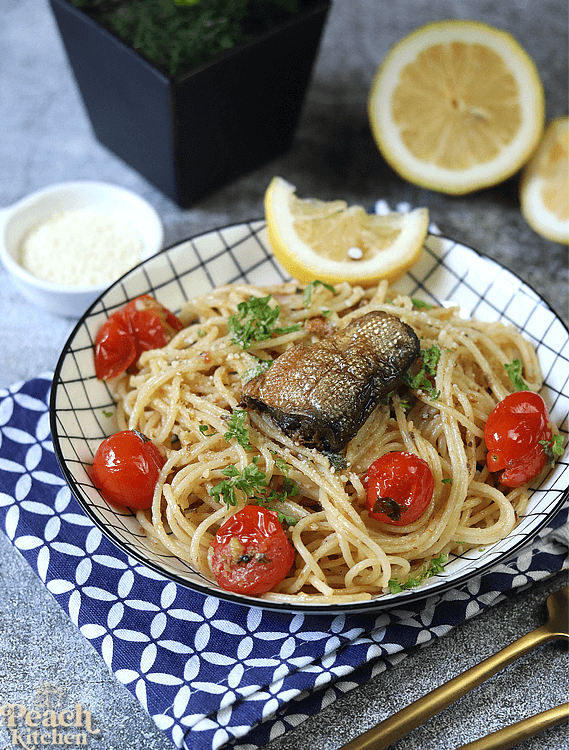 It's so easy to make this dish. All you have to do is cook chopped garlic in heated olive oil. When the garlic is already fragrant, add the cherry tomatoes and cook for a minute. Then add the mashed Spanish Style Bangus Sardines, parsley, pasta water and ground black pepper. Simmer for about 1 minute and add your cooked pasta. Mix well. Season with parmesan cheese and salt, if needed. And it's done! Plate it nicely to make it more appetizing. Top it with one whole Spanish Style Bangus Sardines, sprinkle with more parsley and parmesan cheese. Then add a lemon wedge before serving.
Will try the spicy one next time. What I love about this brand is malaman and it's flavorful without being fishy. You can make about 6-8 servings of pasta in a single bottle.
If you want to know where you can buy this, click here: https://tinyurl.com/MaryAndMarthaSardines
Next time, I'll try cooking my own Spanish Style Bangus Sardines.
Print
Spanish Style Bangus Sardines Pasta
This dish is good for two
150g

spaghetti, cooked according to package direction

1/4 cup

pasta water, save for later
Spanish Style Bangus Sardines 2-3 pieces, I used Mary and Martha

6

cloves garlic

2 tbsp

olive oil

8

pcs cherry tomatoes
ground black pepper

1 tbsp

chopped parsley (more for garnish later)
parmesan cheese
lemon for garnish
salt to taste
Instructions
Mash 1-2 pieces of Spanish Style Bangus Sardines on a saucer and add about 1-2 tbsp of its oil.
Heat olive oil in a pan and cook garlic until fragrant.
Add the cherry tomatoes and cook for 1 minutes.
Add the mashed Spanish Style Bangus Sardines, parsley, pasta water, and ground black pepper.Mix well and simmer for about 1 minute.
Add cooked pasta and mix well. Make sure each pasta is coated with sauce.
Sprinkle parmesan cheese and season with salt to taste. Mix well.
Transfer to serving plate. Top with one whole spanish style bangus sardines. Sprinkle with more parmesan cheese and more parsley.
Garnish with lemon wedges before serving.
Enjoy!