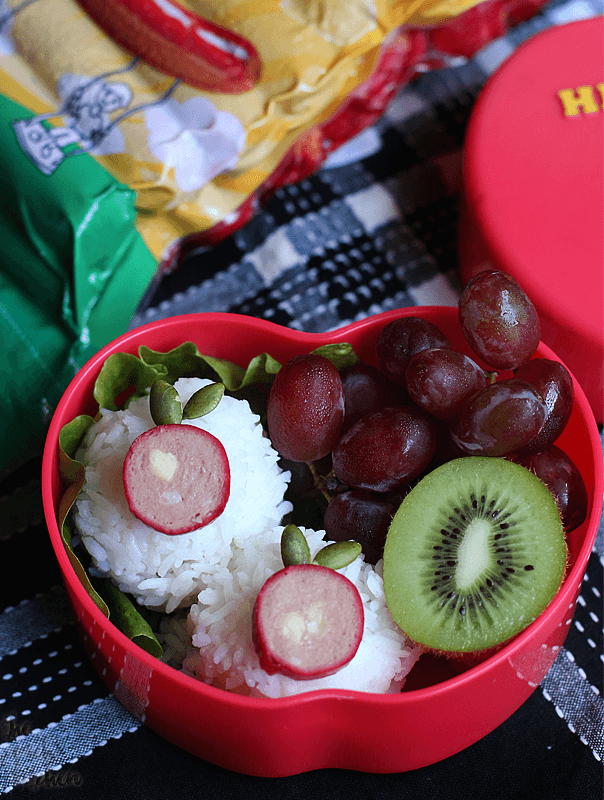 One of the things that I love doing for my kids and will continue to do for them is to whip up tasty meals all through out the day. I really don't mind slaving in the kitchen, as long as I see them healthy and happy, my heart bursts with joy.
Since school has started, my job as their mom-slash-personal-chef just became busier. I wake up earlier than usual to prepare lunch baon for my eldest because at grade three she stays in school the whole day. In the afternoon she goes home tired and hungry. She needs food that will replenish her energy and keep her interested in eating, I make sure I prepare an after school snack that is both appetizing, delicious, and energizing.
Today, her after school snack is composed of two Bibbo Cheesedog Rice Balls, a handful of grapes, and half a kiwi. I put it in an apple shaped container and designed it with a slice of Bibbo Cheesedog and pumpkin seeds in the shape of an apple. She was very excited to eat it when she came home.
Ykaie loves Jumbo Bibbo Cheesedog because it's plump, meaty, tasty, and full of cheesy bits! Each bite is bursting with cheesy goodness.
It's actually very easy to prepare. You can either fry, steam, or grill it. Using a non-stick skillet,  I like steaming it a bit and then frying it in very little oil. You can serve it as is and it goes with anything! You can have it with garlic rice, steamed rice, Or yang chow. With wheat bread, pandesal, or white bread. You can even serve it on top of pancit canton or on a stick with marshmallows at the end. There's even no need to add cheese sauce or ketchup but you may also choose to add if you want to. How to serve Bibbo Cheesedog is up to you — the possibility is endless.
Bibbo Cheesedog is truly tested by moms and loved by kids.
Just like how endless the possibilities are for serving Bibbo Hotdog, a mom's L♥VE for her children is also endless. Us mommies will do anything and everything just so they can experience the best of everything. No matter how busy I am, I make sure I do all that I can to make my children feel loved and I make sure she experiences the best of everything. After all, experience is always the best teacher.
Let me tell you some of the things my kids and I do together or instances when I went all out to show them how much I love them…
I did some horseback riding with my then 3-year old Ykaie in Tagaytay just so she can experience riding a horse.
We do a girls-day-out date. Daddy takes care of the baby while we go out and have sundae and fries and talk about what happened in school and her friends.
We cook together on weekends. Cooking and baking is one of our mother-and -daughter bonding moment.
We grocery shop together.
I carve out a reading time for her. She loves reading and I make sure I read to her even three times a week.
And the instance that I went all out for my kids is the day I resigned from work and decided to be a Work-At-Home-Mom so I can take care of them and do all of the above things with them.
I am leaving you now with this latest TVC. Watch these moms do anything so their kids can experience the best of everything! And I hope it makes you smile.
Watch these moms do anything so their kids can experience the best of everything!
To know more about them, drop by the Bibbo Cheesedog Facebook Page.
Print
Bibbo Cheesedog Rice Balls
1 cup

cooked rice

1

Fried Bibbo Cheese dog

4

Pumpkin Seed
Instructions
Cut Bibbo Cheesedog into 1 inch pieces.
Wet your hands with a little bit of water so that the rice won't stick to your fingers.
Get some rice and flatten it out a bit, put one piece Bibbo Cheesedog in the center.
Add more rice on top to cover it up and mold it into a ball.
Make sure the ball is molded tightly. Put your rice ball in a small (apple-shaped) container.
Repeat the procedure and make another one.
To make the hotdog apple design, just slice a piece of Bibbo Cheesedog thinly. Put it on top of the rice ball. Put some pumpkin seed on top to resemble the stem and the leaves.
Serve with some fruits on the side.