When you get to Hong Kong, you'll discover a city where futuristic skyscrapers flirt with traditional temples. But, dear food lovers, the tantalizing aroma wafting from dim sum carts and sizzling woks will truly captivate your heart.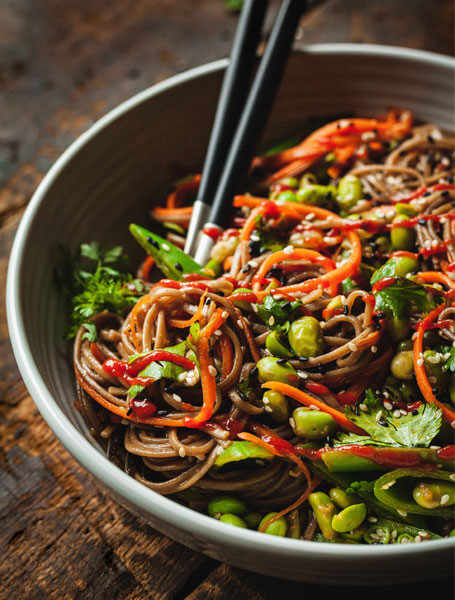 Imagine the joy of tasting these delights and sharing every bite and flavor through food blogging! This guide will help you prepare to blog your way through Hong Kong so that you can share your delicious culinary discoveries with the world.
Setting the Stage: Hong Kong, a Culinary Melting Pot
Hong Kong effortlessly blends age-old Cantonese traditions, British colonial influences, and many international influences. The bustling streets of Mong Kok and the neon glow of Causeway Bay have seen an incredible food evolution, from rustic dai pai dongs to upscale, chic bistros. With the rise of social media, food blogging and vlogging have allowed everyone to share in all the edible delights Hong Kong has to offer.
Traveling Light and Eating Heavy
Navigating the maze-like streets of Hong Kong is a thrilling challenge. But, let's face it, no foodie wants to juggle cumbersome bags while trying to snap that perfect shot of steaming har gow.
Drop off that heavy suitcase at Hong Kong luggage storage and embrace the freedom of exploring unburdened. Equipped with just your essential blogging gear, think lightweight camera, and that lifesaver portable charger, you're all set to eat (and blog) your heart out.
Street Food Saga: Dive Into Dim Sum and Beyond
The soul of Hong Kong's food scene lies in its vibrant street food culture. Start your day with a flaky, buttery egg tart from a corner bakery, or brave the infamous stinky tofu, a fermented treat that's truly an acquired taste. Wander over to spots like Mak's Noodle in Central for a bowl of the finest wonton noodles.
If you've never tried dim sum, you should know it isn't just a meal; it's an experience! Capturing the essence of these dishes requires a keen eye. Observe the chef's craftsmanship, the array of dishes, and the reactions of those taking their first bite. In the world of food blogging, these nuances transform a simple meal into a story.
Luxury Dining: Hong Kong's High-End Culinary Landscape
If street food is Hong Kong's heart, its luxury dining is undeniably the city's polished crown jewel. Step into the world-renowned Lung King Heen at the Four Seasons, the first Chinese restaurant to be graced with three Michelin stars. Every dish is a masterpiece, from the delicate crystal dumplings to the opulent abalone puff with diced chicken.
The sophisticated ambiance, the artistry in each plate, and the symphonies of flavors make this restaurant so special. While you're at it, don't forget to check out Mott 32. This spot blends modern aesthetics with traditional Chinese dining, creating a backdrop that screams "Instagram-worthy."
Local Cafés and Tea Houses: Sip, Relax, and Write
Beyond the bustling streets lies another quintessential Hong Kong experience: the tranquil tea houses and chic cafés. For a nostalgic dive, the Luk Yu Tea House is known for its wooden booths, marble tabletops, and traditional tea rituals.
A far cry from the rapid pace outside, this space is a haven for bloggers seeking stories steeped in heritage and a space to slow down. For a modern twist, cafes like Elephant Grounds offer locally grown coffee blends paired with scrumptious bites.
Culinary Events and Festivals: Calendar Highlights for Foodies
For a city that eats, breathes, and lives food, it's no surprise that Hong Kong hosts a plethora of culinary events. A standout is the Hong Kong Wine & Dine Festival.
From local delicacies to global cuisines, from vintage wines to crafty brews, this event transforms the iconic Victoria Harbour into a gastronome's paradise. As a blogger, such events are treasure troves because the vibrancy, the buzz, and the array of offerings all offer content just waiting to be captured.
The Gourmet's Tale of Hong Kong
In the ever-evolving tapestry of Hong Kong, every bite encapsulates the soul of the city. For a food blogger, Hong Kong isn't just a destination; it's a smorgasbord of experiences waiting to be discovered.
Whether you're noshing on dim sum on a bustling street corner or sipping on aged pu'er tea in a serene tea house, there's a photo to be snapped and a story to be told at every stop. As the city lights shimmer over Victoria Harbour and the aroma of roasted goose fills the air, remember that to food blog in Hong Kong is to capture the heart of this city's culture, one bite at a time.