Ah, smoothies – we see them all the time in the hands of fitness influencers, models, and famous athletes, and they've become a symbol of a healthy lifestyle. The drink you have in the morning as you run off to work, the one you get from the coffee shop after you've had a good workout – smoothies have become a part of fitness culture, and the reality is they have their place in it.
Having said all of that, not all post-workout smoothies are made the same – some are made to help you gain weight, others to lose it, third have muscle-building purposes, and others are more of a juice cleanse. And depending on your goals, you should look at whether you're getting the right ones.
In this article, we're going to dive deep into the topic of post-workout smoothies and specifically the ones targeted to people who want to lose weight – what ingredients they should have, how much protein, carbs, or fats, and what you can look for to make sure you're getting the ones that will help you with your fitness journey.
So, without further ado, let's get started.
What Should Post-Workout Smoothies For Weight Loss Contain?
The most important nutrient that post-workout drinks should contain is protein powder. That's because that half-hour period after the end of a workout is the best time to kickstart the muscle protein synthesis process and to help your body build lean muscle mass and recover faster. With that said, in order for a simple protein shake to turn into a tasty post-workout smoothie, you do need to add more than just some protein powder and water. In order for a smoothie to be good for losing weight, it has to:
Be around or below 300 calories per serving.
Have a good source of carbs
Contain a healthy fat
Have at least 20 grams of protein in it
The rest of the ingredients, such as superfood powders, green powders, and so on, are completely up to you and your taste. They don't have a major impact on the nutritional value of the smoothie, so they can be added to your desire.
3 Great Post-Workout Smoothie Recipes
Now that you know what a perfect post-workout smoothie must have, you can work out your own recipes and find ways to make smoothies at home that are delicious, and that fit the craving for sweets. With that said, if you still don't feel confident enough to experiment with your own recipes, then allow us to share our personal favorites.
The Berry Muscle Blast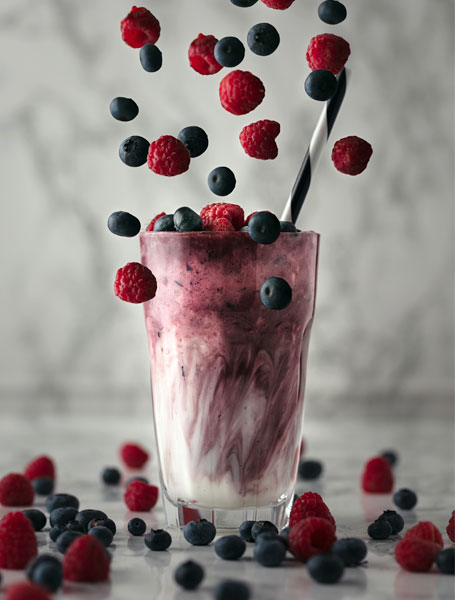 To make this smoothie, you won't need a ton of fancy ingredients – in fact, it's likely that you already have most of these at home. In a blender cup, add:
¼ cup of blueberries
¼ cup of strawberries
2 cups of any kind of milk
1 tablespoon of peanut butter
1 scoop of your favorite protein powder (preferably vanilla flavored)
1 tablespoon of coconut flakes
If you want it to be thicker and creamier in consistency, you can also add a cup of ice. After that, you simply have to blend and enjoy.
The Green Power
There's nothing like a green smoothie to make you feel like you're making the healthiest decisions about your body. And we've come to share a recipe for a terrific green post-workout drink. So take your blender cup and add:
2 cups of coconut water
1 tablespoon of honey
1 scoop of protein powder
½ half a banana
2 cups of frozen spinach
2 cups of frozen berries
Blend until you get a smooth texture, and pour into your favorite cup – if you want it to be even sweeter, you can consider adding a bit more of the banana or slightly more honey.
The Wake Up Smoothie
Even though a good workout can wake you up like nothing else, it's still great to get a caffeine kick afterward, and this smoothie recipe will give you just that. To make it, combine in a blender:
1 cup of freshly brewed coffee
1 cup of your favorite kind of milk
1 scoop of protein powder
½ banana
sprinkles of cinnamon
If it's in the summer or during a warmer day, you may add ice to your blender to make the drink colder. Otherwise, blend until all ingredients are combined, and enjoy your 2-in-1 drink that's both a coffee and the perfect post-workout shake.
Having said that, these three recipes are only examples of what you can make as a post-workout smoothie, and they offer a blueprint you can follow for creating your own smoothies and experimenting with ingredients you love. If you stick to the key rules of the smoothie, not going over 300 calories and containing more than 20 grams of protein, you're good to go.
In Conclusion
Enjoying a good smoothie post your workout is definitely a must-do, especially when the weather is nice out and you can take your drink on a little walk. Hopefully, the recipes we shared in this article inspire you to make your own smoothie and to experiment more as you follow the formula we showcased. And as always, if you think that a particular recipe has to be known by everyone, don't hesitate to share it with us in the comments – we'll appreciate testing out a new smoothie after a hard training session.