Bacon Pesto Pasta is always a winning combo. Easy to make, flavorful, and quickly cooks in 30 minutes.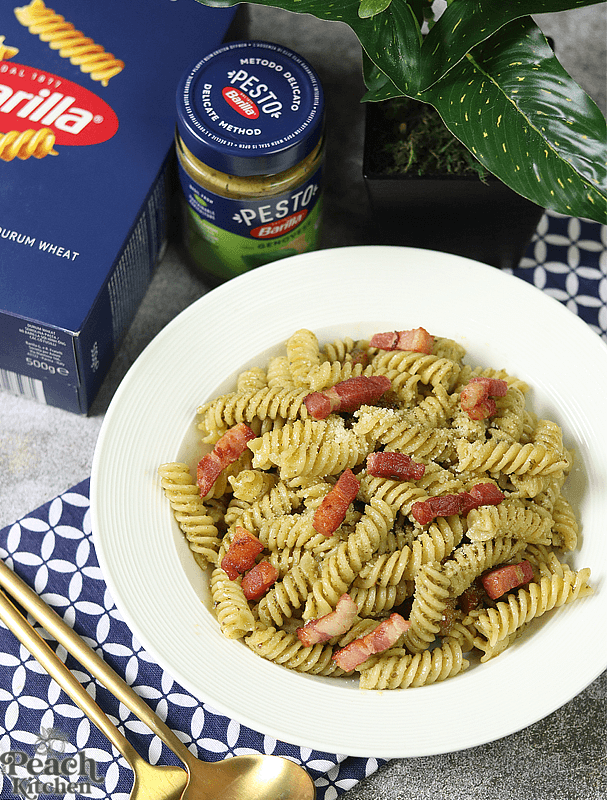 We love pesto pasta in this family. As a matter of fact this is one of Ykaie's favorites and I made this for lunch the other day to pair with this delicious Garlic Parmesan Wings. I made it to celebrate the World Pasta Month.
Thanks to friends from Barilla Philippines who sent over their pasta and sauces last month. I was able to try their Pesto Genovese. Barilla Pesto Genovese is made from fresh basil with real Parmigiano Regiano cheese — and you can really taste it.
BACON PESTO PASTA RECIPE VIDEO
FUN FACTS ABOUT BARILLA
🍝 Barilla is the No. 1 brand in Italy.
🍝 Barilla pasta and sauces are made from natural ingredients and are free from preservatives.
🍝 Barilla pasta are made from 100% durum wheat semolina. It's always al dente, and it doesn't break or stick.
🍅 Barilla red sauces are made from 100% Italian tomatoes for superior authentic taste.
🌱 Barilla Pesto Genovese is made from fresh basil with real Parmigiano Regiano cheese.
I really love this brand.
To make this Bacon Pesto Pasta, I used thick bacon which I fried until brown and crispy. Then I just added the sauce and cooked it for 30 seconds before adding the pasta. You can add more sauce or pasta water if you find it a bit dry. Then I added grated parmesan cheese. No need to add salt and pepper anymore because the sauce is already flavorful. Yum!
Thanks for dropping by today and I hope you have a great week! Ciao Bella!
Print
Bacon Pesto Pasta
200g

Barilla Fusilli, cooked according to package directions

250g

thick bacon, sliced

1 tsp

oil

1/4 cup

Barilla Pesto Genovese
grated parmesan cheese
Instructions
Fry the bacon until brown and crispy. Set aside some for toppings later.
Add the pesto sauce and cook for 30 seconds.
Add fusilli and mix well.
Add 1 tbsp grated parmesan cheese and mix well.
Transfer to a serving plate. Top with bacon and more parmesan cheese.