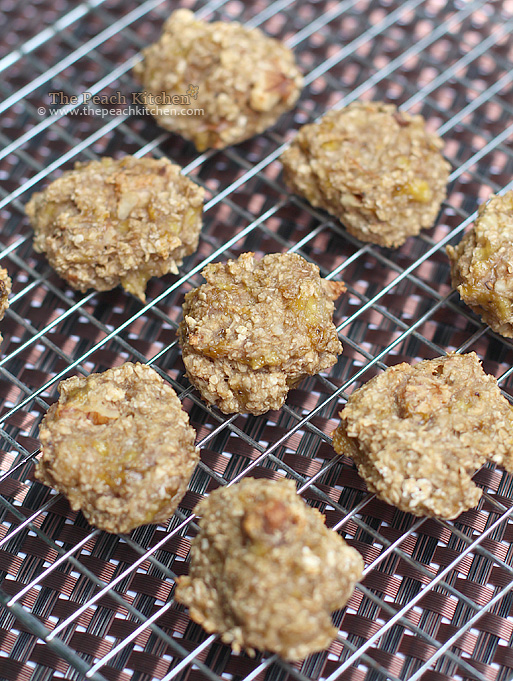 In the midst of trying to temporarily avoid sweets, it felt like some baking needs to happen. And my love for cookies just got the better of me. Good thing I found this two-ingredient cookie recipe which is totally fool proof, totally healthy and amazingly delicious!
Can you believe these chewy cookies are made with just banana and oatmeal? Yup. For real. Just banana and oatmeal. You can add in a mix-in of your choice to make it a 3-ingredient cookie and to add more flavor.
I put chopped walnuts in mine. Can you see some of the walnut bits on top of some of the cookies?
In making this cookie, though, you have to use over ripe bananas to make it sweet. We are just using the banana's natural sugar as this cookie's sweetener. So if you use regular ripened bananas, its going to be bland. And you might not like it at all.
Two-Ingredient Cookie, remember?
Get two bananas and ½ cup of instant oats…..
Measurements may vary because there are different sizes of bananas. Just make sure it isn't runny or the cookies would flatten out too much.
Mash it together.
Add around ¼ cup of mix-ins of your choice, like raisins, chocolate chips or chopped almonds. I added chopped walnuts in mine.
This got me 9 cookie pieces which I ate five of. I gave the four that was left to my tatay who thinks the recipe is genius.
So 5 cookies means I ate 1 banana and around ¼ cup of oatmeal plus a few pieces of walnuts. What do you think?
Just a reminder, make sure you put them onto a greased cookie sheet so it could be easily removed. I had a hard time plucking it out from the parchment paper.
Sooooo healthy, right?
Print
Healthy Cookies Made with Only 3 Ingredients
2

bananas

1/2 cup

instant oatmeal

1/4 cup

chopped walnuts
Instructions
Mash bananas and oatmeal and mix it up until well incorporated
Add chopped walnuts and mix again
Scoop onto a well-greased cookie sheet/baking pan
Bake at 350º for 11-15 minutes
Eat it all..haha, just kidding…