This Nasi Lemak is the perfect lunch to start the week — fragrant coconut rice, spicy sambal, and rich Beef Rendang! Yum!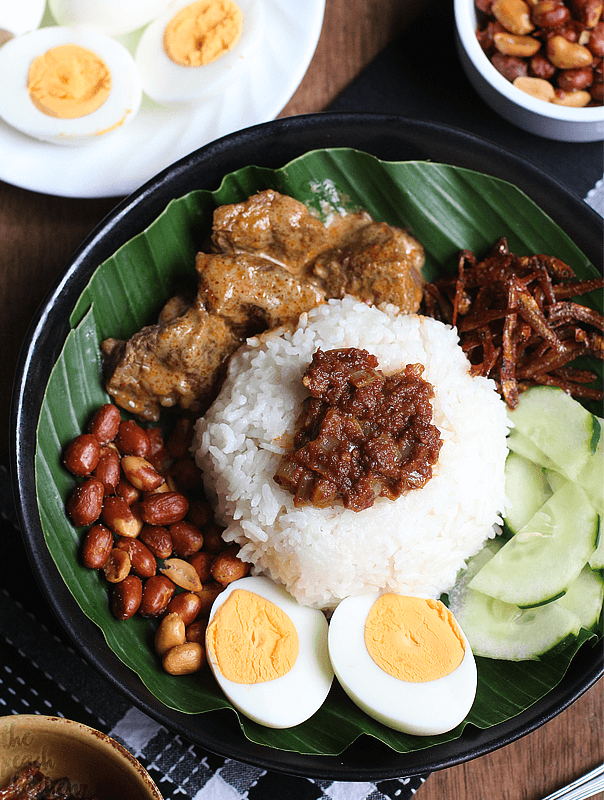 Work, errands, and bonding time with relatives had the whole family tired over the weekend. It's a good thing that today, Monday, is a holiday and we were able to sleep in. I normally wake up at 4am, the rest of the crew at 5:30am and 6am. And I am a light sleeper.
Last night, I slept through my alarm (whaaattt??!!). Then I decided I had too much sleep and finally got up at 6:30am (which is kinda late for me)… the rest of the crew.. well, they slept until 7:30am. We were not ourselves until about 10am when I thought we needed something really good for lunch. I had been craving for a good Nasi Lemak for a good two months now. Good thing my pantry is always ready for moments like this. There's a box of Prima Taste Beef Rendang Kit and Sambal Belachan Paste in my cupboard and I thought I could make an easy peasy Nasi Lemak for the crew today.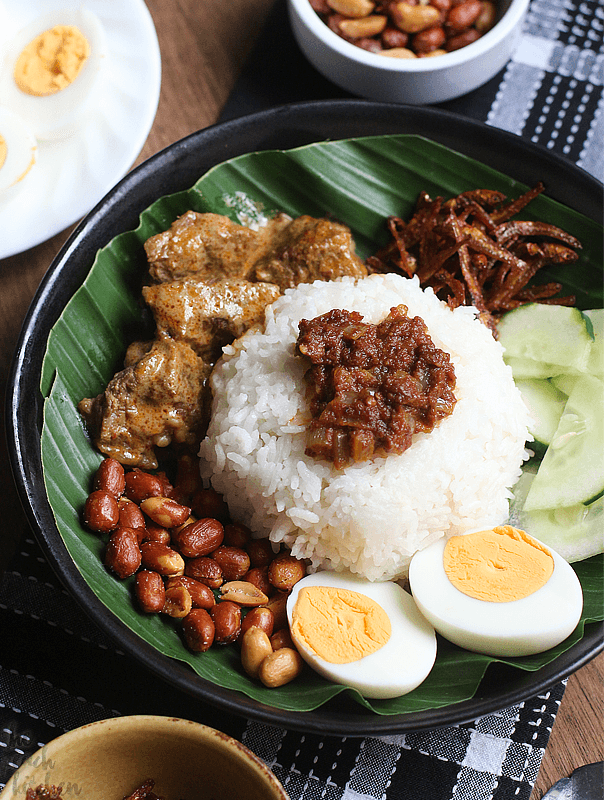 A quick trip to the market and I got my family something new to love! Ykaie loves meals like this because it has a lot of ingredients and it's plated both for presentation and serving purposes. She loves plating and preparing her own meals which in this case doesn't have Sambal and fried dried anchovies. She also plated her Lola Lucy's and Lolo Sony's lunch when they came a bit later.
Nasi Lemak is a popular Malaysian dish which is usually served with fried chicken. I gave mine a little twist by serving it with my favorite Beef Rendang. Yummiest lunch! EVER. Heavy lunch too. Me thinks I should make something lighter tomorrow…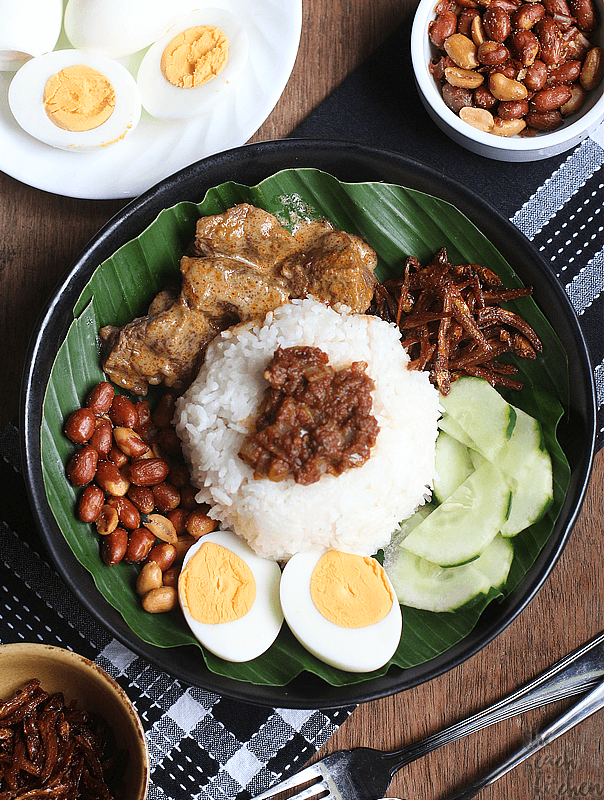 ♥ If you make this recipe, be sure to snap a photo and tag @thepeachkitchen on Instagram (OR hashtag it #thepeachkitchen). I'd love to see what you cook!
Print
Nasi Lemak with Beef Rendang
Beef Rendang
You may use the recipe here and make it from scratch
OR

800g

sirloin cut into cubes

1

box Prima Taste Beef Rendang Kit
Coconut Milk Rice
3 cups

of rice

2

pcs pandan leaves
salt to taste

2 cups

coconut milk

1 cup

water
OR

3 cups

of rice

3 cups

water

1

pack of McCormick Nasi Lemak Mix
Sambal
1tbsp

canola oil

1

large white onion, chopped

1

pack Prima taste Sambal Belachan Paste

3 tbsp

water
Other Ingredients:
5

eggs, hardboiled

1

small cucumber, sliced

1 cup

fried dried anchovies

1 cup

roasted peanuts
banana leaves
Instructions
Cook The Beef Rendang: Make it from scratch and follow the recipe here or use 800g of beef and 1 pack of Prima Taste Beef Rendang Kit. You will need a lot of simmering to soften the beef so make sure you make this ahead of time.
Cook The Nasi Lemak: Clean the rice by washing. Combine all the ingredients in your rice cooker and turn it on.
Cook the Sambal: Heat oil in skillet. Sauté onions until translucent and add the Sambal Belachan Paste. Pour in water and bring to a boil. Turn Off heat and transfer to a bowl.
Assemble the Nasi Lemak: Put banana leaves onto your plate. Scoop Coconut Rice in the midddle and top with Sambal. Surround it with the other ingredients such as the hardboiled egg cut in half, fried dried anchovies, sliced cucumber, roasted peanuts, and of course, the Beef Rendang.