Grilled sandwich that's filled with Delicia Hazelnut Chocolate Spread and gooey Marshmallow Fluff! YUM!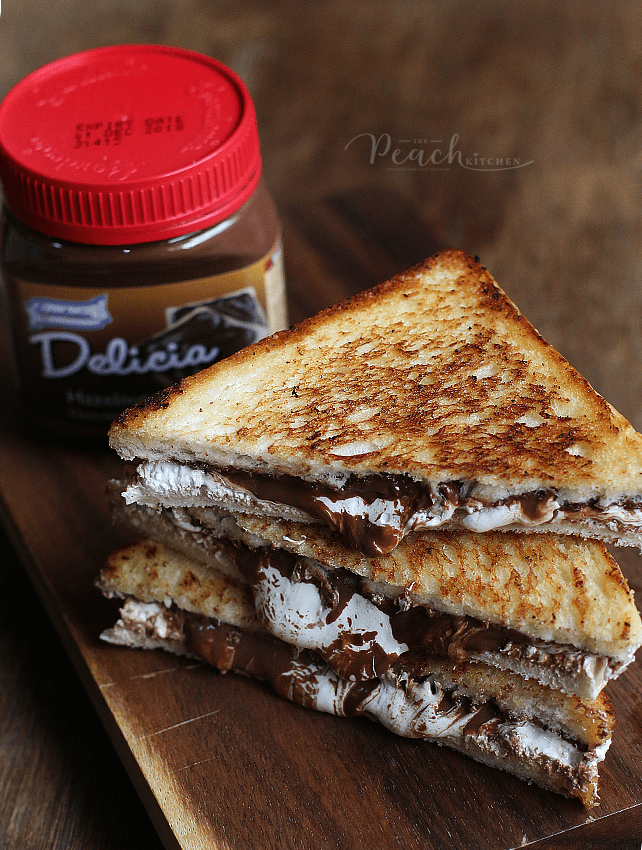 It's officially Summer vacay for us this week!
Ykaie finally had her Recoginition Day last monday. She was Best in Science and received With High Honors (she was third in class!) I am really really proud of her. You know, when I was her age I didn't receive any award in school… LOL! So imagine my surprise and delight when year after year she kept on hitting the honor roll.
There was a photographer in school but I was able to sneak and take some photos…
After the ceremony, she wanted to celebrate and eat out but we weren't able to because Twinkle got sick the night before. I was puyat that day! We just ordered Yellow Cab Pizza and ate at home, then we took Twinkle to the pedia and had her checked. Turns out she didn't only have coughs and colds, she has sore throat and UTI too… sigh* .She was given a prescription and immediately felt better the next day.
And when I looked back on Ykaie's past Recognition Days, I found out that that's what also happened in 2016.
To celebrate (because Twinkle is feeling well) and to mark the start of Summer vacay, we made Grilled Delicia Marshmallow Sandwich for merienda. Instead of putting marshmallows, we used the Marshmallow Fluff we got from Landers Superstore on Buy1 Take1 promo.
All is better in the world.
Print
Grilled Delicia Marshmallow Sandwich
Four Slices of Gardenia White Bread
Gardenia Delicia Hazelnut Chocolate Spread
Marshmallow Fluff (Or Marshmallows)

2 tbsp

butter
Instructions
Spread Gardenia Delicia Hazelnut Chocolate Spread on two breads
Spread Marshmallow Fluff on the two other breads
Put them together in a sandwich.
Heat butter in a skillet and grill each side of the sandwich for about a 30 seconds to 1 minute.
Slice it in the middle and serve.
♥ If you make this recipe, be sure to snap a photo and tag @thepeachkitchen on Instagram (OR hashtag it #thepeachkitchen). I'd love to see what you cook!