Before heading out to our three day vacation in Batangas, we scoured SM Megamall for Summer-y outfits for sis and the kids. It took us the whole day to check out rash guards, swimsuits, tops, and shorts. From 2L in plus size, I found out I'm just a 1L now… (ehem). That means I am now one size smaller but still far away from my ideal weight… *sticks tongue out* Well, you can't blame me. It's really hard to stay away from food these days……
Anyway, we've been frequenting SM Megamall a lot. It's a bit far from home but peanutbutter♥ seems to be drawn there most of the time and at the end of the day, when we're going home, I always see that big colorful sign that says "Chelsea Kitchen" from thee window outside. It's but natural that I get curious about what they offer.
So that one tiring day, I asked them if we could have dinner there.
Chelsea Kitchen is located at the ground floor of SM Megamall's Fashion Hall. It's hard to miss because it's right beside the entrance and it's an open restaurant. No confined walls, just an open kitchen and tables scattered around it. We settled for a table on the side near the open kitchen.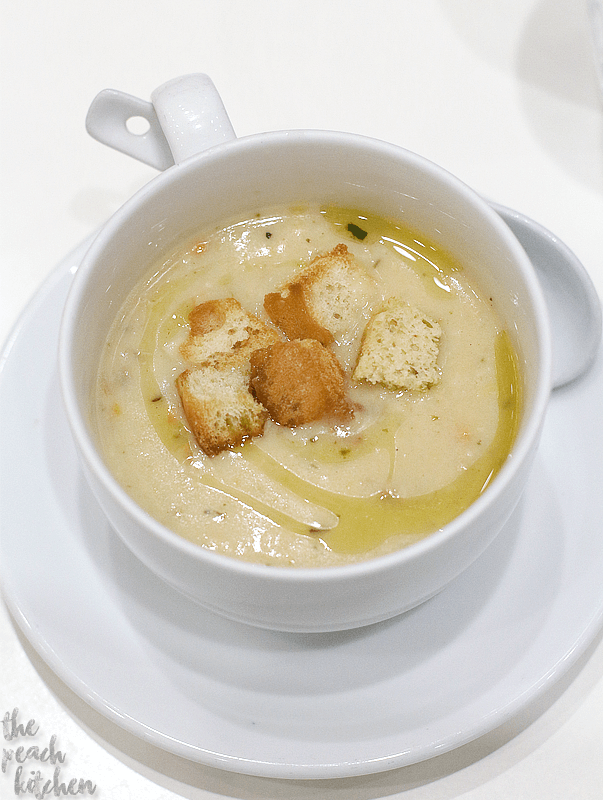 peanutbutter♥ ordered the Clam Chowder & Croutons (₱150), I shared it with him and immediately liked how creamy it was.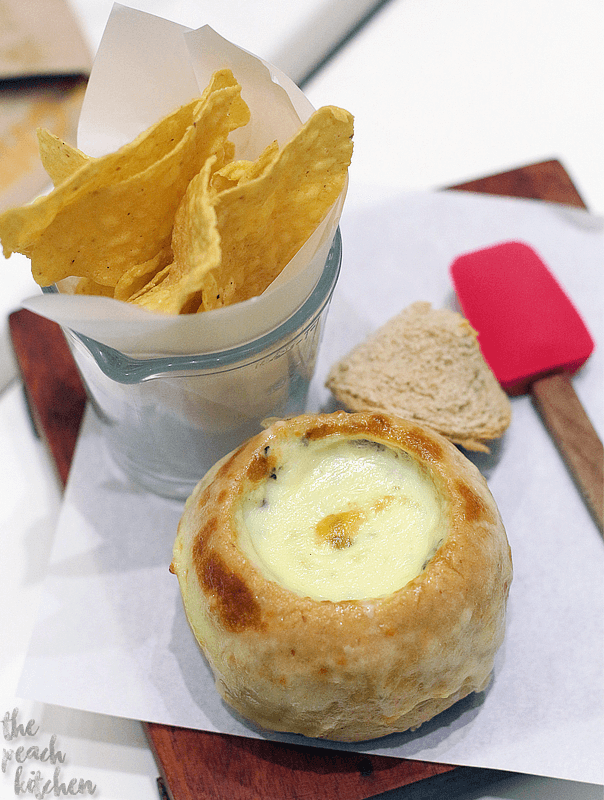 I am a sucker for truffle so it's automatic that I order the Truffled Spinach Cream Dip in a Bread Bowl (₱250) for starters. It was a rich, creamy, cheesy, dip that was served with tortilla chips on the side. When you're done dipping and eating the tortilla chips, you can proceed to eat the bread the dip was served in. I see no waste in here….
The Superfood Salad (₱295) sounded really healthy! It has quinoa, chia, fresh herbs, sunflower seeds, almond, cherry tomato, guacamole, red radish, red onion and served with a passion fruit yogurt dressing and a lemony vinaigrette. I love the passion fruit yogurt dressing but I also love how it taste when you combine the two.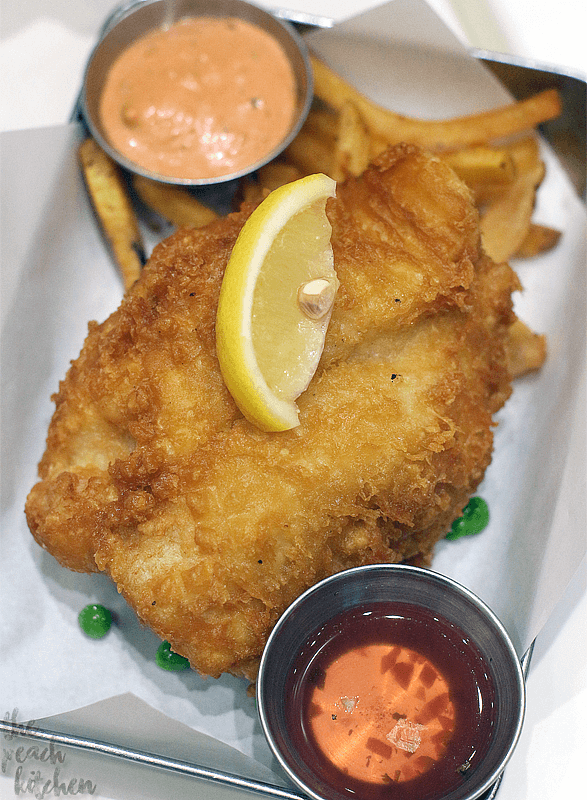 Ykaie's favorite was the Kitchen Fish & Chips (₱295) which was composed of one palm-sized crispy, deep-fried fish filler over fried green peas and fries and served with remoulade sauce and malt vinegar.
The Squid Ink and Clams (₱320) pasta is a must-try. Well, not if you're on a first time romantic date because it might get your lips and teeth black ..heehee.. Just kidding! Our family is so into Squid Ink Pastas that we always order it on the menu when we see it. This one is made with angel hair pasta and clams.. also a bit spicy.
Garlic Rosemary Crispy Fried Chicken (₱375) . What I love about this is the crispy thin skin and of course, the  toasted rosemary garlic in oil which when drizzled on the chicken makes it so flavorful.
We ordered this Creamed Spinach Bacon and Corn (₱175) as a side dish to our chicken but it was served last and we had to follow it up several times. We were actually done eating when this was served.
DRINK OF THE NIGHT: Cherry Berry Coke (₱160),  cherry syrup, berries, coke; and Passion Fruit and Orange Cooler (₱195) – passion fruit, orange purée, lime soda
I personally loved the food at Chelsea Kitchen. The rest of the gang also do. It's just that it's not for people with big appetite as the servings are not meant for sharing. Also the service was a bit slow that night. Considering there weren't a lot of customers that day, they could have done so much better.