Truffle Scrambled Egg ~ soft, creamy, magical! You won't want to eat eggs any other way…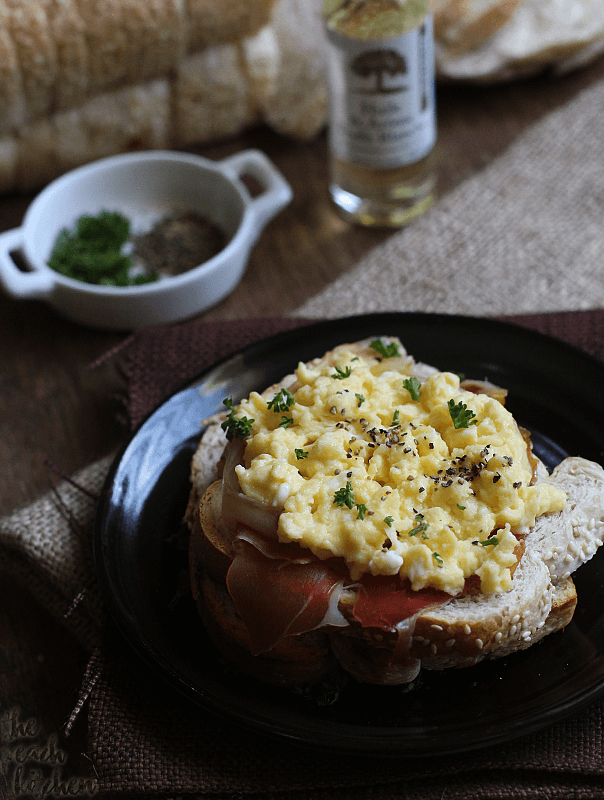 Breakfast today is fancy schmancy. It's friday. I thought it's a day to celebrate. I've been out of the house for almost four days… running errands and attending blogger events. Today marks the day I'm staying at home — at least until thursday next week.
I've been living off bananas and anything-you-can-get-your hands-on in the morning the last few days. I needed a nice breakfast. Good thing I attended an event at Epicurious yesterday and I came home with Farmer's Ham and Prosciutto. I was also able to get bread at the grocery..hurray!
I also thought my truffle oil should be put to another use aside from this Mushroom Cream Pasta….
And so.. Truffle Scrambled Eggs.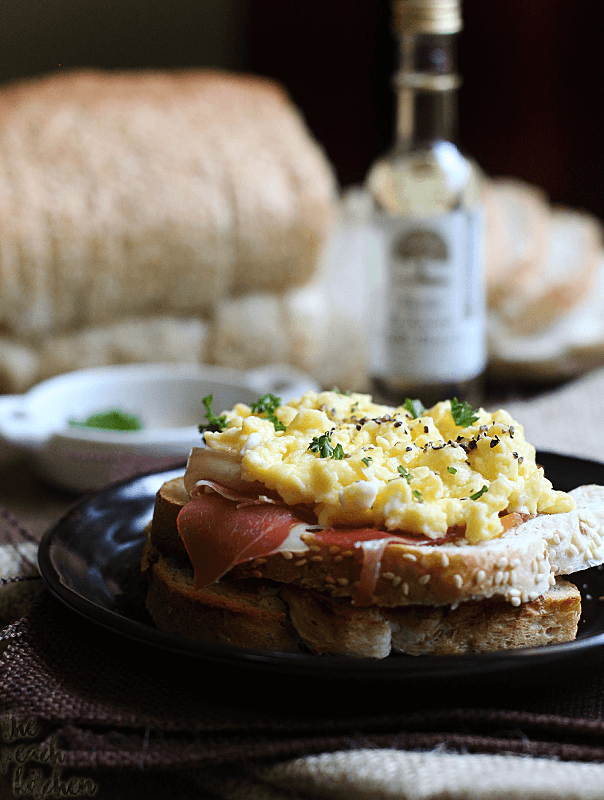 I know you don't need a recipe for good scrambled eggs because EGGS is the first thing you learn how to cook.
Here at the Adarne household, even scrambled eggs is cooked two ways. peanutbutter♥ prefers the traditional. You know, beaten eggs with salt and pepper cooked in a bit of oil . While Ykaie and I prefer our beaten eggs with milk and cooked in butter until soft.
peanutbutter♥ had a business thing he had to attend to today. So we had the creamiest eggs with a few drops of truffle oil that leveled up its deliciousness 999,999 times! It was topped on toast with prosciutto…
What did you have for breakfast today?.
Print
Truffle Scrambled Egg
4

eggs

1/4 cup

milk

1/4 tsp

salt

2 tbsp

butter for frying

4

bread slice, toasted

4

slices prosciutto
truffle oil
freshly ground black pepper
chopped parsley
Instructions
Whisk the eggs in a bowl together with the milk and salt.
Heat the butter in a non-stick skillet.
Add the eggs and cook over medium heat stirring continuously until soft cooked.
Remove from the heat.
Drizzle with a little truffle oil.
Place the prosciutto on one of the toast.
Top with the truffle scrambled eggs.
Sprinkle with chopped parsley and freshly ground black pepper
Serve hot.