These Chocolate Chips Pancakes are fluffy, studded with chocolate chips and topped with even more chocolate chips for an energizing breakfast! (and one that takes care of PMS cravings)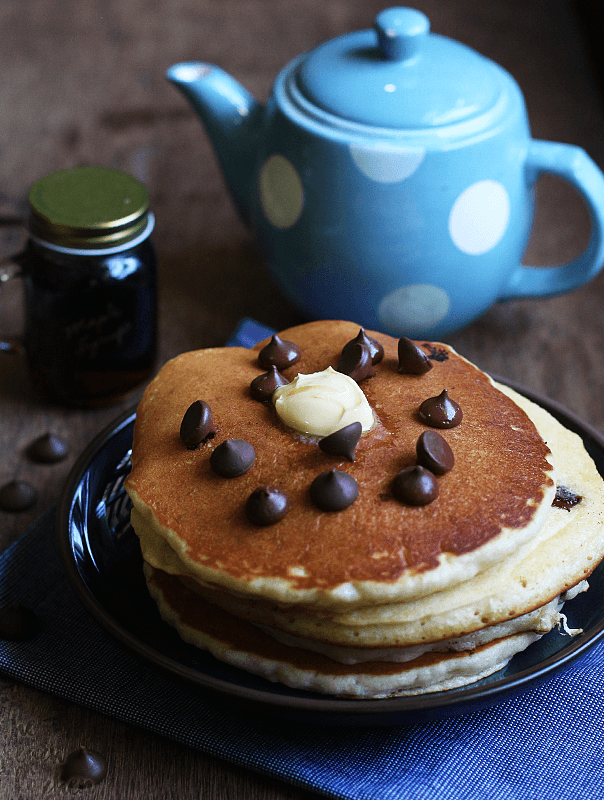 THE BAD: My ISP has been on "downtime" because of "maintenance' since yesterday morning. I'm really pissed because I couldn't work. Thanks to my trusty wifi pocket I was able to write this post and do something more online but still, it's not up to par with my ISP's speed.
THE GOOD: Watched #PilipinasDebate2016 last night with peanutbutter♥ and he is now voting for the presidentiable I am voting for… Yaaayy!!
THE UGLY: After my sore eyes, my eyes itches like hell. My brother prescribed an anti-allergy medicine that makes me groggy and knocks me out at night. I wake up bangag and still wants to sleep the whole day even after 3 cups of coffee.
This morning, I did not only wake up bangag, I was also ravenous. I was craving chocolate. I remembered B&P All Day Breakfast giving me a pack of their pancake mix  to try the last time I was there.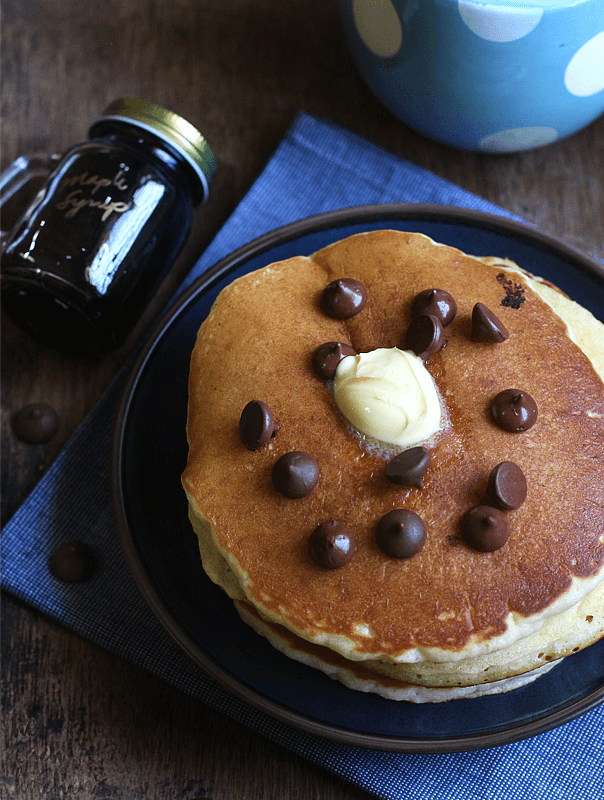 So these Chocolate Chip Pancakes came to life…. and true enough, it was what I wanted on a sleepy monday morning. Warm fluffy pancakes studded with chocolate chips… with more melty chocolate chips on top , butter, and maple syrup.
This takes care of my PMS cravings for today.
Print
Chocolate Chip Pancakes
1

pack B&P pancake Mix (or your favorite pancake mix)

1 tbsp

melted butter

1

egg

1 cup

milk
butter for cooking pancake
chocolate chips
maple syrup and more butter for serving
Instructions
Put the pancake mix in a large bowl and make a well in the center.
In another bowl, beat the egg, pour in milk and melted butter. Mix well.
Pour wet ingredients in the well of the the dry ingredient.
Mix well with a whisk.
Cook pancake as you normally would, heat a non-stick pan and grease slightly with butter.
Scoop about ¼ cup batter onto the hot pan.
Cook until bubbles appear on the surface and the edges look dry. Put around 6-8 chocolate chips on each pancake.
Turn over and remove from pan when cooked.
Serve with more chocolate chips, butter, and maple syrup.